Recycling is important – it helps cut down the amount of plastic floating around in our oceans and lessens the waste in our growing landfills. But sometimes, it can be hard to know where to start – it's not just a case of only buying recycled paper and metal straws, it's about looking at everything in your home a little differently, and working out how you can recycle it and give it a second life before tossing it in the bin.
With that in mind, here are some recycling tips to get you started.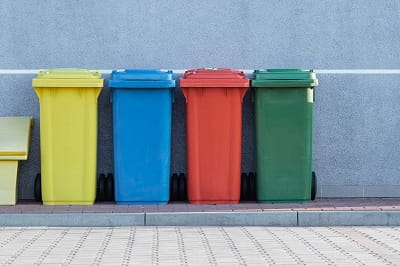 Know what can and can't be recycled
One of the most important recycling tips is confirming what can and can't be recycled. In fact, a survey of more than 120 councils across the UK by ethical green cleaning company Bio-D found wide variations in the rubbish that can and can't be recycled from household kerbside recycling. Only 16 of the councils surveyed collected and recycled plastic shopping bags and only 15 councils surveyed collected and recycled plastic ring joiners.
Dean Willshee, Managing Director at recycling and waste management company Willshee's, said: "Unfortunately, there are no hard and fast rules when it comes to recyclable items as they vary dependant on local facilities. However, there are certain materials which can sadly never be recycled." Dean confirmed that the following items cannot be recycled:
Kitchen roll

Wrapping paper containing metal or glitter

Takeaway coffee cups

Plastic bags

Tissues

Straws

Takeaway pizza boxes

Foil packaging such as pet food pouches

Nail polish bottles

Crisp packets

Post-it notes

Unrinsed shampoo bottles

Unrinsed food containers

Tissue boxes without the plastic insert removed

Plastic toys

Mirrors

Cutlery
However, Dean also made the point that the confusion works both ways, saying that "there are some items which are able to be recycled but which continue to be discarded with other waste as they are assumed to be non-recyclable." Dean confirmed that the following can be recycled:
Kitchen foil and foil trays that are used but still clean

Empty deodorant aerosols and hairspray with the plastic cap

Empty surface cleaner bottle with the trigger spray

Metal lids

Empty bleach bottles

Aluminium tubes such as tomato puree (with the plastic cap removed)

Envelopes with windows
If unsure, you can always check the specific rules with your local council.
Make sure your items are ready to be recycled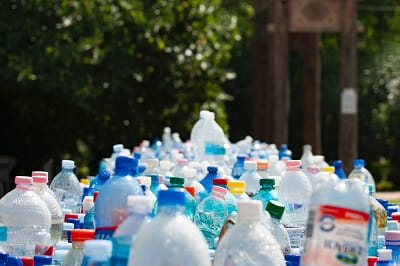 Dean also said that it's not always about the item itself, but the state it's in when it's tossed into the recycling bin. According to Dean, "sometimes it is not what materials can be recycled but the way in which they are disposed."
If you can follow the rules below, your items will have more chance of being recycled successfully:
Screw lids back on bottles

Squash bottles down

Fully empty and rinse food containers
Upcycle your items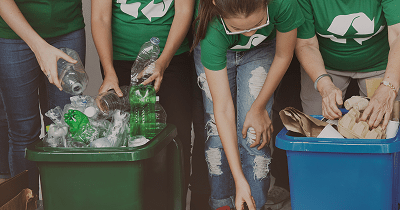 Recycling doesn't always mean getting rid of your items. Upcycling means reusing something for another purpose – and there are plenty of items you probably have around your house that you can upcycle. Margo Milutinovic at Airtasker said: "Mason jars, glass jugs, light bulbs, old lanterns and vintage trunks are all perfect items to recycle and revitalise by using as a planter for your indoor garden. Hunt down inspiration on Pinterest and head to your local charity shop to find a bargain item in need of some upcycling love."
Margo also suggested some unusual items that you can use for new light fixtures. "Think outside the box for a truly quirky lighting fixture that can also double as a great conversation piece," she said. "For instance, cheese graters (yes, cheese graters) can even be turned into lamps in as little as 10 minutes. Use household items such as buckets, baskets, and teacups upside down and turn them into hanging lights."
You never know when you might be able to take an old item and turn it into something fresh and exciting. If you aren't feeling particularly inspired now, it may be a good idea to store your unusual items in a safe place until creativity strikes.
Recycle your furniture
Moving on to the last of our recycling tips, let's talk about furniture. People can be quick to chuck out furniture by just leaving it out on the streets, but there are services and other ways to recycle it. Dean Wilshee said: "If you have decided it is time for you to part ways with a piece of furniture, many charity shops will be happy to do local collections to retrieve the furniture.
"If the item is in particularly bad condition this may not be an option. In these cases, it is still possible to recycle the item. Local councils often offer a recycling service which includes collection of large items. If your local authority does not provide this service, then be sure to research independent recycling facilities which will take your larger goods."
Alternatively, Furniture And Choice has developed a tool to help customers recycle or donate their old furniture. Simply enter your town or postcode and the tool will show the closest places to recycle your old furniture or donate it to charity if it's still in good condition. It also indicates which locations offer a collection service.
If you have no space for your old furniture now but think you might want to use it again in the future, why not put it in storage? Access Self Storage has storage options across the UK, including Access Self Storage Birmingham Erdington, Access Self Storage Barking and Access Self Storage Hemel Hempstead. Or, check out our store finder.