Are you eagerly awaiting the pitter-patter of tiny feet? Access Self Storage has the perfect getting-baby-ready storage solutions for expecting parents.
Access congratulates you on this exciting journey towards parenthood! As your life prepares to take a beautiful turn, so does your need for extra space. That's where Baby Ready Storage comes in. Whether you're clearing out a spare room to make a nursery or removing items of furniture from your bedroom - we're here to make your transition into parenthood as smooth as possible.

Discover Our Tailored Storage Solutions
At Access Self Storage, we understand that welcoming a baby into your life means welcoming a plethora of baby gear, nursery essentials, and keepsakes. Our expertly designed storage solutions are here to help you create a serene and clutter-free environment in your home, allowing you to focus on what truly matters.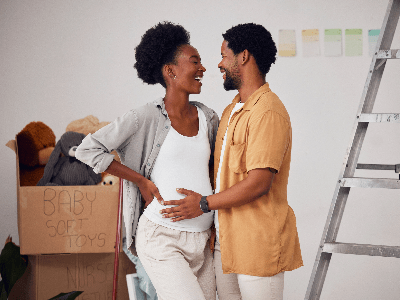 Preparing for Parenthood, One Box at a Time
Parenthood is a beautiful journey filled with precious moments. Let Baby-Ready Self Storage help you create a nurturing and organized space for your little one to grow. Our storage solutions are about keeping items safe and creating an environment that fosters joy and tranquillity.
Get an instant quote online today!
Why choose Access for baby ready storage solutions?
24-hour CCTV to protect your possessions

Many stores with gated and fence perimeters

Many stores have loading bays

Alarmed storage units are available at most stores

We will never be beaten on price

No hidden costs, no admin fees and no deposit required

Friendly and experienced staff in-store

Affordable boxes and packaging options in-store or online.
Embrace the upcoming adventure with open arms and a clutter-free home. Our team of experts at Access Self Storage is here to assist you every step of the way. Contact us today to learn more about our tailored storage solutions and how we can help you prepare for your baby's arrival.
Your journey to parenthood is unique, and so are our storage solutions. Let's make room for new beginnings together.