Moving to a new house is an exciting yet stressful experience. Whether you're a first-time buyer or moving somewhere bigger (or smaller), having a moving checklist ensures that you have all the necessary items and is vital in helping the process run smoothly.
However, it can also be hard to keep up with everything you need for a new house, especially as a lot will depend on what you already have and what comes with your new home. With that in mind, Access Self Storage has compiled the ultimate moving checklist for home movers. These are the basics – we've left it up to you to decide how you'd like to furnish your home.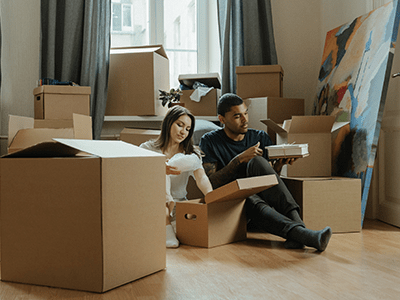 To help you get the most for your money, we've also reached out to experts – Thomas Goodman at Myjobquote.co.uk, the UK's leading trades matching site; Nick Grey, the CEO of British home and garden appliance company Gtech; Yvonne Keal, Senior Product Manager at Hillarys, a UK-based producer of blinds, shutters, and curtains; and Anna Marshall, Content Manager at Oak Furnitureland, a trusted furniture retailer.
Check out our guide for moving house on a budget!
Kitchen
Depending on how modern the kitchen is in your new home, you might need to upgrade the 'white goods' (fridge, washing machine and dishwasher) or install the basics, like a cooker.
While you may not be in the mood for cooking after a strenuous move, you might still want some hot food or drinks. And, that's where moving home checklist comes in! Thomas says: "When buying a new microwave, consider the size you need. How many people are there in your family? How often do you plan on using it?"
"You also may want to think about the colour of the microwave you choose. Do you want a microwave that matches your other appliances? If so, hunt for one in the same colour. Many kitchen brands can provide various appliances in the same colour, and some even sell them in a set. This helps ensure all your smaller kitchen appliances match each other."
Microwaves and white goods aside, the other kitchen things you need for a new house are listed here on our moving checklist:
Table
Chairs
Kettle
Toaster
Kitchen roll
Sponge
Washing-up liquid
Tea towel
Drying rack
Some tea bags and a loaf of bread wouldn't go amiss either!
Thomas adds: "if there's one thing you want to make sure you have when you move into a new place, it's at least one bin. You don't want to find yourself having nowhere to put all your rubbish because you've forgotten to buy a bin for your new place!"
"I recommend a large bin for the kitchen and smaller bins for other rooms such as the bathroom and home office. A good bin will be large enough to store all your rubbish without you having to run out with bin bags every day."
"Consider the size of your family and how much waste you produce when choosing the right bin. For hygiene reasons, a pedal bin or a bin with an automatic lid is best for the kitchen. This will prevent you from having to touch the bin with your hands while you're preparing food."
Of course, "a bin wouldn't be complete without bin bags. If you want to avoid getting your bin dirty, bin bags are an important purchase before you move into a new home. It's also likely that you'll find a lot of things amongst your moving boxes that you want to sort through and get rid of."
"Be sure to choose heavy-duty bin bags if you're planning on putting a lot of items in them. Also, look at the size of your bin to ensure you buy the right size of bin bags for the bins around your new home."
If you're moving house in Surrey, consider using Access Self Storage Guildford to make moving day less stressful.
Also, our moving home checklist clearly lists wide range of kitchen utensils and others cooking items you'll need soon after moving home, including:
Cutlery
Crockery
Glasses
Mugs
Sharp knives
Can opener
Baking tray
Pots and pans
Vegetable peeler
Bottle opener
Wooden spoon
Spatula
Salt and pepper shakers
Scales
Measuring jug
Mixing bowl
Serving platter
Oven gloves
Colander
Bathroom
Bathrooms are generally already kitted out with the essentials (toilet, sink, shower and/or bath). The following moving home checklist essentials cover everything you'll need for the first morning you wake up in your new home:
Hand towel
Towel
Bathroom mat
Toilet brush
Toilet roll
Toilet roll holder
Soap
Toothbrush
Toothpaste
Shower squeegee
Bin
Thomas adds: "If your new home has a shower over the bath, you will most likely need to purchase a shower curtain. This will help to ensure water doesn't spray out of the shower area when you're showering and will prevent water damage to other parts of the bathroom."
"A good shower curtain is one that is completely waterproof and has robust fittings that will keep the curtain in place at all times. Choose a shower curtain that you can wipe clean to help prevent mould from forming at the bottom of the shower."
On our moving home checklist, we've included some basic cleaning products that might also be useful:
Bleach
Bathroom spray
Glass cleaner
Limescale remover
Moving house is never easy, but we have got moving house tips for a better, less stressful move.
Living room
Ideally, you don't want to buy too much furniture before you move into your new home because this will make moving more difficult and potentially more costly. We have included on the moving checklist the bare essentials you need for a comfortable living room:
Coffee table
Sofa (or comfortable chairs to sit on)
TV, with something to put it on (either a TV stand or a bracket to fix onto the wall)
A TV cable
Wi-Fi (so you can watch Netflix)
Lamp
When choosing the perfect sofa for your space, Anna says: "When choosing your sofa, the first thing to consider is how you'll use it. Do you want somewhere for everyone to gather for movie nights? A cosy space to watch your favourite series? A loveseat for a reading nook? We have a wide range of styles that span spacious corner sofas for leisurely lounging to compact 2-seaters that are ideal for zoning broken-plan living areas."
"You'll also need to consider whether it will fit in your chosen space and match it to your décor scheme. Leather is durable and stylish, while fabrics range from sumptuous velvet to hard-wearing polyester that's practical if you have children and or pets. At Oak Furnitureland, our sofas range from classic to contemporary and come in a choice of different upholstery options."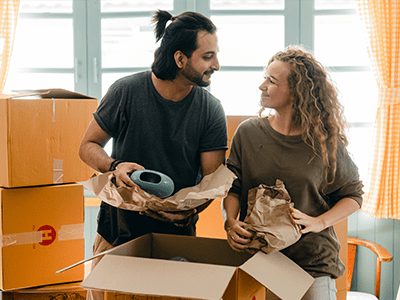 Bedroom
Of course, a bed is the main thing to have in your new bedroom. But there are a few other moving home essentials we have added to our checklist:
Duvet and pillows
Bedding (duvet cover and pillowcases)
Bedside table
Bedside lamp
Wardrobe
Hangers for your clothes
Chest of drawers
A mirror
Curtains
Curtains, shutters, or blinds are essential for a new home, but if there's one room you want to sort right from move-in day, it's your bedroom. Some window covering will keep the early morning sun out and give you some privacy.
When it comes to choosing the right window dressings for the rest of your home, Yvonne says: "making your new house feel like a home can be tricky, but window dressings can add texture, warmth, personality and the finishing touch to transform an empty space into a safe haven."
"When considering which window dressings to choose, consider the function and size of the room. For example, in your bathroom, you will need a dressing to withstand steam and humidity, whereas for your living space, you may want a more contemporary style to create a warm and welcoming space."
"Roller blinds are an affordable option – Hillarys offers them from as little as £50 – and they can be extremely stylish – we offer beautiful collaborations with designers like Abigail Ahern in which cocooning fabrics like nubby boucle, soft corduroy and berber take over."
Cleaning products
After moving into your new home will most likely be dusty after all your boxes have been moved in. Therefore, we have included some essential cleaning products on our moving checklist:
Wiping cloths, sponges and scrubbers (microfibre cloths are particularly good for dust)
Feather duster
Mop and bucket
Dustpan and brush
Washing-up liquid
Floor cleaner
Kitchen and bathroom spray
General disinfectant
Vacuum cleaner
Washing powder/liquid (if you have a washing machine)
A clothes horse (these are especially handy if you don't have much radiator space)
Thomas recommends bringing your cleaning equipment in a separate, easily accessible box on the move-in day since "this will allow you to do a thorough clean of the property before moving all of your things in. This ensures you move into a completely clean space, particularly if someone else has lived in the home before you. Some examples of things you may want to invest in include cloths, a duster, antibacterial spray, antibacterial wipes, bleach, toilet cleaner, and window cleaner."
A vacuum is one of the most important things you need for a new house. If you're struggling to find the right vacuum cleaner, Nick has some advice: "When choosing a vacuum for your first home, it's sensible to look for a multi-tasking appliance which is efficient, cost effective and easy to use."
"A cordless vacuum – such as the Gtech System – moves easily between different floor surfaces without settings to change and will make light work of stairs. The handheld part of the system cleans hard-to-reach areas as well as curtains and upholstery. If your budget won't stretch that far, a cordless upright vacuum – such as the AirRAM MK2 – is a sensible option."
"Consider energy efficiency since that's one of a vacuum's main running costs. Our vacuums consume less energy and are built for a 20-year lifespan."
Moving house with a four-legged friend? Check out our top tips for moving house with pets!
Other essentials for a new home
All homes should have a box of medicine, a first aid kit and a few necessary grooming products. So, we have included the main ones on our moving home checklist:
Painkillers
Disinfectant
Plasters
Bandages
Thermometer
Nail scissors/clippers
Pens
Paper
Scissors
Sellotape
In terms of safety, make sure you have the following:
Smoke alarm
Carbon monoxide alarm
Torch
Fire extinguisher
Fire blanket
Finally, in terms of hardware and tools, the following are essentials for any home:
Ladder
Plug extension leads
Light bulbs
Batteries
Hammer
Measuring tape
Pliers
Screwdrivers (flat and Phillips heads)
Screws
Consider self storage
Getting everything, you own from A to B in one day is a tall order – stressful and expensive. Many people choose to spread their move over several days or even longer by using self storage as a middle-ground between their old place and their new home. This means they can use a smaller vehicle and do more of the move at their own pace.
Some customers also prefer to use self storage because they're worried about movers damaging their fragile furniture or other beloved items. By moving these items themselves and leaving them in our secure, CCTV-monitored storage units, they can be confident that they will arrive in good shape.
At Access Self Storage, we're happy to provide this service at unbeatable prices. Whether you need a small storage unit for the contents of your flat or a 400-square-foot unit for a family home – or anything in between – we can help. We even offer boxes, bubble wrap, and other storage supplies, and our friendly staff can put you in touch with trusted removal companies.
Learn more about our moving house storage
We've got clean, modern self storage facilities all over the country. Use our online store search to find the right location for your move.
Printable checklist
Would you prefer to have a paper copy of this list? We've got you covered! Here's a printable moving home checklist with all the same items on it.
Download: Moving Home Checklist PDF
Quick tips for moving house
There are many other things you need for a new house, but those can be accumulated over time. It's important to make sure you have the absolute basics to begin with – don't buy too many items before moving, as you may waste money on things that don't quite suit your new home. The cost of all of these things can quickly add up!
Here are some other quick tips for moving house to help make the process as stress-free as possible!
Label your boxes clearly with the room they're supposed to go in and a quick list of the contents.
Take a video of the property you're moving into. This gives you a better idea of the space than measurements alone, helping you make buying decisions and choose items that will fit the space.
Don't forget to get your bills sorted before moving in! Wi-Fi, gas, water and electricity are all must-haves for your new home.
Schedule a supermarket delivery. You can get all the heavy essentials, like canned goods, brought right to your door to give your pantry a head start.
That's our list of things you need for a new house. We wish you the best of luck with the move!
Access Self Storage provides modern storage facilities for a variety of needs. Find your nearest Access Self Storage facility with our store finder.