Storage solutions for decluttering
We all know the feeling of being overwhelmed with clutter. Over time it's natural to collect things like clothes, books and kitchen implements that build up over time and create clutter in our homes.
Every couple of months it's good practice to go through the rooms in your house and declutter items you no longer need or that are simply taking up too much space in your home. Access Self Storage provides competitive rates, making it the perfect place to store your decluttered items.
Why choose Access for your storage?
24-hour CCTV to protect your possessions
Many stores with gated and fence perimeters
Many stores have loading bays
Alarmed storage units available at most stores
We will never be beaten on price
No hidden costs, no admin fees and no deposit required
Friendly and experienced staff in store
Tips for decluttering or renovating your home
The key to decluttering is to do away with the illusion that 'I might need that someday'. All too often, people feel discouraged about decluttering their homes because of the sheer volume of stuff they have. Make clear decisions about what goes and what stays, aiming to toss out as much as possible.
Use the popular method called 'the box test' to identify and declutter your home regularly. 'The box test' requires you to take everything you suspect you use rarely and pack them into a box. When you need an item from that box take it and return it to it's regular place. If you find that after three months some of the boxes have not been opened, or you haven't used a particular product, feel free to get rid of it.
The same can be done with clothes. Put all your clothes on the rail backwards. When you use an item of clothing return it to the clothes rail hanging in the normal orientation – with the hanger hook forward. After a couple of months, review what you have and haven't worn and donate the clothes you have not used.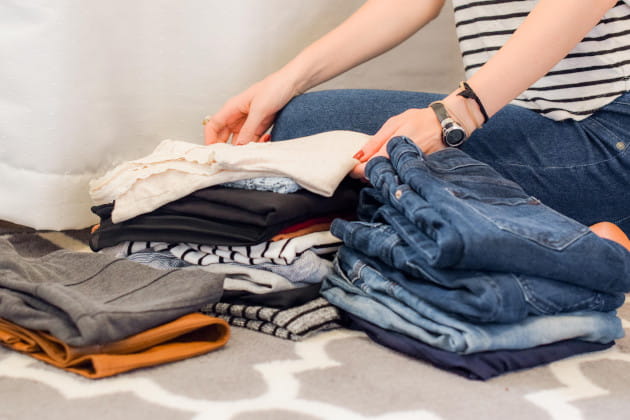 Put your decluttered items into storage
After all that decluttering, are you still struggling to make space? Use Access Self Storage to keep your possessions safe, and easily accessible. We have stores across the country and a range of different storage sizes to suit your needs. And if you need packaging Access has a range of boxes, bubble wrap, and tape to help you.