Self storage for ecommerce and online businesses
The pace of UK ecommerce growth is accelerating. The pandemic and demise of the high street forces shoppers to buy online. Online business can cut the overhead of 'brick-and- mortar' but they still need somewhere to store their stock.
At Access Self Storage, our storage units provide you with a flexible and cost-effective location to keep stock. With our massive choice of unit sizes, you can store just a few boxes with us, or for larger operations, you can set-up your unit with shelving and office equipment.
Our ecommerce storage offers competitive rates, making it the ideal place to keep stock that you intend to sell on sites like Amazon, eBay, Etsy, Not on the High Street, and OnBuy. Our business storage for ecommerce is perfect for keeping books, toys, greeting cards, clothes, homeware, electronics – and much more – safe and ready for distribution.
8 reasons to choose Access Self Storage for your ecommerce storage needs
1. Perfect Space
With clean, dry, modern units from 9 sq. ft. (size of a car boot) to 5,000 sq. ft. (one-tenth of a football pitch), we can accommodate everyone from start-ups to established online retailers. As your ecommerce business needs change, you can easily upsize or downsize so you only ever pay for the space you need.
2. Best Price
We benchmark and beat our competitor's prices. And we don't charge business rates or require long-term leases – we're completely transparent about our business storage costs. The price you pay includes lighting, unit security and site maintenance, and what we quote is what you pay.
3. Safe Stock
Our ecommerce storage sites are alarmed, overseen by CCTV and fitted with smoke and fire detectors. Customers are given their own PIN code to access the site, and our store staff are on-site seven days a week.
4. Extended Hours Access
Our online retail customers benefit from extended hours access so that you can access your unit whenever you need it.
5. Courier Deliveries
Our friendly store team can accept deliveries on your behalf when you are not around, keeping your ecommerce business running smoothly. You can rent mailboxes too if you need a secure, professional base for your post, and we even sell packaging.
6. On-site equipment
If you're moving palleted stock into or out of your unit, we have a forklifting service available and offer free use of pallet trucks and trolleys. Our branches also have covered loading bays to make your life easier when unloading stock in the rain!
7. UK Network
With 59 Access Self Storage facilities across the UK, you have the flexibility to establish your fulfilment operations near your customers. Our National Accounts team can support multi-site management, helping you to grow your online business.
8. Cheap Office Space
Access Self Storage also offers unfurnished flexible office spaces from 125 sq. ft to 10,000 sq. ft. for short- or long-term rental across the UK. So, when you need dedicated administration space at the same location as your stock, we can help.
Ecommerce Storage Tips
As an ecommerce business you probably tape up a lot of boxes. Watch this video on how to use a tape gun for quick and easy box taping.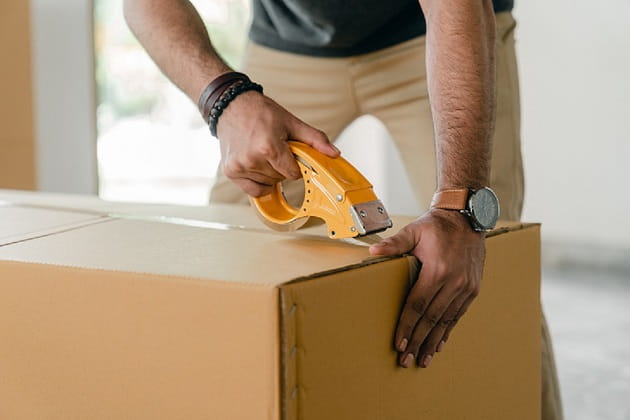 The self storage company for online retailers
Across our 59 stores, we already host a wide range of ecommerce businesses that use Amazon, eBay, OnBuy, Not on the High Street and Frugo. They find storing stock with us is cheaper than renting dedicated warehouse space and more convenient than working out of a spare room, garage or outhouse. Join them today!