At Access Self Storage, we submitted Freedom of Information requests to all 25 County Councils in England to determine how the lockdown had affected recycling habits. We were expecting a slight increase, if anything (we've all had plenty of time at home to sort our recyclables) but we were astonished to see that the majority of counties were recycling less in 2020 than the year before.
We asked for recycling data from Local Household Waste Recycling Centres – tips, to you and me – for county councils. We gathered this data on two six-month periods a year apart, July 1st 2019 to January 31st 2020 and July 1st 2020 and January 31st 2021. Shockingly, we found that 19 of the 23 councils that responded recycled less during lockdown than before, and only two recycled more. Devon and Lincolnshire councils did not supply data.
You can view this data in the table at the
bottom of the blog post.

Recycling during lockdown
According to these recycling statistics, households have, by and large, become worse at recycling during the pandemic. The most significant year-over-year drops were seen in Leicestershire, which went from recycling 62 percent to 53 percent, and Surrey, from 58 percent to 47 percent.
Oxfordshire residents deserve credit for a significant increase in their recycling rate, from 61 percent to 67 percent. The only other area to improve its recycling rate was rather more modest: Gloucestershire improved from 26.51 percent to 26.99 percent.
We can't say definitively, as not all councils provided us with the data, but the figures also suggest that less waste was tipped overall in the second half of 2020 than the corresponding time period in 2019. For instance, Norfolk reported an admirable 1,220 tonne decrease in tipped waste, while Surrey reported a similar 745 tonne drop.
Recycling champions and losers
Residents of Nottinghamshire recycle the largest proportion of their household waste at an average of 78 percent. They narrowly beat out Cambridgeshire, at 76, and Suffolk at 74 percent. West Sussex and Worcestershire are fourth and fifth best, recycling 73 and 70 percent of their waste respectively.
The worst county councils for recycling were Gloucestershire, which recycles just 27 percent of household waste, followed by Northamptonshire at 38 percent and East Sussex at 43 percent.
Recycling UK facts
Nationwide, according to the latest data from the Department for Environment, Food and Rural Affairs in 2018, just 45 percent of all household waste is recycled – so there's plenty of room for improvement. According to Lovemoney data, Wales has one of the best household recycling rates in Europe at 63.8 percent, putting England and Scotland to shame, with 44.2 percent and 42.8 percent respectively.
Recycle-More notes that packaging makes up around 5.9 million tonnes of the total 30 million tonnes of waste that the UK produces each year – but much of it is going to waste. For instance, we throw away 13 billion steel cans every year even though they are commonly recycled.
However, there is cause for optimism, as more people are recycling than ever. Data from WRAP shows that 89 percent of people say that they regularly recycle. The amount of recyclable packaging is also increasing, and people are eager to adopt greener alternatives. Some 65 percent of people are more likely to purchase a product if its packaging is recyclable according to research by Viridor.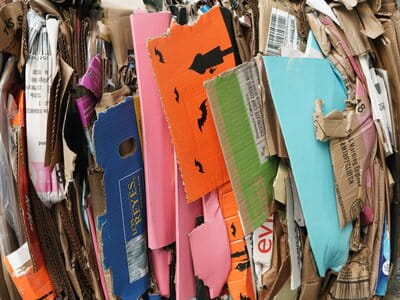 Recycling tips
If the data tells us anything, it's that we can all do better at recycling. Here are a few recycling tips from us here at Access:
Know what you can and can't recycle – mixing things that aren't recyclable in your area is called "aspirational recycling" and produces more work for recycling sorting centres. Recycle Now offers clear guidance on what you can recycle in your area.
Crush your plastic bottles, cans, tins and other packaging so they take up less space.
Reuse containers – there's no need to throw out perfectly good plastic containers if you can use them for something else.
Try to prevent waste in the first place if possible, reducing the need for recycling. Try to choose loose fruit and veg, for instance, and buy refills for cleaning products rather than new bottles.
Instead of throwing larger items away that you might be able to use later, consider using self storage.
Get in touch with us if you'd like access to individual responses and month-specific data for any of the respondents. You might also be interested in data we collected on the most expensive parking fines in the UK, or you might like some recycling tips for your home.
| | | | | | | | | |
| --- | --- | --- | --- | --- | --- | --- | --- | --- |
| Council | July | August | September | October | November | December | January | Average |
| Cambridgeshire County Council 2019 | 80.70% | 79.30% | 79.30% | 75.70% | 73.60% | 67.60% | n/a | 76.03% |
| Cambridgeshire County Council 2020 | 77.90% | 76.60% | 78.30% | 76.40% | 74.60% | 66.50% | n/a | 75.05% |
| Cumbria County Council 2019 | 74.10% | 72.80% | 72.70% | 70.80% | 68.40% | 62.40% | 65.40% | 69.51% |
| Cumbria County Council 2020 | 70.00% | 69.70% | 71.40% | 68.30% | 65.90% | 62.00% | 62.70% | 67.14% |
| Derbyshire County Council 2019 | 62.00% | 63.00% | 63.00% | 61.00% | 58.00% | 59.00% | 56.00% | 60.29% |
| Derbyshire County Council 2020 | 55.00% | 54.00% | 59.00% | 52.00% | 51.00% | 46.00% | 45.00% | 51.71% |
| East Sussex County Council 2019 | 48.82% | 49.09% | 47.94% | 44.35% | 41.71% | 38.39% | 38.22% | 44.07% |
| East Sussex County Council 2020 | 44.63% | 42.23% | 46.80% | 42.10% | 41.96% | 36.78% | n/a | 42.42% |
| Essex County Council 2019 | Not supplied | Not supplied | Not supplied | Not supplied | Not supplied | Not supplied | Not supplied | 60.74% |
| Essex County Council 2020 | Not supplied | Not supplied | Not supplied | Not supplied | Not supplied | Not supplied | Not supplied | 60.64% |
| Gloucestershire County Council 2019 | Not supplied | Not supplied | Not supplied | Not supplied | Not supplied | Not supplied | Not supplied | 26.51% |
| Gloucestershire County Council 2020 | Not supplied | Not supplied | Not supplied | Not supplied | Not supplied | Not supplied | Not supplied | 26.99% |
| Hampshire County Council 2019 | Not supplied | Not supplied | Not supplied | Not supplied | Not supplied | Not supplied | Not supplied | 61.83% |
| Hampshire County Council 2020 | Not supplied | Not supplied | Not supplied | Not supplied | Not supplied | Not supplied | Not supplied | TBC |
| Hertfordshire County Council 2019 | 60.40% | 58.90% | 60.30% | 58.20% | 60.40% | 57.20% | 56.50% | 58.84% |
| Hertfordshire County Council 2020 | TBC | TBC | TBC | TBC | TBC | TBC | TBC | TBC |
| Kent County Council 2019 | 66.00% | 63.00% | 65.00% | 62.00% | 58.00% | 55.00% | 54.00% | 60.43% |
| Kent County Council 2020 | 63.00% | 58.00% | 70.00% | 64.00% | 56.00% | 59.00% | 51.00% | 60.14% |
| Lancashire County Council 2019 | 64.50% | 63.00% | 63.10% | 61.50% | 57.60% | 53.60% | 54.90% | 59.74% |
| Lancashire County Council 2020 | 57.20% | 57.00% | 57.50% | 52.00% | 51.20% | 46.80% | 42.50% | 52.03% |
| Leicestershire County Council 2019 | 66.00% | 70.00% | 68.00% | 61.00% | 62.00% | 53.00% | 54.00% | 62.00% |
| Leicestershire County Council 2020 | 53.00% | 51.00% | 56.00% | 54.00% | 54.00% | 48.00% | TBC | 52.67% |
| Norfolk County Council 2019 | 68.62% | 68.02% | 65.60% | 64.34% | 63.01% | 58.46% | 58.32% | 63.77% |
| Norfolk County Council 2020 | 61.27% | 60.67% | 63.69% | 60.17% | 60.40% | 54.31% | TBC | 60.09% |
| North Yorkshire County Council 2019 | 73.00% | 73.00% | 72.00% | 69.00% | 67.00% | 62.00% | 65.00% | 68.71% |
| North Yorkshire County Council 2020 | 71.00% | 68.00% | 70.00% | 67.00% | 65.00% | 61.00% | 58.00% | 65.71% |
| Northamptonshire County Council 2019 | 38.83% | 37.09% | 39.52% | 37.97% | 38.06% | 37.68% | 38.32% | 38.21% |
| Northamptonshire County Council 2020 | 39.46% | 38.66% | 38.60% | 36.25% | 35.71% | 38.68% | 33.51% | 37.27% |
| Nottinghamshire County Council 2019 | 83.00% | 82.10% | 81.40% | 78.80% | 75.50% | 72.40% | TBC | 78.87% |
| Nottinghamshire County Council 2020 | 79.20% | 78.30% | 79.70% | 77.80% | 75.00% | 71.30% | TBC | 76.88% |
| Oxfordshire County Council 2019 | 60.88% | 61.09% | 61.03% | 61.09% | 60.97% | 60.39% | 60.08% | 60.79% |
| Oxfordshire County Council 2020 | 68.49% | 67.65% | 67.93% | 67.50% | 67.52% | 66.78% | 66.42% | 67.47% |
| Somerset County Council 2019 | 74.16% | 72.21% | 72.82% | 70.55% | 67.88% | 64.56% | 63.42% | 69.37% |
| Somerset County Council 2020 | 68.44% | 67.25% | 70.88% | 66.02% | 64.18% | 59.65% | 58.91% | 65.05% |
| Staffordshire County Council 2019 | 77.28% | 75.68% | 75.92% | 73.62% | 70.51% | 62.58% | 69.39% | 72.14% |
| Staffordshire County Council 2020 | 74.36% | 71.33% | 72.92% | 69.96% | 67.93% | 60.34% | 56.60% | 67.63% |
| Suffolk County Council 2019 | Not supplied | Not supplied | Not supplied | Not supplied | Not supplied | Not supplied | Not supplied | 74.30% |
| Suffolk County Council 2020 | Not supplied | Not supplied | Not supplied | Not supplied | Not supplied | Not supplied | Not supplied | 74.10% |
| Surrey County Council 2019 | 62.14% | 60.02% | 60.23% | 57.52% | 58.78% | 55.64% | 53.20% | 58.22% |
| Surrey County Council 2020 | 48.83% | 41.39% | 52.84% | 47.99% | 52.03% | 46.62% | 42.23% | 47.42% |
| Warwickshire County Council 2019 | 59.90% | 64.30% | 62.50% | 63.00% | 56.40% | 53.40% | 54.90% | 59.20% |
| Warwickshire County Council 2020 | 58.30% | 56.60% | 55.70% | 58.40% | 56.90% | 51.00% | 51.40% | 55.47% |
| West Sussex County Council 2019 | 77.95% | 77.06% | 77.67% | 74.57% | 74.60% | 69.83% | 70.34% | 74.57% |
| West Sussex County Council 2020 | 72.83% | 73.59% | 75.39% | 72.97% | 72.29% | 68.85% | 69.14% | 72.15% |
| Worcestershire County Council 2019 | 76.99% | 75.30% | 75.52% | 73.30% | 69.71% | 63.17% | 65.17% | 71.31% |
| Worcestershire County Council 2020 | 74.83% | 72.06% | 75.33% | 70.54% | 70.03% | 62.86% | 60.73% | 69.48% |