In most of the rooms in your home, it's your taste that wins out – whether it's restrained modernism or something more traditional – but your young one hasn't yet developed such refined preferences. For them, perfect decoration is about bright colours, fun patterns, and friendly characters.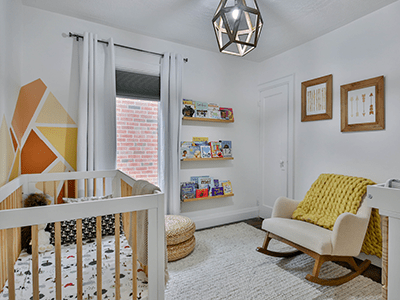 Whenever you start to decorate a room, it's hard to know where to start. So, whether you're preparing for your little ones arrival, re-decorating your child's nursery, or moving into a new house, we've put together some expert tips on how to decorate a nursery.
Don't forget, before you start decorating, you can always store furniture or belongings with us to make room for the new nursery!
Think carefully about your wall coverings
The first decision when it comes to how to decorate a nursery is what to do with the walls. These will be the backdrop to your child's first room, so it's important that they're a comforting colour or pattern. The wall coverings will also face the wear and tear associated with a growing child – from thrown food and other stains to crayons and more – so they need to be tough.
One great option is "washable" wallpaper that's designed for children's rooms. It's easy to wipe down, and it comes in fun colours and patterns. Another option is "washable" paint, which has similar properties to the wallpaper. As with anything going into your child's room, be sure to check that the option you choose is non-toxic and child safe.
Do you need to baby-proof your house in time for the new arrival? Take a look at our baby proof checklist!
Keep permanent elements simple – it's easy to add excitement!
Children grow up quickly, so unless you plan on repainting or wallpapering the room every couple of years, it's probably a good idea to keep the permanent wall coverings fairly simple. Eggshell or pastels are popular colours, and more neutral tones work well with all sorts of other decorations. Four bright walls could be too much, but a bright accent wall is always an option.
However, a neutral background doesn't mean the room can't be energetic and colourful. There are many answers to the question of how to decorate nursery walls, including popular options like wall hangings, removable stickers, and peel-and-stick wallpaper. Each of these can be easily changed to remain in-line with your child's age and changing interests – maybe it's dinosaurs one day and outer space the next! Using removable decorations also resolves the issue of how to decorate a nursery in a rental property.
Select a theme
One important step in designing a nursery is choosing a theme that ties the room together. When your child is old enough, this will be shaped by their preferences, but when they're very young, you get to make the call. Some of the most popular themes are animals, the ocean, and the night sky. If you pick one early on, you can factor it into every other choice you make, and the finished room will fit together perfectly.
You can also choose a colour to bring the nursery together, but don't feel limited to the gender-specific blue and pink. Green is great for a room with a wild or nature décor, and yellow is a nice choice for a beach themed room – get creative, the sky is the limit!
Here are some of our favourite child-friendly storage ideas.
Choose plenty of sources of light
Lighting is another essential consideration when decorating a nursery. Both you and your child will be spending time in the room at all hours of the day, so it's important to have a variety of lighting options. An overhead light, a lamp (ideally dimmable), and a nightlight are the basic requirements. Curtains, especially blackout curtains, are also key to controlling the lighting.
Many overhead lights shine straight downward, but this is not ideal for a baby lying in its cot looking upward! Be sure to diffuse bright overhead lights so they aren't blinding, and make sure that lamps and other sources of light aren't pointing a naked bulb directly into your child's eyes.
Of course, we're focusing on how to decorate a nursery, so it's important to recognise that lights are also decorations! Both the light fixtures themselves and the light they cast can greatly affect the design of a nursery. Children's lights are available in fun, familiar shapes such as animals and balloons, meaning that they add to the décor even while they're switched off.
For lights that give a show when they're turned on, consider "projector lights". These are glass domes that cast gentle images – often space or undersea scenes – on the walls. So-called "smart" lightbulbs are also available that can be dimmed or set to different colours from a smartphone.
Make your own cot mobile
Beside the cot itself, a mobile is perhaps the classic feature of a nursery. Instead of buying a pre-made one, it's easy to make your own cot mobile, and kits are available for as little as £10 which include the strings, spacers and arm – all you need to provide are the things that hang.
If you decide to make your own cot mobile, you have a world of options. You could use shells, beads, small stuffed toys or dolls, pompoms, or anything else you can think of. For any of these, you can also cut shapes out of card, or even print out images and glue them to a card backing. Whatever you use, be sure to secure everything properly so it doesn't fall on your little one's head!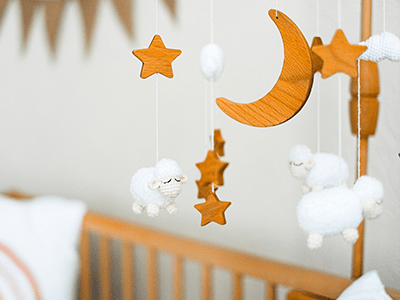 Pick fun, functional furniture
At a minimum, a nursery needs a cot and a comfortable chair. The cot is self-explanatory, and the chair is for you or your partner. You're likely to be spending plenty of time sitting in the nursery, whether it's reading bedtime stories or tending to a toddler that just won't go to sleep. You may even fall asleep in the chair from time to time, so be sure to pick a comfy one!
When it comes to choosing furniture, you need to consider safety and functionality as well as the way it looks. Good nursery furniture must be child-safe, first and foremost, as well as easy to clean and comfortable for both you and your little one. Once these conditions are met, you're free to choose as colourful or unusual a chair and cot as you want!
Check out our 5 DIY ideas for kids you can try today!
How to decorate a nursery on a budget
The question of "how to decorate a nursery" often has an implicit "cheaply" at the end. Having a child is expensive enough before you start getting into the cute but expensive custom furniture. Fortunately, you're not the first to ask how to decorate a nursery on a budget – generations of parents have asked the same question.
For big things like furniture, one of the best options is to reach out to friends and family. Anyone with children can relate, and they'll almost certainly be willing to give away things for the nursery that their child has outgrown. The rapid speed at which children grow beyond their nursery decorations also means that there's a flourishing market of second-hand decorations, many of which are in great condition and have only been used for a couple of years.
For smaller decorations, creativity is your friend! Even the least crafty among us can manage turn cheap coloured paper into simple shapes with scissors, and more DIY-minded parents may even want to break out the paintbrushes and create some custom artwork. The eyes of a baby or toddler aren't exactly discerning, so they're likely to be happy with whatever decorations you can manage!
Emptying a room in your house to make space for a nursery? Decluttering in anticipation of your child's arrival? Consider self storage! At Access, we offer cheap, clean self storage at dozens of modern locations nationwide. Find a store near you with our store finder