Finding space at home can often be a challenge for any household, but for a busy family home it can feel like space is reducing on a daily basis.
If you find that you need some extra space at home, consider using a self storage unit with Access Self Storage to free up some space.
A family home can quickly become a crowded place as new additions are welcomed into the family and the children accumulate more toys, games and bits and pieces.
This means that families need to get a little more creative with the space they have available and maximise what they can.
Fortunately, there are plenty of storage solutions out there to keep make sure rooms are kept tidy in a fun and child-friendly way. Here are some of our favourite child-friendly storage ideas.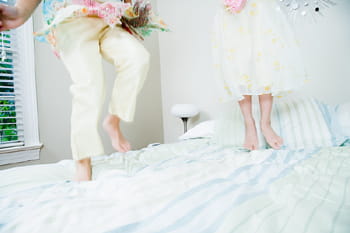 Raised bed
In most children's bedrooms a lot of the floor space is obviously taken up by the bed, which can leave little space for storage units.
A solution that many families use, and that kids love, is to install a raised bed that opens up the floor space below.
Not only will this give your child extra floor space for activities and games, it will also give you a lot of storage options. Drawers and small cupboards will be able to fit under the bed, so you can store all those toys and games without the need for an overbearing storage unit.
Cardboard boxes
Most children have a vast array of toys, dressing-up costumes, play sets and games, and they all have to go somewhere. If you need to get these bits and bobs cleared away quickly, what better than a simple cardboard box or two? These are a simple, cheap way to store your child's possessions quickly and easily.
Cardboard boxes come in all shapes and sizes, and there are many coloured versions available to fit in with your child's colour choice. Access Self Storage's Box Shop has plenty of different cardboard box packs to choose from along with plastic boxes if you're looking for something a little sturdier.
Fitted storage units
The trouble with large storage units is that, though they can be a very useful addition to a child's room, they can be dangerous. Children love nothing more than climbing all over everything, so there is always a risk that they will topple a standalone storage unit which could end up falling on top of them. So if you are looking for a big storage unit for your child's bedroom, it is a good idea to get a fitted one that is built into the wall.
This will provide a safe and secure storage space and can also blend into the room in a way that standalone units often can't.
Child's desk
Not all storage solutions have to be solely for keeping a child's room neat and tidy; some can have other functions as well. A prime example of this is a child's desk, which is a great addition to any kid's room.
Children love things like arts and crafts, and a small desk offers the perfect place to get stuck into some drawing and colouring.
The desk can then double as a mini storage unit to house everything from pens and colouring pencils, to paper and art materials.
Hanging storage
If you find your space is really being stretched at home as your family and its possessions keep on growing, you need to get really creative.
This means finding and utilising any space you possibly can to turn it into another place to keep clutter contained. A good example of this is hanging storage, which turns the backs of doors and sides of bookcases into extra storage space.
Hanging storage can come in the form of hooks and clips for keeping clothes or costumes safe, or hanging wall pockets that can house anything you want. These work well in a child's bedroom as they are often colourfully designed and are easy to access when you need a quick-fix solution to an untidy room.
Remember, if you find that you need some extra space at home even after all of the above suggestions, consider using a self storage unit with Access Self Storage to free up some space.