Bringing a baby home is one thing but keeping your home safe for a toddler is another. They're curious little creatures, and once they start moving around (and it'll happen sooner than you know it), you'll need to do everything you can to keep them safe. Your home is full of hazards, and you need to make sure they're all out of reach (or at least covered) by the time your baby can get to them.
With so many tips and gadgets out there, it's easy to get overwhelmed with what's best. If you don't know where to start, this baby proof checklist will ensure you know how to baby proof a house.



Remove small objects that can cause choking, suffocation and strangulation
The Child Accident Prevention Trust says that one of the most common causes of accidents for under 5's is choking, suffocation and strangulation. Selina Russell, Founder of Cheeky Rascals and co-founder of home-safety brand Fred says: "Choking happens quickly, and you need to react fast. A good tidy up of your home is a good start, but do you know the size of a choking hazard? Most assume it's the size of a grape, in fact, it can be far larger. A Fred Choke Tester will help you understand what to look out for - coins behind sofa cushions, pen tops or batteries that rolled under the furniture etc. Food is a challenge too. As you wean your baby, chop it up small.
Lock your doors, windows and cupboards
Demi Stanley, home improvement specialist at Fantastic Services says: "Secure all of your windows and doors with safety locks and block access to specific areas. If you live in a multi-storey building, installing a lock on each window is a must. Or as an alternative, most hardware stores have child safety window catch that costs £10 at most. It's a spring-loaded fixture that restricts the window to open for more than a few centimetres. That way, your toddler can't fall out if they open the window by accident."
Make sure your fire alarm is working
Babies are at risk of burning themselves on many objects. Selina says that "stoves are an obvious risk, so use the back burners and pan handles angled away. Consider installing a Stove Guard to block access. Bath water, hot pipes and radiators all need to have their temperature checked before a child comes into contact."
Demi also says "According to the law, if you are a landlord in the United Kingdom, you must have a working fire or smoke alarm from the 1st of October 2015. In addition, you must install a carbon monoxide alarm in each room with a fuel-burning appliance. Try to place your fire alarms in most of the rooms in your property. Be conscious of the dangers of fire or carbon monoxide poisoning and protect your kid against it. Make sure that your baby is protected and you know how to make your home safe from fire. An average household alarm installation service costs up to £500, but the benefits are twofold."
Set up baby safety gates
As for which areas to block off, Demi suggests starting with the kitchen as it "contains a lot of objects dangerous in a toddler's hands. You could even isolate staircases and avoid accidents until your child is old enough to climb these." Demi recommend wall fix safety gates, which you can get for as little as £20. Secure the gate onto your wall with fixings and screws to make it stable. And of course, always check that you lock the gates before you leave the premises.
Secure your plants and fragile objects
Remember, unstable flower pots can fall over and injure your toddler. Demi also made the point that some plants are toxic – Philodendron, Easter Lily and Daffodils are part of the long list of 14 plants poisonous for your kid.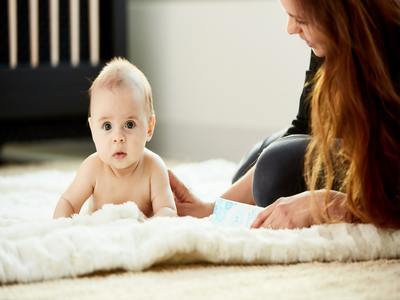 Use cordless blinds or cleats
It turns out that blind cords are more dangerous than they appear. A study found that in 2015, almost 17 000 children were injured in window blind accidents. Demi says you should invest in "cordless blinds or install safety blind cord cleats. Secure the fixture on your wall and wrap the cord around it. A single piece costs £6 and it's a worthy investment."
Cover all plugs and sockets
Covering all electrical sockets is essential to safeguarding the home. Mohammed Patel, Director of Kiddies Kingdom says that's because "plugs are often low down, so can be very tempting for new crawlers to prod and poke with their fingers. There are a few ways to cover outlets but the most popular ways are by covering with large, heavy furniture or investing in safety covers." You can pick up Safety First Socket Covers for £1.99 (6 pack), or Demi says that a certified electrician can install a tamper-resistant receptacle for about £70.
Babyproof edges

in your home

Mohammed also says you should "cover all sharp edges with safety padding to prevent your baby from hurting themselves when crawling or walking. Remove lids from toy boxes and ensure other cupboard doors are secure as they may trap their fingers when reaching for stability. To do this, use safety products such as elastic clips or door wedges. Don't forget to install a safety lock on your toilet seat too!" You can get Hauck Close Me Door Lock for £3.49 (3 pack).
Car safety
When it comes to car seats, experts advise not to cut corners when purchasing a car seat by buying brand new as opposed to second hand. Fortunately, Mohammed says that there are "ample affordable kids car seats for sale both online and in shops. Make sure to get a thorough demo on how to fit the car seat correctly from the retailer you purchase it from. It's also worth noting that if the car seat is positioned at the front, the airbags should be switched off."
Consider your flooring
You might want to consider changing your flooring if you have hard concrete or tiling. Lauren Shaw, Residential Marketing Manager at Amtico says "Compared to ceramic tiles or wood flooring, vinyl is softer underfoot are therefore more forgiving when your little ones are crawling around or taking their first steps. Ceramic tiles and wood can also feel cold, whereas vinyl feels warm underfoot and works really well with underfloor heating. Making sure your baby's room is warm and relaxing is important, and when they get to the age where they want to play with their toys on the floor, having a warm and comfortable surface can help them enjoy playtime even more."
Clearing some furniture to make space for the new arrival? Check out our cheap storage units across the UK, including Access Self Storage Coventry, Access Self Storage Manchester and Access Self Storage Nottingham or find your local store online.