It's snow joke, over 18,500 children's toys have been collected since the Access Self Storage annual Christmas campaign began. Now in its 10th year, Access Self Storage announces the launch of its 2023 charity collection urging locals to give someone elf a merry little Christmas.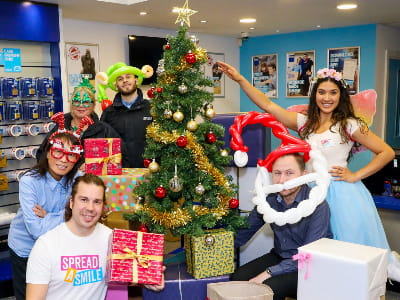 Last Christmas, gifts were distributed across dozens of charities across the UK and this year we have decided to partner with the charity Spread A Smile!
Local residents and customers can donate their brand new and unwrapped toys and gifts for Spread a Smile and the children and families that they support, at their closest store, or decide to donate at any of the Access Self Storage locations around the country. All gifts and toys will be accepted but if you're seeking Christmas inspiration, a suggested gift list of ideas for children and young people include;
0-3 years: dolls, teddy bears, baby clothes, bath toys, puzzles

3-5 years: dolls and action figures, cars, lorries, colouring sets, pencils, crayons, books, puzzles

5-9 years: educational games & toys, stationery (colouring sets, pencils, crayons, school sets), books, puzzles, wordsearch, crosswords

9-12 years: games and toys, stationery, books, t-shirts, hair accessories, gloves, scarves, hats, water bottles

Spread a Smile's Santa and his Elves will distribute the toys and gifts to children and their families at the 30+ hospitals the charity supports, across the UK. The visit from Santa and his helpers, or via a virtual grotto for children that can't have in person visits, is the highlight of the year!
Jan Albert Fourie, General Manager of Operations at Access Self Storage commented, "Our stores work closely with their local communities and each year build upon this campaign. We hope that this 10th anniversary year will enable us to smash the 20,000 donated toys ceiling, and that children in hospital across the UK will be treated to a gift this year from our Christmas collection. If all our customers and our local communities get behind the campaign it will make a huge difference."

Staff have already begun collecting toys and people are invited to bring their toy & gift donations in to the stores between 13th November – 11th December, ahead of the charity collection and distribution in time for Christmas.

We believe every child deserves a new gift at Christmas so we are unable to take used or second hand items for the Christmas Present Appeal.
Lucy Jackson, Chief Executive Spread a Smile said of the partnership, "Partnering with Access Self Storage, for the first time, for its toy collection will mean we can spread even more magic this Christmas. It's a precious time of year and we know the Santa visits create unique and lasting memories. The support of the Access Self Storage teams, customers and their communities is truly priceless."

The Access Self Storage stores that are collecting for Spread a Smile are:

For further information about Access Self Storage, please contact Zoe Sobol at Snowball PR – zoe@snowballpr.co.uk /07971066034