Anyone who has been in charge of an office move knows how stressful it can be. There are lots of moving parts – you need to make sure you don't leave anything behind, dispose of the items you aren't taking with you, and ensure everyone is nicely settled into your new office, all while minimising business downtime as much as possible.
But moving office is often a positive thing – a sign of growth and new beginnings. And nowadays, there are plenty of companies that can help you make the office relocation nice and easy.
With all that in mind, here is the ultimate moving office checklist to help you on your way.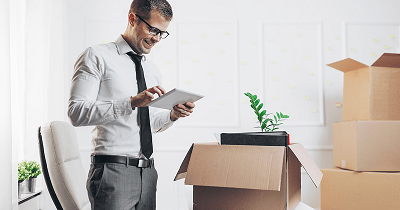 Create an inventory of your existing items
Before you move your furniture, make a note of everything in the office that you're planning on taking with you. It'll give you a good idea of what you need to buy, what you can get rid of, and help you identify anything lost in the move (although hopefully that won't happen!)
Get a floor plan of your new office
Once you have a floor plan for your new office, you can start allocating space for your items and employees. A detailed floor plan will provide an accurate depiction of your vision for the space, which will help you communicate to the movers what items should go where.
Looking for a new office space? At Access Self Storage we offer flexible office spaces for businesses of all sizes, which can be rented on a short or long term basis.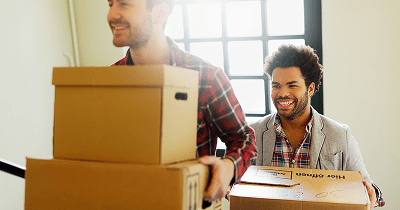 Meet with the IT department in advance
Most businesses can't afford to be offline for long periods of time, so speak to your IT team to determine what they need to get everyone up and running quickly. It might even be worth taking them to the new site before you move, so that they can see what resources will be available and when.
Send out a change of address notice
You'll want to let the following people know about your change of address:
Clients and partners

Any professional organisations your company belongs to

Any subscription-based services you're signed up to

Your bank

Your telephone provider

Your insurance company

Internet service provider
Arrange for parking on the day
It's really important to book parking space and elevators (if you need them) for moving day. Your movers will need to park directly outside the office and may need more than one space, so make sure this is sorted before move-in day. Otherwise, you might have to delay the move or pay large parking fines.
Arrange external storage facilities
You might find moving office easier if you can move furniture out gradually. At Access Self Storage, we have self storage facilities across the UK, with secure units to store your equipment, furniture and documents. Access also provides other business services, including telephone answering, mailboxes, and record management.
Get everyone involved
Moving office affects everyone, so it's worth getting people involved before, during and after the move. Create a moving committee and give each member a role. Discuss packing procedures and decide which team members will stay at the current office until the last of the movers have left. It's also a nice idea to give everyone a 'moving pack' with information on the new office, a guide to the local area, and an office blueprint with an indicator of where they're going to sit.
Make the day itself as easy as possible
The devil is in the details when it comes to preparing for moving day itself. Make sure everyone is aware of their responsibilities and has a phone number to contact in case of emergency. You should also set a budget for refreshments on the day to keep everyone energised and motivated. Then make sure that all the most important tech and equipment is moved into your new office first, so that people can begin working again as quickly as possible.
Follow the steps on our office moving checklist, plan well in advance, and your office relocation should go smoothly, getting your company back up and running again as soon as possible.