You might be surprised by the results if you take a few moments to maximise your wardrobe space – often the problem is not that you have too many clothes, but they're not organised as effectively as they could be. We've reached out to some wardrobe experts for their top tips on how to maximise space in your wardrobe.
Give away the clothes you don't wear
It can be tough to hear but to truly maximise wardrobe space you will need to say goodbye to the clothes that you no longer wear.
"One of the quickest ways to maximise your wardrobe space is to have a ruthless sort through and select your all-weather essentials for the season and keep these hanging on the rail, ready to use. The most suitable pieces will be versatile and easily layered or dressed up so that they can be used whatever the weather or occasion," said Helen Marsden, Buying Director for Kit & Kaboodal.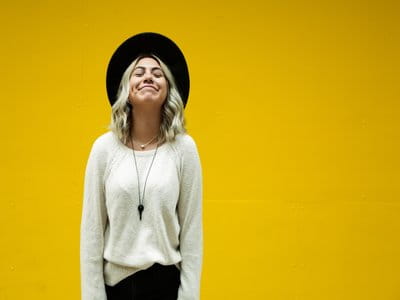 Fold your clothes
Helen also pointed out that "a simple way to maximise wardrobe space is to take the time to fold the garments properly. Once folded effectively, many items such as long-sleeve t-shirts and jumpers take up much less space in the wardrobe. Additionally, if some items just don't fit the space properly and are therefore taking up valuable drawer space, then get creative. Bras can be tricky to fit in shallow depth drawers, so if this is taking up too much space then why not try a multi-use underwear hanger on the wardrobe rail instead?"
Make use of vertical space
Metal chain hangers follow the same logic as double-decker buses, allowing you to hang two or more items in the footprint of a single hanger. If you've packed in clothes on the bar so tight horizontally that they look like they might explode, this is a great way to use the same space more effectively. Of course, this won't work with full-length garments like dresses or long coats, but it's great for shirts and tops. This tip on how to maximise wardrobe space comes from James Carfell, who is currently the HR manager at MWB Solutions, but in a previous job worked for a reputable wardrobe retailer.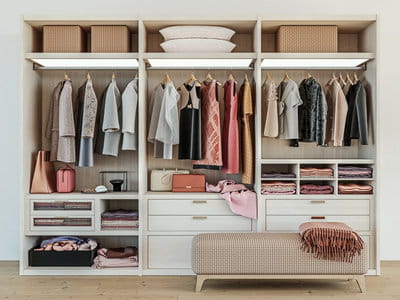 Use floor space effectively
James added that floor space is also often either ignored or used to dump loose clothes. He suggests adding some trays or drawers at the bottom of your wardrobe to maximise the usable space available. In most wardrobes, these drawers should be able to fit folded tee-shirts and socks, at the very least, buying you some extra space on other shelves. Helen echoed this suggestion, noting that "shallow boxes can fit a significant volume of clothes, especially if you roll them and fit them in as you would packing a suitcase."
Consider a new wardrobe
Have you considered that the issue might not be the clothes, but the wardrobe itself? Just as you can tailor clothes to fit you better, a custom-designed wardrobe can make the most of the space you have available. Simon Bodsworth, Managing Director at Daval, told us that a custom wardrobe could buy you up to three times more storage space. As an additional benefit, custom furniture can be designed to match the aesthetic of the space.
There's always self storage
If you need to store some extra clothes – like winter coats in the summer and pool clothes in the winter – consider Access Self Storage. We offer a range of flexible storage solutions, from wardrobe-sized lockers to room-sized storage units, so we have an option for you, no matter how many clothes you need to store. We have branches across the UK, including Access Self Storage Northampton, Access Self Storage Southampton and multiple branches in major cities.