Part of being a
film fan
is having access to your favourite movies so you can watch them at a moment's notice. Once upon a time, this meant having VHS tapes, but when DVDs came along, most people tossed their old tapes in favour of the shiny new alternative.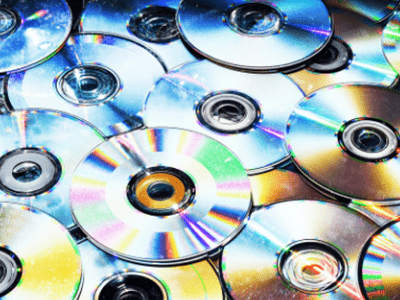 Now, as streaming has firmly established itself as the top way that people watch movies, movie buffs are wondering how to get rid of old DVDs. Fortunately, we've put together a guide to the top ways to get rid of old DVDs.
Recycle your

old DVDs
Surprisingly, DVDs – and their plastic cases – are recyclable. However, the catch is that you can't just toss them in with your household recycling, so you need to bring them to a recycling centre. Several online services will also pick up your DVDs for a small price and take them to be recycled.
How good is your county at recycling? Take a look at Britain's best and worst recyclers.
Repurpose DVDs as art projects, bird deterrents, and more
You can also breathe new life into your old DVDs by using them for a project – the shiny circular discs have as many uses as you can imagine. Creative kids and adults can reuse DVDs for art projects, while those with green fingers commonly use them to scare away hungry birds (they are afraid of the reflections) and keep their plants safe.
Looking for clean, modern self storage in Sydenham or Crystal Palace? Check out Access Self Storage Sydenham!
Give your

old DVDs

to your local library
One surprising answer to the question of how to get rid of old DVDs is to pay a visit to your local library. Many libraries still maintain collections of DVDs, especially for children's programmes and movies, and they are often happy to expand their selection. However, there's a risk that they already have plenty of copies of popular movies, so don't rely on this approach as a one-stop-shop for getting rid of your old DVDs.
If you live or run a business in Hertfordshire, check out Access Self Storage Stevenage.
Donate your DVDs to a charity store
While libraries may have a limit on how many copies of "Titanic" they can store on their shelves, charity stores do not, making them another great way to get rid of old DVDs. Your local charity store probably already has a section for used DVDs and the profit from their sale will go to a good cause – a win-win.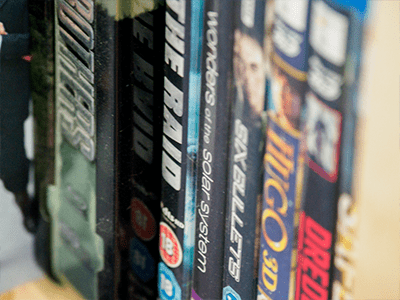 Sell your DVDs online
While you may be wondering how to get rid of old DVDs, some people are still looking to grow their collections. It's definitely a buyer's market, but you may be able to get some money for your old DVDs by selling them online.
Often, sellers of used DVDs adopt one of two approaches: they sell their entire collection in one go or sell the discs individually. Selling an entire collection saves time but results in a lower sale cost per disc, while listing them individually takes a long time but can produce larger returns.
A hybrid option is probably best. Go through your collection to look for the most popular movies and unique or rare items like "collector's edition" boxes and list these individually, as they tend to sell for more. Then, list the remainder of your collection as one big item.
Remember, there isn't a large demand for old DVDs, so you shouldn't be surprised if your collection sells for under one pound per disc – think of this more as an exercise in sending your beloved collection to someone who will appreciate it than a get rich quick scheme.
Need storage near Coventry? Access Self Storage Coventry provides cheap storage units in a range of sizes.
Put them in storage
Consider the reasons why you were considering getting rid of them and the realistic use that your old DVDs will get in your house in the future, and if you still can't bear to part with your collection, that's ok. Look for a place at home where you can keep them or, if you'd rather move them off-site, consider self storage. A clean, modern self storage locker could act as your own personal movie vault – and you'll be surprised how affordable it is.
Looking for more blogs about movies? Check out these blogs:
If you're interested in self storage, try our store search to find your nearest facility.