Having a garage is useful for storage, but it can quickly become a dumping ground. And if you can't get in it and find what you need, then it's not serving its intended purpose.
If you're planning a garage makeover, and you want to transform it into an organised space, it's best to make a plan before you start moving things. Here are some garage design ideas from experts to help you kickstart your garage renovation.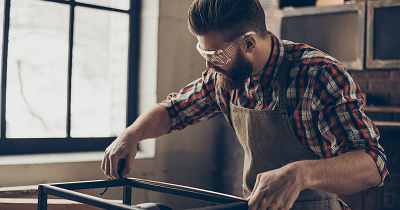 Choose storage that protects your tools
People tend to keep larger electric items in the garage, which are prone to rusting if not cared for properly. Gary Lyons, Managing Director of Plastic Box Shop, said: "Power tools can be more prone to damage from dust and rust, so keep them in sturdy, durable boxes with an airtight lid to keep out moisture and dirt. Open-fronted boxes are great for nuts, bolts, and other little odds and ends, because you can grab whatever you need right in the middle of a job without needing to meddle with a lid."
Colour coordinate your boxes
Cardboard boxes are an easy, quick fix for garage organisation and storage. However, you can't see what's in them, making it difficult to find things when you need them. To get around this, Gary said: "Install some garage storage racking against the walls and place your boxes on these, so you can access each one without disturbing the others. Transparent boxes are perfect for this, as they let you see what's inside at a glance. I also like to use colour co-ordinating lids to group similar items together: for instance, red for Christmas decorations, green for gardening gear, and yellow for the kids' toys."

Is your garage big enough to store your items? If not, Access Self Storage can help. We have stores across the UK, including Access Self Storage Bristol, Access Self Storage Southampton and Access Self Storage Battersea.
Invest in magnetic utensil holders
A quick, easy and cheap way to renovate your garage space is to invest in some magnetic utensil holders. Commonly used for kitchen knife storage, you can install them inside garage cabinets or just hang them on the wall. Then, stick your tools or other magnetic equipment to them and start saving space! You can pick up magnetic knife holders from as little as £3.25 on Amazon.
Shelving
The Taskers from the Airtasker platform suggest that, when starting your garage makeover, a key element in your plan should be shelving. There are various options to choose from when it comes to garage shelving systems - here are a few of the options available, and the benefits of each:
Metal, Wire & Mounted Shelving:

This shelving system combines metal mounted shelves with a series of adjustable racks so you can custom fit it to your space. Invest in different sized tubs and bins to help you tuck away all the ad-hoc items lying around.

Industrial Shelving:

Industrial shelving systems are often found in garages, as they're so versatile. You can also adjust these easily according to the amount of space available.

Cube Shelves:

Cube shelves can be deceiving as they don't appear to hold much. But you'd be surprised at how much you can pack into them using a variety of baskets or bins.

Storage Racks:

Make use of all the spaces within your garage, including the ceiling. There are a variety of innovative storage rack systems available that enable you to tuck away all those bits and pieces you don't use often, but still need to access from time to time.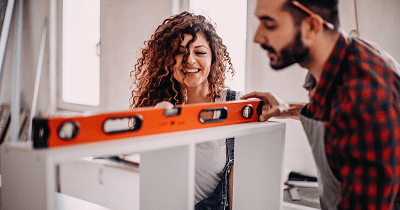 Use your ceiling
Another one of our garage design ideas is to free up floor space by using your ceiling instead. Heavy duty bike hooks are designed for hanging your bike from the ceiling instead of resting them by the wall, but you can also use them to hold power equipment, furniture, tools and hoses. The AIYoo Bike Hooks come in packs of four or six and work out at less than £2 each.
Consider your lighting
Consider installing some lighting in your garage so you navigate it safely. David Boultbee, Technical Consultant at Ultra LEDS said: "Many people use their garage as a space to store tools and DIY supplies, which means there's likely to be trip hazards and other dangers. So, having lights that are bright enough for you to see your way around is essential."
David recommends LEDs specifically because "they are brighter than incandescent bulbs and have the added bonus of being more energy efficient, which should help keep your bills down. They also don't give off as much heat, reducing the potential for fires. You often store things in your garage that you wouldn't want to keep in your house, such as chemicals, petrol, and even fireworks, so lights with as little heat energy output as possible are ideal."
Leave space for your car
If you plan to keep your car in the garage, then you need to make sure you leave enough space for it before you start your garage makeover. Gary said: "An easy way to work out how much space you've got to work with is to park the car in the garage, open the doors as far as you need to get in and out, and then use masking tape to create a parking space around it on the floor. Leave this tape in place when re-organising your garage to make sure you don't take up too much room."
Use motion sensor lighting for security
If you're leaving your car in your garage, you'll want to make sure it's totally secure. David said: "Some LEDs even come with motion sensors, so they can illuminate as you approach in your car. This means you can park safely and more accurately, plus save even more energy because the lights will also switch off automatically when you leave. This feature makes LEDs good options for security lighting, as they can be triggered by intruders and trespassers to alert you to their presence."