Decorating a rental home or rental apartment is challenging – not least because you probably aren't allowed to hammer nails in or paint the walls. However, that doesn't mean that you can't add your own personal touch to your space. It's important to create a space where you feel at home, even if you're renting, and that's why we've gathered some ideas on how to decorate a rental house without getting in trouble with your landlord.
Rescue your photos from the phone screen
Smartphone cameras are incredible these days, and your social media – especially Instagram – is probably overflowing with stunning photographs. Why limit them to occasional viewing on a tiny handheld screen when you could put them up as a print? This tip is one of the best values for money when it comes to decorating a rental home. Photo printers such as Snapfish often have a range of offers and sales on photo prints, and if photo frames aren't for you, they can print your photos on a freestanding canvas that you put on a shelf or table.
No need for nails
If you've decided to put up some family photos in your rental apartment but you're stuck because you're still forbidden from hammering nails in the wall, Command Strips are the answer. These adhesive strips lock together like Velcro, with one side sticking to the wall and the other to the picture frame. They come off cleanly – meaning no security-deposit-jeopardising holes, marks or sticky residue – and come in a variety of sizes. They're surprisingly strong, too: medium strips hold up to 5.4kg and large strips up to 7.2kg. You can get them from many retailers in the UK, including Amazon, Asda and B&Q.
Accessorise that sofa
If you don't want to buy your own couch but don't like the one in your flat, it's time to accessorise. Cushions and throws on couches, chairs and beds can give a room a splash of colour, as well as providing extra warmth in the winter. IKEA has a good selection of throws starting from just £8 – nobody said decorating a rental property needed to be expensive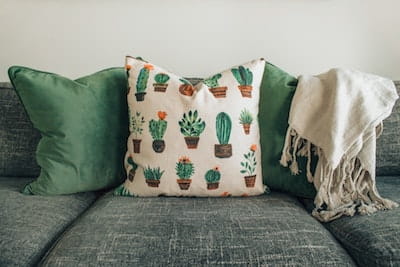 Consider lighting
Lamps can be a really nice way to brighten up a room – both literally and figuratively. They provide softer lighting, or 'accent lighting', which is a subtle yet effective way to create a more mellow atmosphere. There are hundreds of options for table lamps and floor lamps that make a statement, don't require any fitting and are easily set up.

Invest in curtains
Elinor Pitt is the co-founder of environmentally friendly curtain company Stitched. She suggests using curtains or blinds as ways of both insulating, creating privacy, and decorating a rental home. "If your walls are neutral and your landlord won't let you paint them, you can use curtains or blinds to introduce colour and style into a space. In addition, if you have single glazed windows, go for insulating materials like wool to retain heat and keep heating costs down."
Add a rug
Rugs are an easy way to liven up a room and make it feel more comfortable. From a small rug floating in the middle of the room to one that's big enough to fit under all the pieces of furniture, there are tonnes of options for customising your floor.
Nick Acaster, Managing Director at Rugs Direct, knows a thing or two about rugs and he suggests going for a contrasting colour. "If your carpet is a low-pile neutral shade, then you should always go for a rug in a bright colour or pattern with a higher pile than your existing carpet," he said. "Not only will it instantly put your own personal stamp on your place, but it will also cover up a multitude of sins if your flooring is stained or grubby."

Buy some candles
Candles are atmospheric and add a wonderful scent to your home. They're easy to pick up from local stores or you can invest in branded scents like Jo Malone, Neom and Diptyque. They also tend to come in glass jars and containers, so they're recyclable – lots of people like to clean them when finished and use them for storage (here's a handy tutorial on how to do it).
Change cupboard and door handles
Cupboard and door handles are easy to change and can make a significant difference to the look and feel of furniture. Anthropologie has beautiful knobs and handles that you can invest in – just make sure you keep the original handles and fixtures to put back on when you move out of your place (if, indeed, you're planning on it at some point in the future).
Invest in multi-functional furniture
Bringing in your own furniture is a great way of decorating a rental house, doubly so if it's multi-functional. Joanna Thornhill, stylist at Oak Furnitureland, is an evangelist for blanket boxes because they can "provide storage from bedding and towels in a bedroom, to shoes and toys in a living room. They can even double up as a seating bench around a dining table when you have guests, or a coffee table. In addition, nests of tables are versatile, compact and convenient for any occasion. They're handy space savers, impromptu seating, bedside tables, bookshelves, hall tables, lamp tables, drinks stations and even desks for kids."
If you have the opposite problem, and you've got too much furniture for your new rental apartment, why not put it in storage? Our friendly teams can help keep it until you move into somewhere more spacious.
Maximising space in a child's bedroom
Little kids are often hoarders, collecting small mountains of clothes, toys and books. When space is tight in your rental property and you find yourself without built-in wardrobes, it can be a little overwhelming when your child's belongings begin to take over.
Clare Stubbs, from children's bedroom specialists Room to Grow, recommends investing in clever integrated storage solutions, such as space-saving beds. "If your child is under six years old, look for a design with under-bed drawers. These are great for neatly hiding away last season's clothes, towels or spare bedding. If your child is older than six, look to cabin beds. The comfortable but functional design of a cabin bed is fantastic for using limited space in your child's room, through opening up additional drawer, wardrobe and shelf space under-bed – if you'd rather, it can even be transformed into an under-bed den, ideal for imaginative play."
If your child's toys are still taking over the house, you can always put them in storage with us and give yourself some breathing space.
Decorating your child's bedroom
Children spend much of their childhood in their bedroom, for sleep, play, study and everything in between. That's why it's crucial that they feel a sense of ownership over their space and that it reflects their personalities. Even in a rental property, kids should feel safe and comfortable.
To bring life to a dreary, dull rental bedroom without damaging the paintwork, Clare suggests brightening up the room with some carefully-chosen accessories: "Whether you introduce bursts of colour through their bedding, cushions and a rug, or opt to go all out and create a fun themed space through clever lighting, themed-furnishings (think 'Teepee' or 'House' bed designs) and bunting, accessories can transform your child's bedroom into a unique sanctuary, optimised for sleep and play."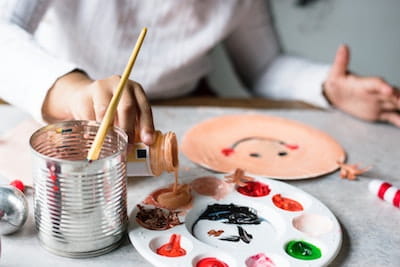 What about self storage?
Here's a bonus tip: If you have some beloved possessions that you just can't find room for in your rental place but can't bear to part with, consider self storage. At Access Self Storage, we offer affordable modern storage units and storage lockers in a variety of sizes. We have stores around the country from Access Self Storage Northampton to Access Self Storage Southampton – try our store finder to locate your nearest storage facility – and our helpful staff are ready to help you find the ideal storage solution for your needs.