The good news to round off 2018 is that children (and adults) no longer have to wait the excruciating 24 hours from the 24th December to the 25th for their gifts. The Christmas Eve box is designed to be given on the 24th, filled with goodies that ensure the recipient has everything they need for the greatest Christmas day of their lives, kind of like an early stocking. Some say that the tradition stems from the fact that some Eastern European and Scandinavian countries celebrate Christmas on the 24th December. Others say it's an excuse for more presents. Either way, Christmas Eve boxes have become a hit in the UK and families are embracing the 'new tradition'.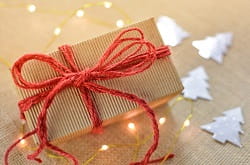 However, it can be hard to know exactly what kind of presents you should give on Christmas Eve. After you've spent your time buying your actual Christmas presents, it can be hard to come up with Christmas Eve gift ideas, too.
So, we've come up with some gift ideas for you to include in a Christmas Eve box. Remember, it's the thought that counts – so make sure to include something a little more personal, too.
The box
It should go without saying, you need a box before deciding what to put in a Christmas Eve box. Any normal gift box, crate or shoe box will do. Paperchase has some lovely Christmas gift boxes or plain Kraft boxes. Access Self Storage also has your needs covered – we have small, medium and large boxes, and plastic boxes too. Try to hold on to the box if you can, to reuse next year.


DIY cookie jars
Cooking and baking are lovely activities to do on Christmas day. These DIY cookie jars make it easy for the recipient to bake something on their own, and they can keep the jar afterwards. Simply buy an empty jar and fill it with the dry ingredients to make cookies – this recipe from Jamie Oliver is good, as is this one from BBC Good Food – and put a tag on the jar with cooking instructions. Simple, thoughtful gifts such as this take up a decent amount of space in the box, too.
A Christmas movie
Christmas is the best time to watch a Christmas-themed movie, so why not get a permanent copy of one to put in a Christmas Eve box? There are loads of Christmas films to choose from, the most obvious being Elf, It's A Wonderful Life and Miracle on 34th Street, but there are lots of others to choose from too. Arthur Christmas, A Charlie Brown Christmas and Bad Santa might be more appropriate for your Christmas Eve box, depending on who you're gifting. Rotten Tomatoes has a handy list of the best Christmas films to help you decide.
A Christmas book that isn't 'A Christmas Carol'
Understandably, you might not want another excuse to sit you or your kids down in front of the TV. This is where books come in handy and there are more Christmas books than you might think. For adults, you could try 'A Christmas Memory' by Truman Capote, 'The Adventure of the Blue Carbuncle' by Sir Arthur Conan Doyle or 'P.S. Your Cat Is Dead' by James Kirkwood. For kids, try 'A Boy Called Christmas' by Matt Haig, 'The Ice Monster' by David Walliams or 'The Pug Who Wanted to Be a Unicorn' by Bella Swift. All available via Amazon or Waterstones.
Christmas jumper
Christmas Eve seems like a good time to give someone a jumper that they can only really wear on Christmas day. Christmas jumpers were once a bit naff, but like most fashion, have come back around and are cool again. Next have a whole section of their shop dedicated to them and cater to the whole family – even the dog.
Card games
Games are perfect at Christmas to fill the time between meals and films on TV. Card games are particularly good for Christmas Eve boxes because they're small. There are loads of options, including
Dobble, Quirk, Phase 10, Grab a Pig and Uno. Or you could just get your loved one a classic set of cards if they don't already have any.


Christmas pyjamas
Most people spend the majority of Christmas day in their pyjamas, don't they? The joy of a Christmas Eve box is that you don't have to worry about the gifts inside being too Christmassy. Matalan has matching pyjama sets for all the family, perfect for Instagram. Marks and Spencer also have a nice selection, too.
Face mask
One of the more unusual gift ideas is a face mask. Any break from work – or the normal stresses of day to day life – is a nice excuse for some pampering. Face masks are fun for all the family and you can now get a variety of them – whether that be one-time sheet masks or a pot of cream. The Body Shop has a variety of face masks and Garnier makes affordable and effective single use sheet masks.
A Christmas album
There are plenty of playlists and Christmas classics to repeat each year, but it might be nice to listen to a different soundtrack. Katy Perry, Eric Clapton, John Legend and Gwen Stefani all released Christmas albums in 2018, so why not throw a new album into the Christmas Eve box? You can buy a physical CD (yes, they still make them) or you can buy it as a download and put the voucher in your box.
Got too many Christmas presents to try and hide at home? Our Access Self Storage facilities across the UK, including self storage Kings Cross, self storage Bristol, self storage Derby and self storage Birmingham Central can help you store your presents out of sight before the big day.