Whether you've bought a lovely porcelain vase in a local antiques shop or inherited a family heirloom, it's highly likely that you've owned an antique at one point or another. Antiques are tangible and often decorative, meaning you can enjoy them in your home, whether you make a profit from them or not. However, these relics can also be a solid investment and a great way to earn some extra cash. There is an art to buying and selling antiques - as any 'Antiques Roadshow' fan will tell you, it's hard to predict how much they're worth. So it's worth learning the ropes before you dive in and make that first purchase or sell that first item.
Here are our top tips for buying and selling antiques.
1. Work with a dealer
It's really important to work with an expert when buying or selling antiques. You're more likely to get the 'real deal' if you buy from a dealer – and they should be able to advise whether it's going to increase in value. Likewise, when selling antiques, it's always best to get expert opinion and advice. The British Antique Dealers' Association (BADA) has a handy find-a-dealer tool to help you find the right dealer for the item you're either buying or selling.
2. Buy what you love
The antiques market changes and some items come in and out of fashion. This means that you could be holding on to your period piece for a long time before you're able to sell it, so ideally, you want to enjoy what you've bought. Many dealers started out as collectors with a passion for a certain type of object. When antiquing, go with your gut – if you love it and it's within your budget, that's a good sign.
3. Beware of fakes
You're going to need to be aware of fakes when you're buying and selling antiques. If you're buying, you'll need to properly inspect the item and know the tell-tale signs of a fake – one maxim is that if it looks too new, it probably is. Another handy tip is to study reference guides for likeness – this will also train your eye and help you spot fakes in the future. If you're selling, you'll need to provide evidence that your relic is genuine and be prepared for questions from your potential buyers. This is easier with furniture (old furniture was generally handmade so tends to have irregularities) and branded goods (you can look up logos online quite easily).
4. Consider auction costs
Auctions are still a great place to sell antiques. You can arrange to meet with the auctioneer or go to an auction house's valuation day to get a pre-sale estimate and advice on what day to sell. However, if you choose to sell at an auction, bear in mind the auction costs that will eat into your profit. Fees include sellers commission (normally 10% plus sales tax), reserve price fees and no sale fees.
5. Understand how to sell antiques online
If you don't have an auction house nearby, it might be easier to sell your artefact online. Be warned that you'll encounter considerable competition – at the time of writing, there were 1,641,084 antique items listed on eBay.
If that hasn't put you off and you still want to know how to sell antiques online, it's worth sticking to the following rules:
-Take lots of clear photos.
-Check for similar listings and watch how they fare before you list your item.
-Check how much it will cost to post before listing it.
-Include a Q&A of likely questions on authenticity and condition.
-Use as many relevant keywords as possible so that an enthusiastic buyer can find your item.
Aside from eBay, you can get set up to sell relics on other, more specific websites. Selling Antiques for example, allows you to buy and sell in a regulated environment (and from the comfort of your sofa).
6. Do your research
If you're interested in buying and selling antiques and are based in the UK, you should definitely check out The Art & Antiques Fair Olympia. It takes place every year in June and hosts 160 of the world's leading specialist art and antiques dealers. You should also check out Miller's Antiques Handbook & Price Guide, so you can keep up to date with how the antiques market is faring.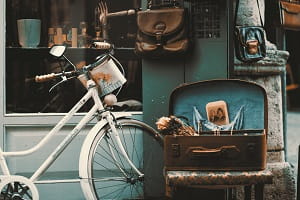 Looking for somewhere to keep your antiques safe? Our self storage options across the country with gated perimeters and CCTV, including Access Self Storage Birmingham Erdington, Access Self Storage Barking and Access Self Storage Hemel Hempstead, can help you securely store your valuables.