The story of Lovedesh is a story about reconnecting with your roots.
In 2009, Yasmin Choudhury (pictured with Carlos Sousa, Access Self Storage's Head of Sales) visited her ancestral village in Bangladesh for the first time since her father's death five years earlier. She reignited an appreciation of the local people and their traditions – and came back to the UK determined to combat negative perceptions of her homeland created by Western media.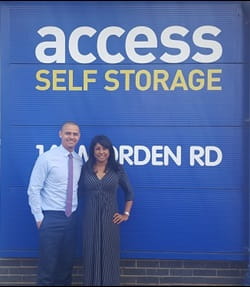 Choudhury said: "Bangladesh has a rich, fascinating cultural history, but Western media and charities have a habit of reducing it to its troubles. It's a problem across the entire, so-called 'third world', actually. Charity marketing is always well-intentioned, and when you see a picture of an underfed child, it's right to feel like you should do something. It's not right to think that's representative of the entire country though."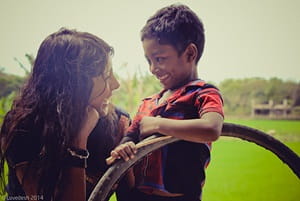 She adds: "Where there is poverty and deprivation, you can also find hope and laughter. To be honest, I find the whole 'thank god it's them instead of you' approach to developing countries slightly nauseating and incredibly condescending. We'd be lucky to have such vibrant communities, traditions, and foods. Especially foods."
When Yasmin returned home, she wanted to do whatever she could to smash the stigma – and hopefully help local folks in her ancestral village put a few more pennies in their pockets along the way. With these goals in mind, she launched Lovedesh.
So what is Lovedesh?
Lovedesh's products and services cover the food, design, and travel sectors – amongst others – so it's an organisation with its fingers in a great many pies (literally and metaphorically!).. Lovedesh is committed to promoting authentic Bangladeshi experience to as many people as possible. The company's profits are funnelled back into local communities via Yasmin's Amcariza Foundation, named after her late father and into improving and expanding Lovedesh's international presence. By changing how the rest of the world sees and experiences these nations, the global economy will be more inclusive of poor nations,
Yasmin continued: "The rest of the world has something of a blind spot when it comes to cultures of 'Third World' nations. For example, traditional Bangladesh-style curries can be really hard to find in a UK curry house, yet this is now a key national dish. I figured food was as good a place to start as any – after all, the way to an Englishman's heart is through his stomach."
Lovedesh's Artisan Slow Wood-Fired Bangladeshi curry is a dish that brings outdoor cooking alive as it combines Yasmin's heritage with her own culinary instincts. It tastes great (it's already gotten the seal of approval from several within the foodie community) but it's as much an experience as it is a meal. The spices crushed against the granite slab; the crackling of a curry cooked over a live wood fire; the aromas mixing and swirling together in the evening air. It's a labour of love – you can tell from the first mouthful. "It really knocks people's socks off!", Yasmin exclaimed.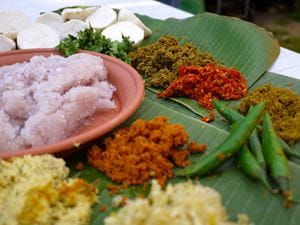 Of course, the curry is just a taste of the Bangladeshi experience. Lovedesh has also fused artisans in the UK with Bangladeshi weavers – to create a range of handbags. As well as the Lovedesh Army bracelets, which when worn is a fashion gesture to encourage its wearers to #LTTTW 'Let's Travel The Third World'.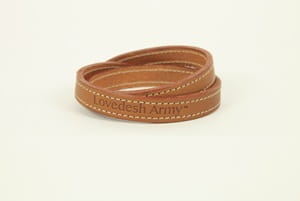 What's more, if you're interested in seeing the country first-hand, Lovedesh will be launching 'Voyage To Bangladesh' and several other 'third-world' nations, giving the enterprising and adventurous tourist an escape like no other. You'll see men catch fish with trained otters; you'll go surfing in the Bay of Bengal; you'll even get to see how an artisanal rickshaw is made.
Yasmin continued: "So much tourism is about the past. When you go to Egypt, the ancient pyramids are the first thing on your itinerary. When you go to Jerusalem, you've got to see the Dome of the Rock and the Temple Mount. St. Peter's Basilica is very impressive, but it's basically a big crypt. Our packages aren't about reverence, but seeing heritage in motion – watching tradition come alive."
How Lovedesh uses self-storage
Yasmin's been using Access Self Storage for three years, and is more than satisfied with the service. As a lone female entrepreneur with erratic hours, the Access Self Storage Mitcham store provides a secure, convenient, and local means of storing products.
"Bangladesh is six hours ahead of GMT, so I'm often working at strange times", Yasmin said. "Access Self Storage's business service is cost-efficient, and its people couldn't be more accommodating. They care about the property, and that makes it much easier for me to run my business. If I need to head over to the store at 2AM – and it happens more than you'd think – there are never any issues."
Yasmin is determined to make Lovedesh even bigger than it already is – and as the company grows and her stock requirements will increase, Access Self Storage will be there every step of the way with its flexible office space options.
Plans for the future
What do the next few years hold for Lovedesh? Yasmin's already achieved a lot in a short space of time – she was named Entrepreneur of the Year at the British Muslim Awards, and has been featured in a double page travel feature for The Guardian, named 'Expert For Unusual Destinations' by Conde Naste Traveller, a high profile travel magazine (amongst many other prominent publications) and is due to address a major travel industry conference – but she has no intention of stopping there.
"'To help launch Lovedesh products to British consumers, I am due to launch and promote a crowdfunding campaign, and I'm also looking to actively engage with philanthropic venture investors for the next stage of Lovedesh's development", Yasmin commented. "The most exciting outcome for me will be seeing my plans to launch an artisan centre in Bangladesh through Amcariza, which will focus on food and design and hopefully serve as a flagship centre in a multinational chain.
"People in the 'Third World' have a voice, but too often, the West is reluctant to listen. We're going to help change that. Bangladesh has an exciting future, and I'm humbled and thrilled to be a part of it."