British bees are making a strong comeback in the UK, thanks to the award-winning skincare company Bee Good which stores and delivers its range of best-selling products from Access Self Storage, Basingstoke.
Harnessing the centuries-old healing powers of honey, propolis and beeswax, Bee Good has created a range of skincare products so loved by the nation; it's stocked at over 100 Waitrose and Fenwick department stores and continues to grow across the country. And with the knowledge that a bee makes just one twelfth of a teaspoon of honey in its lifetime, it's no wonder their British bees have been busy producing all of the raw materials for the beauty products.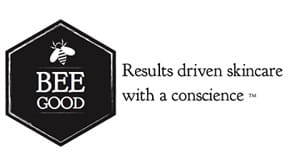 Bee Good was founded in 2008 by husband and wife team, Simon and Caroline Cavill. Simon, an expert experienced beekeeper and Caroline, a natural skincare expert, combined their skills to create their new brand. Using excess beeswax from hives in old orchards surrounding their home in Hampshire, Caroline started by making simple lip balms and hand creams as gifts for family and friends. Inspiration for the products came from Simon's library of antique beekeeping books - some holding medicinal recipes dating back to 1744! Through a process of trial and error, Caroline perfected the products and began selling the range at local school fairs and fetes. Through word-of-mouth, it became apparent that there was a real demand for the Bee Good skincare range.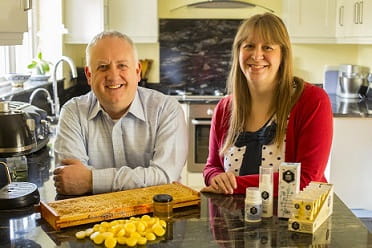 Since then, Bee Good re-launched the skincare range recruiting several experts to take the brand from a local level to become an award-winning company with products available to consumers, nationally. Where most companies take a minimum of 18 months to bring a new product to the market, Simon and his team brought six products in just nine months. And three months later, Bee Good shipped its first commercially made products to major supermarket chains.
As Bee Good continues to grow, the flexibility offered by Access Self Storage has played an integral role in managing stock levels at their unit in Basingstoke. "Without the ability to store raw materials and finished products, as well as handling deliveries, we would have never been able to expand in the way we have", Simon noted. Bee Good has tripled its storage usage from a 100 square-foot unit to a 350 square foot unit (and looking to increase this even more to a 450 square foot unit). The possibility to expand and contract their storage needs has allowed founders Simon and Caroline to cut down on costs.
Other essential features provided by Access Self Storage are the pallet trucks and access to loading bays with forklift trucks and drivers, allowing Bee Good to meet the requirements of shipping companies for the supermarket clients. "Quite simply, Bee Good would never have gotten this far this quick without Access Storage and the guys at the Basingstoke premises", Simon added.
As a company focused on natural skincare, Bee Good is also dedicated to supporting the British bees that not only provide the raw materials for products, but also pollinate many of the British botanicals which are important ingredients in its products. Bee Good recently launched its Show me the Honey campaign to gain support for British beekeepers and bees as well as raise awareness of how to source local honey. In addition to this, co-founder Simon actively promotes and teaches beekeeping to young people to ensure that the art of beekeeping is not lost.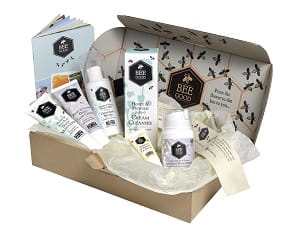 With new Bee Good products launching in autumn, the sponsorship of a young apprentice beekeeper this year and a national competition to find the next Great British lip balm flavor, the future does look bright for these busy bees.Simon and Caroline have exciting plans to expand the Bee Good product range in the near future, but will only do what feels right for the brand. "Whilst our ambition is to grow Bee Good, we are proud of our roots and will always stay true to what makes us what we are – our British bees!" Simon said.