Who would have thought that behind the doors of Access Self Storage in Hornsey lies a storage unit bursting with the world's rarest and finest ingredients?
Husband and wife team, Nick Carter and Nicola Lando launched Sous Chef in 2012 when they were frustrated by not being able to get the right ingredients from their favourite cookbooks.
Nicola had worked in Michelin-starred restaurants and seen how products were available to professionals, exclusively through large quantity orders.
With their combined passion for international cooking, Nick and Nicola scoured the globe to bring the finest ingredients to Sous Chef, but in sizes practical for use at home, so that anyone can reinvent a Michelin-starred dish.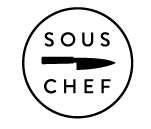 An online destination for home cooks, Sous Chef provides a myriad of ingredients, equipment, tableware and gifts all inspired by top restaurants and international cuisine.
And with over 2,000 innovative and exotic products, there is something to excite even the most adventurous foodies.
In just two years, the business has grown from two permanent staff members to eight, with no external financing. Nicola's experience as a venture capitalist for small food companies and Nick's background in investment banking and accounting facilitated their solid business understanding to build the Sous Chef brand.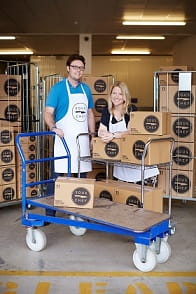 However, like any growing business, balancing consumer demand with available resources such as stock, number of staff and storage is a real challenge, which is why Sous Chef opened a unit at Access Self Storage in Hornsey.
Initially Sous Chef started with a 250 square foot unit at Access Self Storage to store stock in August 2012. This grew to a 1,000 square foot unit in November and to a 1,665 square foot serviced office the following Spring 2013. As the business continued to expand and product demand was high, Sous Chef arranged for a custom-built 4585 square foot space in June 2014 with a warehouse, packing room, photo studio and six-person office. Sous Chef look to expand this even more to have a 5,585 square foot unit later this year. Nick credits the Access staff for showing incredible flexibility and support, "especially in the beginning, having someone looking out for you, taking in deliveries and ensuring your stock is secure, gives you tremendous peace of mind", he said.
"As we've gotten larger, the team at Access Self Storage, Hornsey, has delivered all the resources we needed to grow. All without the headache of long-term contracts and unforeseen expenses that go with traditional commercial premises" he continued.
Sourcing exotic products from around the globe has led Nicola and Nick to frequently travel to international food fairs and events to find suppliers. In fact, Sous Chef is said to have just as many suppliers as ingredients.
No matter how difficult something is to find, Sous Chef won't compromise on quality and will only source from producers who share their passion for flavour and quality. Which explains why such greattime and care is spent getting to know chefs and producers and sampling products. There is nothing offered on Sous Chef that hasn't been tried and tested…even tasting the world's hottest chili!
Having served over 30,000 happy customers, Sous Chef is undoubtedly a strong favourite of cooking aficionados. And with national press from The Observer's Food Monthly to Men's Health, Stylist, Daily Mail and BBC's Olive Magazine, the site is widely recognised by food writers as the go-to shop for all cooking needs.
And yet, co-founder Nick is continually looking at ways to improve the business, "we want to keep building Sous Chef the old fashioned way by delivering great products and passionate service that doesn't just make our customers return, but inspires them to tell their friends or buy a gift for their family as well", he said. On that note, a world of flavour is just a click away!