Help us beat our Easter Egg record for charities across the UK.
The Access Self Storage Easter Appeal 2020 is still going ahead. All participating stores have set up donation boxes in reception to allow for social distancing. Please see below for details on what stores are collecting for their chosen charities.


This year, Access Self Storage Stores have set aside a combined 950sq ft of storage space to be filled with chocolate Easter eggs for charities across the UK.
More than 7,000 chocolate eggs have been donated to dozens of UK charities since the Access Self Storage Easter Egg Appeal started nine years ago. In 2019 alone, more than 2,000 chocolate eggs were collected by Access Self Storage and shared among 16 charities across the UK - and we want to beat that record in 2020!
Our staff teams have already been making donations and now we're inviting customers, local residents and businesses to donate even more eggs (and other items) to their nearest store before April 6th. Deliveries will then be made to the charities in time for Easter.

Participating branches include:
Access Self Storage store in Acton is donating to local charities Octavia and Kids Can Achieve.
Octavia connects people affected by unemployment, ill health, social isolation or low incomes in central and west London, while Kids Can Achieve (KCA) provides services for children and young people with learning disabilities aged five to 25.
Access Self Storage Birmingham Central is collecting chocolate Easter Eggs for Edward's Trust . Edward's Trust was set up to support children and families facing loss and surviving bereavement across the West Midlands.
Access Self Storage Balham is collecting chocolate Easter Eggs for children in the St George's Hospital Charity Jungle Ward.
Access Self Storage Basingstoke is collecting for St Michaels Hospice, which in giving the highest quality of palliative, end-of-life and bereavement care to patients in North Hampshire.
Access Self Storage Derby is collecting Easter Eggs for local homeless charity Doorways Derby. Doorways Derby is run by a group of community volunteers dedicating several evenings a week to go out and provide food, drinks, clothing, bedding and social interaction for the homeless and vulnerable people across Derby.
Access Self Storage Harrow is also collecting chocolate eggs for Kids Can Achieve (KCA).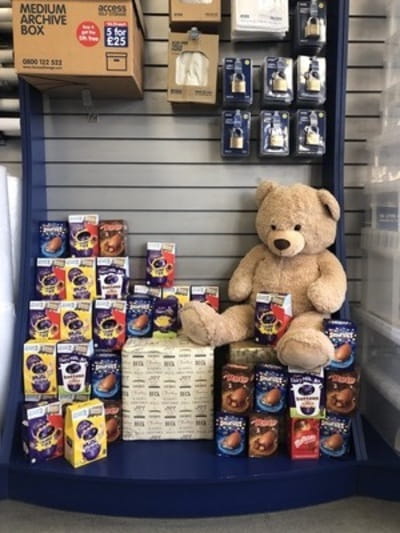 Access Self Storage Manchester is collecting as many chocolate eggs as they can for The Children's Adventure Farm Trust (CAFT). The eggs collected will be given to terminally ill, disabled and disadvantaged children from all over the North West of England who are helped by CAFT. The team really want to beat their 2019 record of 150 chocolate eggs!
Access Self Storage Northampton is collecting for The Lewis Foundation, a family team who works tirelessly to provide gift packs to cancer patients in hospital. In light of the developing Coronavirus pandemic, The Lewis Foundation is also asking for Toilet Paper, Tissues, Hand Soap, Hand wash, Toothpaste, Deodorant, Shower Gel and Hand cream. These donations will be added to special cancer support packs that are gifted to patients undergoing treatment.
Access Self Storage Nottingham is collecting chocolate eggs for Nottingham Hospitals Charity. The eggs collected will be given to the patients staying on the Cardiac Ward of Nottingham Hospital over Easter.
Access Self Storage Portsmouth has set aside a 50 square foot storage room to receive donations of chocolate eggs in this year's Charity Easter Egg appeal for Rowans Hospice. Rowans Hospice works to support people living with life-limiting illnesses, their families and carers in Portsmouth and South-East Hampshire.
Access Self Storage Stevenage is collecting for Stevenage Haven, which provides vital shelter and support for people experiencing homelessness in Stevenage and Hertfordshire. Their aim is to rehabilitate and support these individuals so they can go on to lead settled lives in the local community.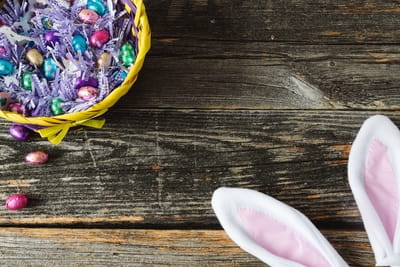 Access Self Storage Southampton is collecting Easter Eggs, chocolates and cakes for the Southampton Foster Carers' Association (SFCA). The local charity offers activities and social events for fostering families and the children in their care. It gives additional help to foster carers with monthly support groups in two regions of the city.
Access Self Storage Twickenham is collecting chocolate eggs and Himalayan salt for Park Lane Stables. Its 'Riding for the Disabled' initiatives provides invaluable therapy, achievement and enjoyment to people with disabilities in and around London.
We hope you can all help us support these fantastic charities this Easter by donating as many Easter Eggs as possible!