It's that time of year again, the weather is getting colder, decorations are going up everywhere and Christmas tunes are blaring from grocery store speakers. The festive season is fast approaching which also means it's time for the annual Access Self Storage Christmas charity campaign.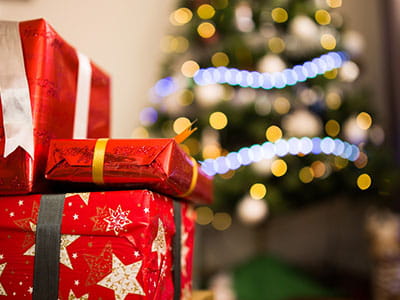 This year 17 Access stores are getting into the Christmas spirit with each store having allocated a 50-square foot unit to be filled with gifts and donations for various organisations.
This is where you, our loyal customers, come in. Our Christmas charity campaign would be nothing without your donations. Last year we received over 500 gifts, including books, games and home-made creations and this year, we're challenging you to beat that number!
Our Reading store collects for the Christmas charity campaign
We at Access selected the particular charities because we really believe in the work they do and would like to help them make a difference this Christmas.
Access Self Storage spokesperson Kevin Pratt says: "Through the Christmas charity campaign we aim to bring some happiness and holiday cheer to those who need it most. So, we're calling on local residents to start donating as soon as possible. We also encourage local businesses to get behind the campaign and support the incredible work carried out by the charities we're collecting for."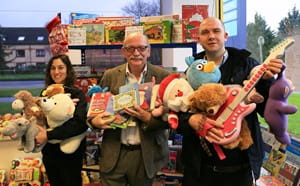 If you'd like to contribute you can drop-off your donations at one of the stores below from now until 10th December.
Click the name of the store for address details, and the name of the charity to find out more about its work.
We thank you in advance for your generosity.
Participating stores

Access Self Storage Boston Manor – collecting for Acton Homeless Concern
Access Self Storage Cheam – collecting for Wandsworth Oasis
Access Self Storage Coventry – collecting for The Myton Hospices
Access Self Storage Cricklewood – collecting for Ashford Place
Access Self Storage Fulham – collecting for Chelsea Children's Hospital Charity
Access Self Storage Guildford – collecting for Royal Surrey County Hospital NHS Foundation Trust
Access Self Storage Hemel Hempstead – collecting for Rennie Grove Hospice Care
Access Self Storage Islington – collecting for Hackney Food Bank
Access Self Storage Kingston – collecting for the Kingston Hospital Dementia Appeal
Access Self Storage Manchester – collecting for Children's Adventure Farm Trust
Access Self Storage Mitcham – collecting for Salvation Army
Access Self Storage Neasden - collecting for Ashford Place
Access Self Storage Northampton – collecting for Northampton Child Care Team
Access Self Storage Portsmouth – collecting for Rowans Hospice
Access Self Storage Reading – collecting for The Royal Berkshire Charity
Access Self Storage Selly Oak – collecting for the Queen Elizabeth Hospital Birmingham Charity
Access Self Storage Southampton – collecting for Southampton City and Region Action to Combat Hardship