Your wedding day is over, all the gifts have found a nice spot in your home, and you have a lovely tan from your honeymoon. The only thing that's left to sort out is the wedding dress. What exactly should you do with this extremely special piece of clothing now that the big day has passed?
You'll likely want to keep it for sentimental reasons, or perhaps even to pass down to your daughter one day. If that's the case follow these four wedding dress storage steps, to keep your dress in perfect condition!
1. Get it cleaned
We would recommend getting your wedding gown cleaned by a reputable wedding dress preservationist as soon as possible after your wedding. While some dry cleaners also clean wedding dresses, it's advisable to take it to a shop that specialises in bridal gowns.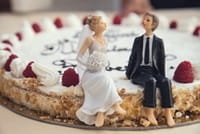 You absolutely should get your dress cleaned, even if it doesn't look dirty to you. You might not notice any stains right after the wedding, but even clear liquids like spilled champagne will turn into ugly brown marks over time if left untreated.
The sooner you get your dress to your preservationist, the better. If you're leaving on honeymoon straight after the wedding, ask a friend or relative to drop it off for you, rather than waiting until you're back.
2. Put it in a box
Once your dress has been cleaned, the next wedding dress storage step is to package it to be stored. Often the company that does the cleaning can take care of this part for you as well, but if they don't, here's what you need to do, according to wedding dress store WED2B.
"Ensure that the bodice is stuffed with tissue paper, fastening buttons or lacing up the dress to help hold the shape. Pack into an appropriately sized box by carefully folding up from the bottom of the dress, tucking in the train and using layers of tissue paper between each fold of fabric to prevent any embellishments or beading snagging on the delicate fabric. Seal the box to limit discolouration."
If you're short on space for your box, our storage by the box service can help.
3. Store in a cool, dark, dry place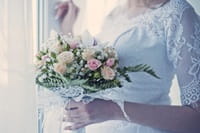 When choosing a spot to store the box containing your wedding gown, pay special attention to the room's temperature and humidity. You ideally want a storage space that is cool and where the air is dry. And whatever you do, do not store your dress anywhere it will be exposed to sunlight, as this will make the dress discolour over time.
4. Check on it
Once you've completed the wedding dress storage process and your gown is tucked away in a secure location, make sure to set a reminder to check on it from time to time. While it's by no means necessary to visit your dress every week, it is a good idea to check on it every six months or so, just to make sure the box is still sealed and the storage conditions haven't changed.
If you follow these four wedding dress storage steps your dress stands a good chance of being just as beautiful in ten years' time as it is now!
If you're looking for someone to take care of your wedding dress storage for you, with a secure, dry space - get in touch with our team today!
We have stores all around the country including Access Self storage Acton and Access Self storage Birmingham Erdington.