So you've decided to work from home more often, or perhaps you're even starting your own business… Exciting times! But before you can start enjoying all the benefits associated with working from home, you first need an appropriate spot to work. That's where we come in. This list of home office conversion ideas and tips will help you get set up in no time.
Not sure where exactly to put your new office? Here are some ideas of spaces you can convert.
1. An alcove or cupboard
Think you can't have a home office unless you have an entire room to commit to it? You're wrong.
Bernay Laity from the contemporary, luxury online store Azalée recommends converting an alcove, cupboard or the corner of an existing room into your home office.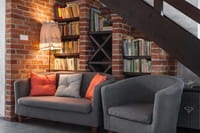 "If you have a built-in floor to ceiling cupboard or a wardrobe that would suit, then it's time to utilise it. A cupboard is perfect for an office as you can just shut the doors on it once you've finished your day's work or your evening admin chores." she notes.
To make sure you're comfortable, put in a shelf that's the correct height for you to sit at, removing all the shelves below it to make room for your legs, and the ones above to give you enough headroom.
"If you're converting an alcove, you can fix battens to the wall and attach a piece of wood to create a desk if the space is too narrow for a normal desk to fit." suggests Bernay.
2. A loft
A loft is an ideal space for a home office conversion as its usually separate from the rest of your house, located on a different floor. As explained by Bespoke Lofts this will help you separate your work and home life and switch off at the end of the day.
It is also really easy to convert a loft into an office as you'll likely only have to put in office furniture – no structural changes to the space should be necessary. Lofts are often used as storage spaces, so if you need to clear some space before moving your furniture in, a cheap storage unit could be the ideal solution. At Access, our storage options are flexible so it'll be simple to find the right sized unit for your things.
3. Your garage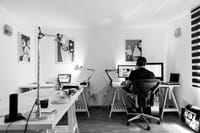 A garage is another space that can be converted into a home office, however, it will likely take a bit more work than simply adding furniture. That said, it's a great option if you don't have any spare rooms or cupboards inside your home.
To convert your garage into a great home office Convertyourgarage.com suggests replacing the garage door with a large window at desk height – this will let natural light into the garage and make it a much more pleasant space to work. Remember to fit blinds or curtains to have the option of privacy.
If you frequently meet with clients, it's also a good idea to create a separate entrance for your garage office. This way, clients won't have to walk through your home to see you (which can look quite unprofessional).
To make the space comfortable and homely, add shelves, coffee and tea making facilities and perhaps even a sofa to relax on during breaks.
4. The guest bedroom
Another 'easy' way to create a home office is by converting your guest bedroom into a working space. Like converting a loft, you likely won't have to make many changes to the room to get it ready, aside from replacing some of the furniture. If you need somewhere to keep the older furniture, be it in the short or long term, the covered loading bays at our Access branches make things as easy as possible for you.
If you wouldn't like to give up your guest bedroom altogether, bespoke furniture manufacturers Timeless Chesterfields recommends adding a sofa bed to make the space multifunctional.
"When you're using the room as a work space, it will serve as somewhere to read and reply to emails. But, whenever friends or family visit, you can conveniently switch it into a bed for them to sleep in. If you take this approach, you won't have to worry about losing anything by giving the room a new purpose." the company notes.
By now you have probably decided on a room or space for your home office conversion, which means you're ready to start kitting it out. Here are some things you can do to make it more functional and comfortable to work in:
Give it a professional look – "While the rest of your home may be designed for rest, relaxation and comfort, the office should be a space focused on efficiency, convenience and practicality." says Axis House. Should you want the office to have formal feel, give the room a neutral colour scheme.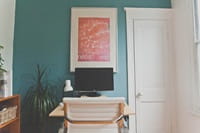 Add floating shelves – "If your office is small, or you'd like to save space, consider putting up some floating shelves rather than a standalone bookcase." suggests Houzz.
Keep the furniture to a minimum – "To avoid the space feeling cluttered, don't add any more furniture to your home office than you actually need." says Axis House.
Decorate – One of the great things about having a home office is that you can decorate it any way you like. So why not add some inspiring artwork or ornaments to make your workday more pleasant?
With these tips and ideas, you'll have your home office set up in no time!
Need to store some furniture temporarily during your home office conversion? We have stores all over the UK such as Access Self Storage Guildford and Access Self Storage Birmingham Erdington.
We're sure to have a branch near you! Contact our staff today for a quote.