Gardening is a great hobby – it's therapeutic and rewarding to see your plants thrive and grow. However, if your garden is struggling or simply too small for what you want to achieve it can break your spirit. Take a look at these five gardening hacks we've put together, they could be exactly what's needed to get your garden looking how you'd like!
1. Grow plants vertically
No more space to add plants in your garden? No problem – if it's vegetable garden hacks you're after, you can just grow them vertically, says Suttons.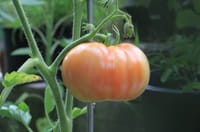 "Squash, beans and varieties of cucumber (not the bush variety) can be planted on a trellis, or for pole beans try using plant supports. Bamboo can be formed together at the top, so that the beans can grow to at least five feet tall. Whether you're using a trellis, or a tepee, be sure to guide the fruit or vegetable carefully as you don't want to break their stems. Alternatively, you can use tiered planters to plant other types of plants vertically.".
2. Use a glass cloche as a mini greenhouse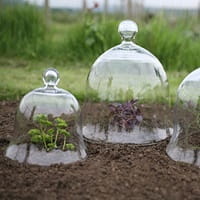 Would you love to grow some exotic plants but don't have space for a greenhouse? One of the best gardening hacks to work around this is using a glass cloche – a bell shaped glass cover that you can place over your plants and flowers.
GBC Group who specialises in outdoor buildings notes that you can simply pop a glass cloche over the top of your plants to act as a mini greenhouse. What's more it will protect your plants from bugs too!
3. Install a raised bed to simplify weeding
Do you love gardening but hate the sore back you're stuck with after weeding? Then WoodBlocX has one of the best gardening hacks for you – install a raised flower bed!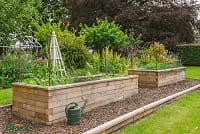 "A raised bed not only looks really good, it also makes growing and weeding really simple, the extra height ensures an end to dirty knees and sore backs and will make weeding much more bearable! The enclosed sides help soil to warm up quicker than it would in the ground, helping plants and vegetables to grow better, plus everything is raised up out of reach of pests and pets" the company says.
If you decide to install a raised flower bed, and need somewhere temporary to keep your garden furniture secure, remember that at Access Self Storage, all our units are CCTV monitored 24/7. Get in touch with staff at your nearest store today for help finding the perfect storage solution.
4. Get an automatic watering system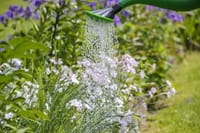 When life gets busy it's easy to let routine tasks like watering your garden slide. You might forget to do it when you're at home, only to remember once you get to work, when it's too late.
Watering experts Hozelock has the solution. Invest in an automated watering system that allows you to water your garden from anywhere at any time. Hozelock just launched an app that allows you to effortlessly water your garden via your smartphone.
5. Engage in companion planting
To really make your garden thrive, you should consider companion planting, says garden hack expert Gena Lorainne of Fantastic Gardeners in London.
Companion planting – purposefully planting specific plants next to each other – can do wonders in taking care of pests or encouraging beneficial pollinating bugs to stop by.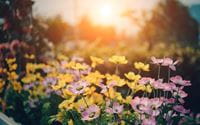 At Access, we have plenty of stores around London too! If you need to make some room for work to be done to your garden, or are simply cleaning out the shed, remember that our London branches, including Access Self Storage Wandsworth and Access Self Storage Acton, have a range of flexible storage options.
Contact our team today for a personalised quote.