Self storage is a system by which individuals or businesses rent units to store their goods remotely, typically when they do not have the space to do so on their own premises.
Still not sure what self storage entails? If you find yourself asking 'what is self storage really?', allow me to explain. The first thing you should know is that anyone can use self storage – business owners (from large corporations to start-ups), families, students and house movers, to name but a few.

Why do people need self storage?
There are various reasons why people may choose to rent a self storage unit. Perhaps you're in the process of moving house but you need space to move your things into until your new house is ready. A lot of people use Access' facilities for exactly this reason!
Or perhaps you are having work done to your house – you might be painting and want to move your furniture out to protect it against unnecessary damage. Instead of cluttering up another room in your house, you could use self storage. It is completely flexible so you can get a unit of the exact size you need.
But self storage is not only a personal service. Many businesses also choose to rent units to keep their stock. At Access most of our units are accessible 24-hours a day so the businesses who store with us can get to their stock whenever they need to.
Businesses also like using our storage facilities for archiving. Our customers can purchase shelving for their storage units and store everything from files and accounts to HR information. Some companies rent units on a permanent basis while others only store their files with us while they are moving offices or when office improvements necessitate the file room to be cleared. Self storage is really flexible, so it can work for any company.
We've seen some interesting uses for our storage units over the years. The "Storage 24" film was partly filmed at an Access store, and the elephants for the London Elephant Parade were also stored with us.
Who can rent a unit and what do you need to do so?
Think self storage will solve some of your problems? Then you'll be a happy to hear that anyone can rent a unit.
Many people have a misconception that self storage is expensive, but this isn't the case. At Access, we are flexible and we work with our customers to agree on a price that suits them.
All you need to bring if you want to rent a unit is photo ID, an up to date proof of address, and permission from your business if you are setting it up for them.
Our service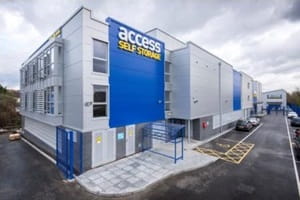 Now that we've answered the question "what is self storage", and who can use it, you might be interested in some information on Access Self Storage's specific offering.
At Access we provide safe and secure storage rooms. All our rooms are individually alarmed, and should you decide to store your goods with us you'll have 24/7 access to your unit.
We also provide loading bays, trolleys, removal services and vehicle parking.
In addition, we offer a range of business services including office space, a telephone answering service, mailboxes, workshops and vehicle parking.
We've had some interesting customers over the years!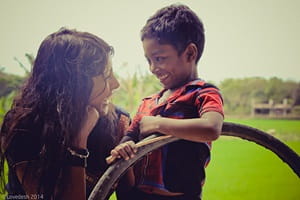 Lovedesh owner Yasmin Choudhury (pictured) has been using Access Self Storage for three years. The business aims to promote authentic Bangladeshi experience to as many people as possible. Its products and services cover the food, design, and travel sectors. As a lone female entrepreneur with erratic hours, the Access Self Storage Mitcham store provides a secure, convenient, and local means of storing products.
Yasmin specifically enjoys the fact that our units are accessible 24/7. "If I need to head over to the store at 2AM – and it happens more than you'd think – there are never any issues," she says.
Meanwhile, DJ company Wedding Smashers stores its equipment Access Self Storage in Islington. Wedding Smashers has doubled its use of storage going from a 75 to 150 square foot unit in just over two years. "With late night gigs and weekend events, 24-hour access to our unit is crucial. It also helps that we have a ground floor unit and use of trolleys, so we can easily transport the gear from the van to the unit," the company says.
These are only two of the many interesting businesses that benefit from Access Self Storage's services. And we can do the same for you!
If you need some space, for whatever reason, contact us today to discuss what type of storage you need.