Are you tired of looking on as your non-vegetarian friends feast on a delicious and varied Christmas dinner while you're stuck with a boring plate of Brussels sprouts? It doesn't have to be this way! We've compiled this list of vegetarian Christmas dinner recipes to make sure you too have a scrumptious meal to look forward to this year!
These vegetarian Christmas alternatives are delicious, different and comforting, perfect for the festive season!
1. Bean feast shepherd's pie
This recipe courtesy of Community Foods will deliver a hot and hearty vegetarian Christmas dinner for up to six people. It may be cold outside, but with this meal you're sure to feel all warm and fuzzy. Original recipe can be found here: http://www.communityfoods.co.uk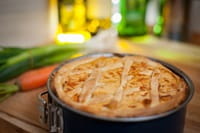 How long it'll take:
Preparation time: 10 minutes
Cooking time: 55 minutes
What you'll need:
1 tbsp olive oil
1 onion, chopped
2 carrots, peeled and chopped into chunks
2 parsnips, peeled and chopped into chunks
200ml red wine
2 tbsp rosemary, chopped
600g Tarantella organic passata
1 x 420 g mixed beans, drained and rinsed
900g sweet potatoes, peeled and chopped into chunks
75g Cheddar cheese
Salt and pepper, to season

How to make it:
1. Preheat the oven to 190°C/375°F/Gas Mark 5.
2. Heat the olive oil in a large pan, then add the onion and cook for a few minutes until soft. Stir in the carrots and parsnips and cook for a further two to three minutes, stirring occasionally.
3. Pour in the red wine, add the rosemary and simmer for two minutes until reduced by half. Stir in the Tarantella passata and beans.
4. Cover and cook for 20 minutes, then transfer to an ovenproof dish.
5. Meanwhile, cook the sweet potatoes in salted boiling water for 10 minutes until tender. Drain and mash with half the cheese. Season to taste, then spoon over the vegetable mixture.
6. Scatter over the remaining cheese and cook in the oven for 20 minutes until golden and bubbly. Serve immediately.
2. Butternut squash, shallot & butterbean casserole with herbed dumplings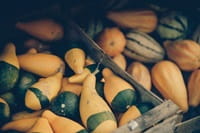 Another one of our vegetarian Christmas alternatives, this casserole from UK Shallots is sure to leave you wanting more. Costing only about £1.05 per serving, this recipe will serve 4. Original recipe can be found here: http://ukshallot.com/recipes/butternut-squash-shallot-butterbean-casserole
How long it'll take:
Preparation time: 30 minutes
Cooking time: 1 hour 20 minutes
What you'll need:
1 medium butternut squash (approximately 600-800g), cut into 2.5cm chunks (leave the skin on for added texture)
12 shallots, peeled and left whole
6 sage leaves, roughly chopped
3 tbsp extra virgin olive oil
3 cloves garlic, crushed
1 heaped tbsp flour
175ml white wine
1 tin butterbeans, drained and rinsed
400ml vegetable stock
2 tbsp sundried tomato paste
For the dumplings:
200g self raising flour
100g vegetable suet
2 tsp dried mixed herbs
Salt and freshly ground black pepper
5-8 tbsp cold water

How to make it:
1. Place the butternut squash and shallots in a roasting tin along with the olive oil, sage leaves and a good grind of pepper and salt to taste. Roast in a hot oven (220°C/Gas 7) for 20-30 minutes until the vegetables are tinged with colour at the edges.
2. Whilst the squash and shallots are cooking make the dumplings by combining all the dry ingredients in a large bowl. Add enough cold water to bring it together to make a soft dough. Shape the dough into 8 small balls and set aside.
3. When the squash and shallots are cooked, remove from the oven and turn the temperature down to 180°C/Gas 4.
4. Add the flour to the roasting tin, stirring to coat the vegetables and soak up all the roasting juices. Add the garlic and white wine to the roasting tin, scraping the bottom to release all the sticky caramelized bits.
5. Transfer to an oven proof casserole and add the beans, sundried tomato paste and enough vegetable stock to cover the vegetables.
6. Give everything a good stir, Bring to the boil and cover. Cook in the oven for 30 minutes.
7. Remove the casserole form the oven and carefully add the dumplings so they float on the surface. Return to the oven, uncovered, for 20 minutes until the dumplings are crispy on the outside and fluffy and cooked through on the inside.
8. Serve immediately. Mashed potato and green beans would work well as an accompaniment.
3. Mushroom & chestnut Wellingtons
You don't have to eat meat to feast on Wellingtons this festive season! This delicious Wellington recipe submitted by Waitrose will make for an indulgent vegetarian Christmas dinner. This recipe serves six to eight people. Original recipe can be found here: http://www.waitrose.com/content/waitrose/en/home/recipes/recipe_directory/m/mushroom-chestnutwellington.html
How long it'll take:
Preparation time: 25 minutes + cooling
Cooking time: 30 minutes + cooling

What you'll need:
2 x 260g packs spinach
50g butter
1 tbsp olive oil
2 leeks, finely sliced
6 sprigs fresh thyme, leaves chopped
2 cloves garlic, crushed
2 x 300g packs chestnut mushrooms, quartered
200g pack whole chestnuts, crumbled
150g pack soft goat's cheese
Flour, for dusting
500g pack puff pastry
1 medium free range egg yolk
2 tsp milk

How to make it:
1. Bring a large pan of water to the boil, add the spinach and blanch for 1 minute. Drain, refresh under cold water then squeeze out as much water as possible. Roughly chop and set aside.
2. Heat the butter and oil in a large pan and gently cook the leeks for 5 minutes until softened and caramelised. Add the thyme and garlic, fry for a further minute then add the mushrooms and fry for 5 minutes more until softened. Remove from the heat, stir in the chestnuts and leave to cool.
3. Tip the cooled mixture into a large bowl and stir through the cheese and spinach. Lay a large sheet of clingfilm on the work surface and tip the mixture into the middle. Mould into a rough log shape then roll up tightly in the clingfilm to make a 26cm-long cylinder. Chill for 1 hour until firm.
4. Preheat the oven to 200°C, gas mark 6. Dust the work surface with flour and roll the pastry into a 34 x 28cm rectangle. Lay the cylinder of filling on top and unwrap. Whisk together the egg yolk and milk and brush along the edges of the pastry. Carefully roll the filling in the pastry finishing with the join on the underside. Press the ends together to seal and crimp with a fingertip or a fork. Cut any pastry trimmings into festive leaves and use to decorate the Wellington. Place on a baking sheet lined with baking parchment and brush with the remaining egg. Bake for 30 minutes until the pastry is golden brown and crisp. Leave to stand for 5 minutes before slicing.
4. Roasted winter squash with watercress crisps and brown butter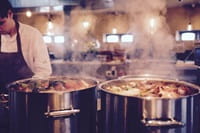 No Christmas meal is complete without vegetables on the side (even if the rest of the meal is vegetarian too). To round off your Christmas dinner with some good food, look no further than this recipe for delicious nutty flavoured roasted squash finished with crunchy watercress crisps. This recipe will serve six to eight people as a side. Original recipe can be found here: http://www.watercress.co.uk/


How long it'll take:
Cooking time: 40 minutes
Preparation time: 30 minutes

What you'll need:
4 tbsp unsalted butter
2kg mixed squash, scrubbed
24 watercress leaves picked from stalks
Salt and pepper
50ml extra virgin olive oil
How to make it:
1. Preheat the oven to 180°C. Place the butter in a small saucepan and cook over a medium heat until the butter is browned and has a nutty aroma. Be careful not to overdo it or the butter will burn.
2. Cut in half and deseed the squash, then cut into slices 2cm thick.
3. On a baking tray, drizzle the squash with the brown butter, season with plenty of salt and pepper, and toss to coat thoroughly. Roast for about 25 minutes, turning half way through. The squash should be tender and golden around the edges.
4. Heat the olive oil in a small saucepan. Fry the watercress leaves in two separate batches until crisp and remove using a slatted spoon. Place on kitchen towel to drain.
5. To serve, pile the squash on a serving dish and scatter with the watercress crisps.
5. Vegan mince pies
These mince pies from Baking Time Club make a lovely gift when visiting friends over the festive period. These mince pies are not only vegetarian but also dairy free and vegan making them suitable for almost everyone – and delish! Original recipe can be found here: https://www.bakingtimeclub.com/blogs/recipes/how-to-make-mince-pies-in-25-minutes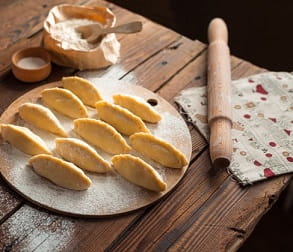 How long it'll take:
25 minutes – just remember to get the ready to roll pastry out of the freezer ahead of time to defrost.
What you'll need:
Short crust pastry - 1 slab of 250g.
Flour for sprinkling
15 tsp of mincemeat of your choice
How to make it:
1. Preheat the oven to 200°C or 180°C if it's fan assisted
2. Roll out the pastry (which should now be at room temperature) to 0.5-1cm
3. Cut out 15 circles from the pastry using a pint-sized glass and place in a muffin tray. (If the tray is not non-stick, then flour before placing pastry)
4. Place one level teaspoon of mincemeat in the center of each pastry cup. (If you put too much in then the mincemeat will over flow the sides with caramelised sugar and start to burn which is hard to clean and makes the pies messy!)
5. Roll the remaining scraps of pastry out as before, use cookie cutters to make the pastry lids.
6. Place the pies in the oven for 15 minutes, when the edge of the pastry starts to turn golden they are done. Leave to cool before eating.
7. Dust with icing sugar and enjoy with a cup of tea or mulled wine.
With these vegetarian Christmas dinner recipes at hand, a meat free festive season is not out of reach!
We all know that Christmas is one of the busiest times of the year, what with the whole family visiting and all of these new recipes to try!
No need to panic though! If you need to clear out some room in the kitchen for all the Christmas treats, free up some space for a camp bed in the living room, or pack away the Christmas tree in the New Year, we've got you covered.
We have storage facilities across the country that can help you take care of your stuff. Whether you need self storage in Reading or storage units in Manchester – well be able to find the perfect solution.
If you live within the M25 and need to store just a few items we even have a collection service to help – all you need to do is pack! Check out our Box Storage for Me for more info.