Whether you're lucky enough to live in Portsmouth or are just visiting, there's nothing like a day out in Portsmouth.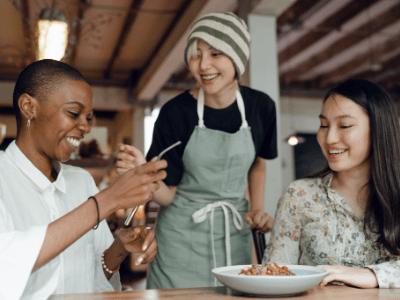 Being the home of the Royal Navy, you can expect lots of nautical-themed activities to get stuck into at the Dockyard! Then there's the beach (weather permitting) that spans almost the entire width of the island, Pedal Boats on Canoe Lake and, of course, a journey up the famous Spinnaker Tower!
Such an action-packed day is bound to make you hungry, but you may be unfamiliar with the area. Don't worry; we are here to help! We've compiled our list of the best restaurants in Portsmouth for the perfect round-off to your trip. So, let's get into it!
Huis
Huis cannot be missed when it comes to places to eat in Portsmouth. Situated in the large seaside neighbourhood of Southsea, this trendy outlet is a haven for all things Belgian. You'll find a generous selection of Belgian beers here – from light pilsners to cinnamon-infused treats.
Then there's the food, of course. Expect classics from all corners of this multicultural land: moules et frites and charcuterie on one hand, kroketten and stoofrites on the other. There's also a selection of croque sandwiches and a German-style rikadelle burger (Belgium has a German-speaking region, too!). But of course, it wouldn't be a Belgian restaurant without a (not so) healthy selection of waffles for dessert. Take a journey through the entire country in just one meal!
The Old Customs House
While technically a pub, this is undoubtedly one of the cosier Gunwharf restaurants. As the name 'The Old Customs House' suggests, this restaurant is set inside the old customs house within the Gunwharf Quays shopping outlet. Chains are fine for a shopping trip, but visiting the Customs House will add a little more luxury to the affair.
You'll find high-quality gastropub staples here, such as steak and ale pies, sea bass and a hefty dry-aged 10oz ribeye! However, there are also some items you may not expect to find on a pub menu, like a Greek mezze platter, plant-based oriental broth and lamb kofte.
There's a bonus: the old rooms are still intact, so you can enjoy more privacy while eating.
Thinking of taking a stroll before your meal? Take a look at our favourite walks in Bristol
Steki
One of the best restaurants in Portsmouth! Look no further if you're after a big fat (authentic) Greek meal. Gyros and souvlaki with chips or rice are always big hits, perhaps with a side of proper hummus and Greek pitta. There are also some non-street-foody options: a lamb kleftiko with rice or the mighty moussaka!
If you want to share, Steki also offers a Cypriot mezze platter and a giant mixed grill (if you can handle it). All this with a glass of good wine and some lovely Greek folk music to accompany you. You're going to love it.
Desi
We all love going for a curry, but this experience is slightly different (some may say better). Desi harks back to the cafés of Old India and serves up some dishes you might not have heard of! You know chicken tikka wraps, but what about vada pau, Mumbai's favourite sandwich?
Then there's the spicy "railway" lamb, and a classic Hyderabadi lamb biriyani served with raita – a type of yoghurt dip similar to tzatziki. After your meal, why not round off with a nice cup of masala chai or lassi, a traditional milkshake-like drink? With all this and so much more, Desi comfortably makes our list of top places to eat in Portsmouth.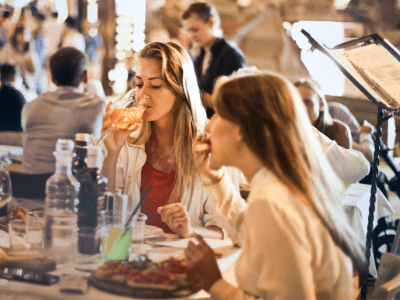 Agora
Agora brings a taste of the Aegean to Portsmouth (and your mouth, of course). This place is a must for anyone who loves Turkish and Greek food. There are plenty of opportunities to mix and match here: start with some mezze classics like babaganus, hummus and tasty marinated olives.
For your main, try a lamb shish with perfectly charred pitta and fluffy rice. Alternatively, you may prefer a warm, hearty casserole dish like Izmir kofte or karniyarik. Don't forget to finish with some baklava; you'd be a fool not to!
La Casa Flamenca
A real gem! This restaurant can be found in Port Solent, an off-island shopping destination. Because the city is so small, you aren't confined to the Portsmouth Harbour restaurants. It's only a short ten-minute drive from the city centre – so you won't be putting yourself out to get there.
La Casa Flamenca, one of the top Port Solent restaurants, is an ideal spot for those tapas fans! All your favourites are on the menu, from patatas bravas and gambas al ajillo to the classic Spanish tortilla. Don't fancy tapas? They also do fajitas and, of course, paella.
If you need advice on how to store your car for a long period of time – look no further! Here's our advice on how to store a car long term!
Sopranos
No list of the best restaurants in Portsmouth would be complete without a good Italian outlet, and Sopranos is certainly that! You'll find this place on Palmerston Road, in the heart of Southsea Town.
Freshly-made pizzas are the speciality here – you can have calzones too! Apart from that, Sopranos also make a tasty risotto, which you can order with chicken, sun-dried tomatoes and pine nuts, or seafood. Add in some good wine and the small, intimate atmosphere, and it's a winning combo! The restaurant is also a five-minute walk from the beach, so if you want to, you can enjoy a nice seaside stroll after dinner.
And that's a wrap (no pun intended). We hope you enjoyed this rundown of the best restaurants in Portsmouth and might consider one of these fabulous restaurants! But while you gorge on your favourite pizzas, tapas, or kebabs, you might remember that collection of old records taking up space in the spare room. Don't worry.
Access provides clean, modern self-storage solutions for a great price. Contact us to find out more.