Studies have shown that moving house is right up there with divorce and bereavement as one of the most stressful experiences a person can go through. Plenty of the stress comes from turning your living space upside down and packing it all away, but the high cost of moving also contributes.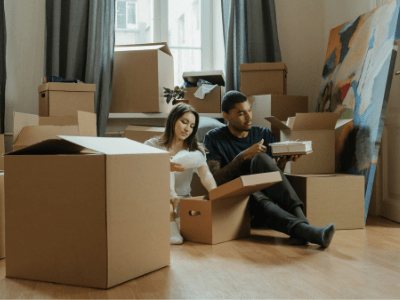 While we can't give you advice on magicking your things from one place to another, we can put together some tips for moving house on a budget to help alleviate a little bit of the stress.
Here are our top 12 pieces of advice on how to save money when moving house:
Get organised early and make a budget
Last-minute expenses are one of the biggest obstacles to moving house on a budget. It's almost always cheaper to book in advance rather than the day before, and it's smart to have the materials you need on-hand rather than shelling out for next-day shipping because you've left packing to the eleventh hour.
One of the best ways to save money is to plan out your move, including the times and expected expenses, and factor them into a budget. This gives you the peace of mind that you're not being financially drained at every turn, and it gives you the confidence to splash out on expenses that will meaningfully improve your move.
Do your own packing
Some people hire companies to pack their household items when moving house, but you can save money by doing it yourself, so it's worth considering. It may seem daunting, but you can break it up into short, frequent tasks – you'll be surprised how quickly things come together!
Moving house in Manchester? Check out Access Self Storage Manchester.
Use second-hand boxes
Cardboard boxes aren't the biggest expense, but every penny counts. One great option is to ask for second-hand boxes from family and friends or even local businesses. It's unlikely that second-hand boxes will get you the entire way, so when it comes time to buy some big boxes, do some shopping around. The standard size box has a footprint of 45x45 cm and is available in a variety of heights – just be careful to only get as many as you'll use. If you're using a moving company, they may also provide free boxes.
Alternatively, if you can't get your hands on some second-hand boxes, you can buy moving boxes on our website.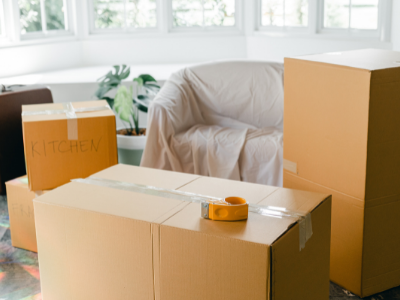 Don't shell out for fancy packing materials
It's easy to get carried away with the latest bubble wrap technology, but the classic packing materials work just as well! Rather than shelling out for rolls of the fancy stuff, try packing your boxes with old newspapers. If you don't have newspapers lying around, rolls of paper are available cheaply, and they're extremely versatile.
You can scrunch the paper up to make a great impact-resistant packing material, as well as using it to wrap delicate objects like vases and mirrors. And, unlike some bubble wrap, you can recycle it when you're done with it!
Avoid taking clutter with you
Every bit you bring with you is added time, energy and – in some cases – money, so it's worth doing a full-house declutter before you start packing. You can even sell unwanted items to make a little extra money.
Do you need some advice on how to declutter your home efficiently? Learn from the experts on how to declutter your home quickly.
Sort your utilities before moving day
Paying double on your utilities is a common unforeseen obstacle to moving house on a budget, but one that you can easily avoid with a bit of foresight. Be sure that you've cancelled your utilities at your outgoing property, and remember that some providers need a notice period, so sooner is better.
Shop around for the best conveyancer
You'll need a conveyancer, but don't jump at the first one you see. Do some shopping around and compare local and national providers to find a conveyancer that charges a fair fee and earns your trust.
Have a schedule for the big day
Things will inevitably go wrong on moving day but being prepared can help protect your wallet. Plan out the time so you're only renting vehicles, paying movers, or incurring other expenses for as long as necessary – if you're paying people to wait around or letting the vehicle idle, you're not likely to save money moving!
To make sure you're prepared for moving day, take a look at our top tips for moving house.
Choose a reliable moving company…
If you're planning on working with a moving company, be sure to do your homework and find a reliable, trustworthy, and affordable team. Look for reviews from previous customers and make sure there won't be any hidden fees.
…or rent a vehicle and be your own mover
The real trick to moving house on a budget is to skip the moving company. If you or someone you know owns a vehicle with a respectable storage capacity and you're within the same area, making a few trips yourself might be the most economical option. If you're going further afield or have large items to transport, renting a van can be significantly cheaper than hiring movers.
Enlist your friends and family
While they may not be professional movers, your friends and family are far cheaper! Asking for help packing, lifting and manoeuvring heavy objects, and assisting you on moving day is a great solution for anyone moving house on a budget. You can offer to help them out as compensation, and, of course, be sure to reward your helpers after a long day of hard work – the cost of a few pizzas and beers as a thank you is still cheaper than hiring the professionals!
Are you moving house with your canine companion? Take a look at our top tips for moving house with a dog.
Consider using self storage
Sometimes, it's just not feasible to do your entire move on one day or ask family members to store furniture for you. In these cases, the best solution is to leverage self storage. You can shift the move to take days or even weeks if you need to, alleviating the pressure and potentially removing the need to hire a moving company.
What about the costs? Our cheap, modern storage units are entirely compatible with moving house on a budget – use our store search tool to find your nearest facility today and get a quote!
Want to ensure you have everything you need as soon as you move in? We've also put this handy list of all the essentials you need for a new house.