Everything is getting smaller, technological devices, packaged food at your local grocery store and… apartments. To fit into this world (or into your trendy 'studio' home) you will likely need to invest in some space saver furniture.
Homes are no longer designed for the bulky antiques your grandparents were so proud of, but luckily, furniture companies have kept with the times and there are a range of options available that will make your city chic apartment functional and spacious (well, as spacious as a 350 square foot flat can be).
We had a look around and found some real gems. If we were setting up an apartment, we'd certainly invest in these space saver furniture items.
Double duty coffee/dining table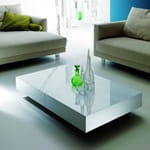 If your living space is small, a dining room table is likely a luxury you don't have room for. This probably means you eat your dinner at your kitchen counter, or sitting on the ground next to your coffee table. Or perhaps you've just gotten used to eating on your lap in front of the TV.
If this is you, we don't judge, of course. But there is another option. This expandable coffee/dining table from Onedeko is perfect for a small apartment. The stylish coffee table easily transforms into a dining table that is adjustable in height and length. Dinner party anyone?
Adjustable shoe rack
Shoes take up a lot of space, and if your cupboard is already the size of a matchbox you'll likely struggle to make all your shoes fit.
Therefore, we recommend getting yourself an adjustable shoe rack, like this one sold by Addis. The shoe rack features a compact and space saving design, with adjustable height to fit into tight spaces. It holds up to 18 pairs of shoes and has a carry handle for ease of movement.
Now you can indulge your shoe obsession without stressing about having enough cupboard space!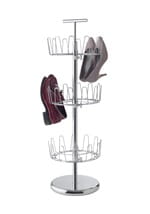 Clip on lamps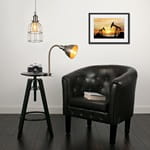 Standing lamps are bulky, and some would say, unnecessary. But you can't really argue with the ambience that can be created by good lighting. If you're a fan of well-lit rooms, but don't want your house to feel cluttered, a clip on lamp might be perfect for you.
Iconic Lights produces a range of 'clip on' lights, specifically designed to save space in the home. This clip on steampunk lamp not only saves valuable space in the home, but it also is on trend with the popular industrial theme this summer. By only taking up a few centimetres, this lamp leaves room for other items on the table.
Storage bed
If your bedroom is short on cupboard space a bed with a built in storage space ­­– the ultimate in space saver furniture ­­­– may be just what you need for those items that you don't use all the time but still want to keep nearby.
Online bed retailer time4sleep has a range of storage beds in gorgeous styles. And their built in storage space is so discreet, only you will know it's there! Space problem solved.

And if you run out of space under your new storage bed, or if your shoe collection becomes too extensive for the rack, you can always store some items with us. Our storage units come in a variety of sizes and are all accessible 24/7.