Well, it's that time of year again! Spring cleaning isn't the most enjoyable activity to occupy your free time with (at least it shouldn't be!), but it is a necessary one. As it gets warmer outside, we may be spending more time outside, but having a clean home to come back to is going to make all the difference.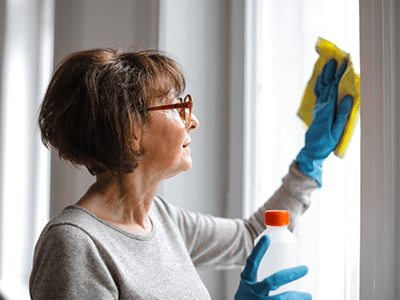 We understand that knowing where to start can seem like an impossible task – that's why we've created this handy spring cleaning checklist to make sure you get it right!
Get our free printable spring cleaning checklist
Dusting in general
Step one in conquering spring cleaning, dusting! Sounds like a simple enough task, right? Yes, it is, but there are a few things you can do to take your dusting to the next level. The products you use, that's any cloths, sprays and the duster itself, can make a real difference.
Additionally, it's worth spending more time on this than you originally thought you'd need – our eyes are far from perfect, and you're bound to miss spots if you don't take your time. One other thing – set priorities. We all have rooms in our houses that we use less often than others, make sure you give them sufficient attention!
Here's the rundown on things to keep in mind:
Get yourself a high-quality duster and some decent spray!
Block some time out – you may underestimate how long it will take
Prioritise the areas you think will need the most attention
Living Room
Now we've got some general dusting etiquette out of the way, let's go room by room. Of the rooms you use most often in your house, the living room usually occupies the top spot. There's lots of large objects here: sofas that can get dirty, TVs that gather ample amounts of dust, as well as other pieces of furniture, such as bookshelves.
Ultimately, this is your "showcase" room, the place you receive guests, family and friends. Therefore, it's quite important to keep this area tidy so your guests are comfortable when they visit! Even if you aren't overly concerned with making an impression, a clean living room (and house in general) has been proven to give your mental health a big boost, so it's well worth doing just for that.
Bear these things in mind:
Sofas need regular cleaning as they are typically used over years
Dust behind, around and on your TV, the table it stands on or the piece of wall it's mounted to
Have rugs? Vacuum them!
Clean the muck from your windows and give the glass a good polish
Stay on top of pet hairs (easier if you have no carpets)
Polish hard wood floors
Make your spring clean eco-friendly by taking a look at our recycling tips!
Kitchen
Now, we understand that your kitchen isn't always going to be in the prettiest state. But there are some things that you should absolutely prioritise during your spring clean. Let's talk ovens: devote some time to getting stuck in and give your oven a good degreasing. It's inevitable that grease will build up, but you should use this opportunity to address it – it'll only get worse if you don't. The same applies to your fridge and cupboards, throw out all expired items and wipe down the shelves – after all, this is where you store your food, you want these spaces to be clean.
Here are some things to tick off:
Wipe down all surfaces with anti-bacterial spray
Degrease that oven!
Give your fridge a clear out and wipe it down
Defrost your freezer
Go through your cupboards and discard any spices/herbs that have expired
Give all your silverware and crockery a thorough clean
Wipe down behind and around your dishwasher and washing machine
Bedrooms
Maybe this isn't the room you spend most of your time (unless your sleeping of course), but after a long day working or being out and about, you won't want to go to bed in a messy room. Top of the list here is bedding: be sure to wash your sheets, duvet cover and pillowcases. Vacuuming your mattress is a must too. Otherwise, all the other spring cleaning tips that we mentioned in the living section apply here.
Things to remember:
Strip bed and wash or replace sheets
Wash duvet covers and pillowcases
Give your mattress a vacuum
Dust around chest of drawers
Wash your pillows
Clean or replace curtains or blinds
Do you need to declutter your home before doing a spring clean? Download our free declutter checklist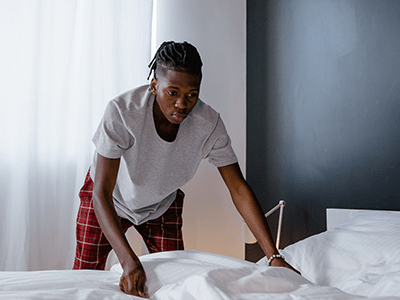 Bathroom
Don't be afraid of this one. The bathroom is one area that you should be cleaning regularly anyway, but no spring cleaning guide would be complete without reference to a deep bathroom clean. It might be a more private space, or it might be a place you share with others – either way, make sure you prioritise it. Cleaning your toilet and sink are top of the list, but you should also declutter your cabinet and throw away any expired items. Give your bath a steam clean if you have one, otherwise scrub your tile grouting and shower curtain to deter mould.
Things to tick off your list:
Scrub the toilet and sink with bleach
Unblock all the drains
Clean or replace your shower curtain
Steam clean the bath
Scrub the tile grouting
Clean your mirrors
Steam clean the floor/bathmats
Outside/garden
If you're lucky enough to have a garden or an outside area, it should feature on your spring cleaning checklist! Obviously, you should start by mowing the lawn if you have one, but any paved over area should get the hose pipe treatment, especially if you have a dog. If you have flowers, give them some attention and water them if you feel they look a bit limp.
Now comes the big one – the garage sort out. Maybe you've put this off for a long while because there's just too much stuff to get to? Well, this is your chance to address it and clear out all the stuff you don't use anymore.
A list of things to check off:
Cut grass and/or hose down paths
Clean the outside windows and gutters
Sort out your garage
Water your plants
Wash any outside furniture
If you need some extra cardboard or plastic boxes to help keep your garage tidy, check out our online store!
We hope you found this little spring cleaning guide helpful and can now face the job feeling a bit more confident. Yes, it might take you all day (or maybe even two), but we promise that it'll be worth it! You'll feel better, be more productive and will have more confidence to invite people over – what's not to like about that? And the best bit? You've got a whole year until you have to do it again.
Has spring cleaning made you realise you need extra storage? Access Self Storage is a modern, affordable solution for all your storage needs. If you fancy paying us a visit, you can find your nearest location using our store finder.