Road trips are great: they're like a little adventure that gets you from door to door. If you want to take a leisurely route and enjoy the scenery, you're free to do that. If you want to set off at the crack of dawn, avoid the traffic and take the most efficient route, that's good too! In any case, you'll run into the classic challenge of how to pack a car for a road trip.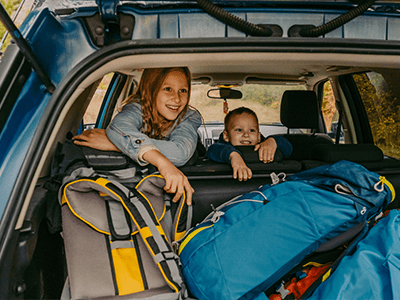 Here at Access, we're storage experts (and road trip fans) and we've compiled a list of our top car packing hacks and tips.
Plan ahead
As with any type of packing, putting in a little bit of thought beforehand always pays off. There's nothing worse than carefully packing the whole car only to realise you've forgotten something that needs to go at the very bottom of the boot.
In the days leading up to your departure, it's a good idea to start writing a checklist with all the things you plan on packing. Then, on the day or the evening before, get everything ready and check items off the list as you load them into the car.
Not sure where to go on your road trip? Here are our top UK staycation ideas.
Consider your packing order
In terms of specific car packing hacks, you generally want to go from large and heavy to small and light, with some consideration for which items you'll need to access when.
The first things you pack will be buried under a carefully constructed pile of other luggage, and you're probably not going to be getting at them until you arrive at your destination. Make sure anything you'll need on the road or immediately upon your arrival is packed last and is easily accessible.
This is also the time to think about what you'll need during your journey. For things you'll need while on the road, try to find a space in the passenger part of the vehicle so you can access them without pulling over.
You'll want to consider bringing:
Snacks
Water
Navigation – satnav, smartphones, or even a paper map!
Blankets, which can double up as pillows so passengers can take a nap
Entertainment
Charging cables – many cars have USB ports for charging on the go
Shopping bags – one of our best car packing hacks, since they're useful for everything from collecting rubbish while driving to storing muddy hiking boots and more!
Did you know we also offer vehicle storage for businesses? A single car or a full fleet of trucks, we've got you covered!
Soft suitcases are better
If you have the choice, soft forms of luggage are better suited for a road trip than hard cases. Soft suitcases and duffel bags can be squeezed to make full use of the available space, and they can be compressed down if they're not fully packed.
If hard-shell suitcase cases are all you have, you still have options! Given that these can't be compressed, it's important to make sure that you've used the full internal volume. This may involve packing some unusual items in with your clothes, but it's all in the interest of efficiency!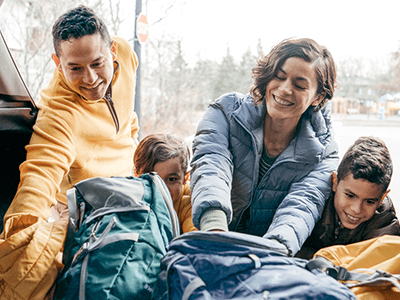 Make use of all the space…
The boot is the best storage space in a car, but it's not the only one. There are plenty of other nooks and crannies where enterprising travellers can store bags and loose items. Our expert car packing tip here is to keep things:
Under the seats
In the seat-back storage
In the door storage
Hanging from carabiners
Under the boot's removable floor panel
...but don't over-pack
If you over-pack the car, you start to feel like a piece of luggage yourself. Leave plenty of room for passengers and try to avoid solutions like keeping bags on people's laps – this sounds good in theory but quickly becomes tiresome in practice.
Are you passing Birmingham on your travels? Check out our list of the best family days out in Birmingham.
Need more space? Try a roof box
If you still need more space – perhaps you're going on a month-long expedition or have sports equipment to bring – your best bet is a roof box. These cost between £200 - £800, with higher prices typically providing more space, sturdier material and better security. Be sure to check that your car and roof box are compatible while you're shopping for one!
Stay safe
When it comes to how to pack a car for a road trip, safety needs to be a consideration – improperly stowed bags can break windows or even come loose and cause a car accident. Keep the rear window clear, so that the driver can see through it, and be careful of stacking luggage above the height of the headrests. If this isn't an option, a great car packing hack is to buy a safety net. These cheap nets cover all the baggage and prevents anything from doing harm if the driver brakes suddenly.
Keep heavier items at the bottom of your boot and lighter items up top and avoid placing pointy or hard items near windows – things like surfboards are better stored on the roof rack than inside the car.
That's it for our guide on how to pack a car for a road trip, safe travels!
If you're looking to store things while you travel, or need somewhere to store all your car trip equipment, you might like our clean modern self storage! We have stores nationwide – find your nearest Access Self Storage facility with our store finder.