Is your shed overflowing with tools, gardening supplies and deckchairs? Are you struggling to even see your grass under stacks of your children's toys, bikes, and other outdoor equipment? Do you struggle to find somewhere to keep your summer furniture in the winter? It sounds like you could use some garden storage ideas!
Garden storage for green fingers - upcycling
We spoke with Michael Holland FLS, a nature educator and enthusiast who works at AgeCo, to ask for some outdoor tips. He said that "It's vital that your outdoor space, however big or small, provides a calm and relaxing space to sit and enjoy nature. Considering this, adequate storage for tools, seating, ornaments and somewhere to germinate seeds is vital." Michael recommends trellises, wall-mounted pots and hanging baskets as ways to make the most of a small garden.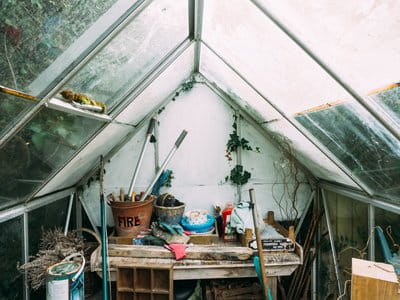 When it comes to outdoor storage ideas, Michael recommends using "old storage boxes, pots and even old tin cans and jam jars." You can even decorate them to "help add a more personal touch to your space without having to spend much money." Reusing and upcycling things you already have can boost your garden storage since there's no barrier to getting started.
Garden storage ideas for children's toys
Young children love a garden, and it's a great way to get them outside and running around. However, you may find your garden is becoming populated by footballs, wickets, games, bikes, and all manner of other toys and equipment. Fortunately, there are plenty of solutions. Consider a bench-chest combination, which serves as garden storage for the things that aren't currently being played with, and it doubles as a place to rest when they're tired out. The relatively low height makes it easy for little ones to get at the things they want, whenever they want.

As the seasons change, reconsider what the kids will need in the garden. They may want a football or inflatable pool in the summer, but in the winter, these won't do much good. On the other hand, a plastic sled is great when it snows, but no good in July. If you don't have room to store your seasonal outdoor items in your garden, consider a self storage unit with Access! Our conveniently located stores and affordable prices mean that you can keep the toys your children want while keeping the rest out of the way. Find a branch near you and get a quote today!
Make the most of your shed
Katie Bayliss, Marketing Co-ordinator for the Garden Building Centre Group, says that "multi-functional sheds and garden buildings are fantastic for creating additional storage space while also doubling up as a space for living and working." Katie added that "Garden buildings from GBC Group come in all kinds of dimensions and variations; whether you want a bike store or a luxury log cabin, there's something for every garden."

If you're lucky enough to have a shed, even a small one, you're off to a good start when it comes to garden storage. However, to make the most of your shed, you need to use it carefully. Consider hanging hooks on the walls and installing shelving to make the most of the vertical space, and make sure that only the most frequently used items are placed on the floor. At Access, we sell stackable plastic storage boxes, and whether you use them in your shed or one of our spacious storage units, they're ideal for garden tools and other outdoor items.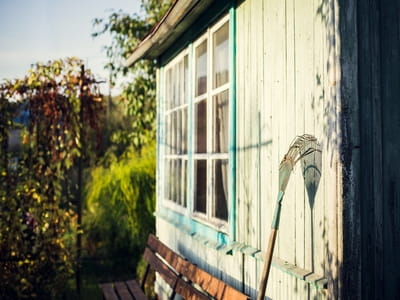 If you don't have a shed, but you do have space, consider building one or buying a prefabricated or kit shed, since a shed is the pinnacle of garden storage.

If like many with tiny suburban gardens, you don't have room for a shed, you can consider Access as your off-site shed. We have stores across the country and a range of different storage lockers and storage units, sure to fit your needs. Check out our stores, including Access Self Storage Reading, Access Self Storage Portsmouth, Access Self Storage Islington.