Going to the gym is expensive and it can be hard to find the motivation to leave your house. Fortunately, there's a solution to both of these problems: building a home gym on a budget. By considering the workout equipment that you really use and setting aside a space in your home or garage, you can create a personalised workout space that meets your needs. No more excuses about not wanting to make the trip to the gym!

So, if you are looking for some home gym ideas, you have come to the right place!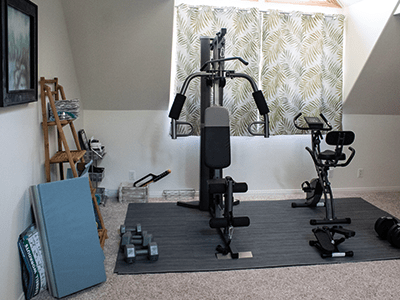 Is a home gym the right choice?
To determine whether a home gym is a good idea, we need to answer two questions. First, is it effective to work out at home? The answer is yes, it can be as effective as visiting a "real" gym and offers significant benefits in terms of cost and convenience. So long as you have enough space, the right equipment and practice gym safety, working out at home is a great way to stay fit.
The second question to answers is "can you make a gym at home?" Anyone with – at a minimum – enough space to stretch their arms can make a home gym. Making a home gym is easy and offers greater flexibility over the time and ways that you want to work out. It can also save you money, as building a home gym on a budget is relatively straightforward.
Choose your "must have" equipment
If you actually want to save money on your budget home gym, you need to avoid spending money on equipment you rarely – or never – use. While kettlebells are a common sight in gyms, they're useless to you unless you love kettlebell workouts.
If you're currently a member of a gym outside of your house, start keeping notes of the machines and equipment that you use. If you don't currently attend a gym, dedicate some time to remembering what it was that drew you there. This list of will become your "wish list" for your budget home gym.
Everyone is different, and anybody saying that a home gym "needs" this or that piece of equipment is trying to sell you something. An effective and affordable beginner home gym can be as simple as a weight rack and an exercise mat – you can always expand it in the future.
Consider buying used
Many people balk at the idea of purchasing used gym equipment. However, if you've ever been to a gym, you've used exercise equipment that other sweaty people have already used. Buying used is one of the best options when building a home gym on a budget, as it can knock a significant amount off the price of equipment, and it's effectively impossible to damage or wear out many types of equipment, such as weights.
If you're considering purchasing a used stationary bike, treadmill, rowing machine, or other piece of mechanical equipment, there are some additional considerations. These machines can wear out, so it's important to check that they're in good working order before you go to the trouble of moving them into your budget home gym.
If you're buying online, many second-hand sellers will be happy to send you a video that demonstrates the machine working or even let you pay them a visit to see for yourself. Often, second-hand equipment is sold for "collection in person" rather than delivery, so make sure that you have a way of transporting it before you find yourself trying to carry your bodyweight in weight plates back to your new home gym.
Make the most of the space available
A home gym doesn't need to be huge –all sorts of small home gym equipment is available at reasonable prices. Going small is also an important part of building a home gym on a budget, since it's the big, elaborate machines that really break the bank.
Free weights are some of the best small home gym equipment, as they take up very little space when not in use. Look out for multi-functional equipment, often sold as "x-in-one," which is a great way to give yourself varied workouts without investing in a tonne of equipment.
While it may bend the rules of a "home gym" slightly, consider that your workout space doesn't need to be all in one place. For instance, if you have room for most things in one place but need to put a piece of equipment in a different room, you still have all the benefits of a home gym. Similarly, if you don't have room to swing a skipping rope indoors but you do have access to outdoor space, that can still count as part of your home gym.
Wondering how you can best store all of this equipment? Check out our top tips for storing sports equipment.
Consider the route to get equipment into your gym
One important and often overlooked part of building a gym at home is getting the equipment in the door. The worst-case scenario is that you arrive home with some exciting gear, only to find that you can't get it through a doorway, around a corner, or up a flight of stairs.
Fortunately, most modern gym equipment is at least partially collapsible, enabling it to fit through cramped spaces more easily. If you're not sure, most manufacturers provide instruction manuals for free online and list the size of the equipment in its complete and collapsed states.
Don't forget about noise
Working out can generate a lot of noise, from jumping or running on the spot to the booming sounds of a motivational playlist. Be sure to account for noise when planning out your gym at home, considering whether there are people in adjacent rooms who might be sensitive to the sounds coming from your gym.
It's especially important to consider the room below you, which is why most people choose to set up their home gyms on the ground floor or even in a basement when possible. If you're building a home gym on a budget but have to deal with a less-than ideal space in terms of noise, there are still things you can do. Wall mounted foam, sold by the roll as "acoustic soundproofing," can do wonders for reducing the spread of sounds into adjacent rooms, and a padded floor tiles can muffle your jumping jacks.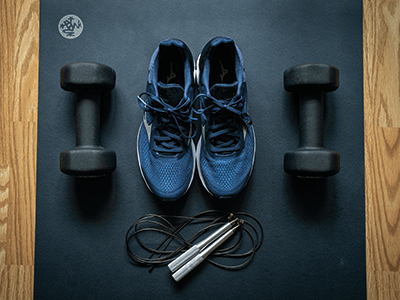 Home gym essentials checklist
What equipment do I need for a home gym? We're all different, and we all like to work out in different ways. However, it's important to have the right equipment for each type of workout you plan on doing. Here is a list of some of the most common equipment – but remember, the goal isn't to collect it all, it's to choose what's right for your needs! The home gym equipment ideas in bold are especially good for beginners.
Don't forget, if gym workouts aren't for you and running is more your style and you're based in London, here are the best running routes in London.
Strength
Dumbbells
Barbells
Body bars
Kettlebells
Resistance bands and tubes
Pull-up bar
Pull-down machine
Bench press
Medicine ball
Parallel bars
Ropes
Squat machine
Leg extension machine
Leg press
Chest press
Core roller
Cable machine
Our Home gym essentials checklist: the Adidas Door Gym pull-up bar, a set of Yaheetech Adjustable Dumbbells and a Feikuqi Adjustable Weight Bench.
Endurance
Rowing machine
Treadmill
Elliptical
Stationary bike
Stair machine
If you decide to get one of these machines, they'll likely be the most expensive part of your home gym, so it's worth shopping around or considering buying used.
Balance
Balance board
Balance half-ball
Slack line
Yoga ball
Our Home gym essentials checklist: Sportneer Balance Board and Origin Sports Yoga Ball
Making space for your new home gym
If you're looking to make space for your home gym, consider using self storage. At Access Self Storage, we have cheap, modern facilities all over the country including Access Self Storage Bristol and Access Self Storage Brentford. Contact us for a custom quote.