The Wandsworth franchise of 'The Christmas Decorators', a UK-wide business which designs and installs bespoke festive decorations and lighting, has been shortlisted for this year's Access Self Storage 2019 Business of the Year Awards.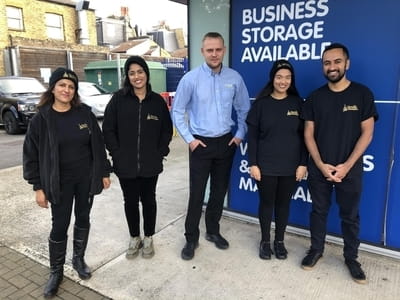 In the picture L - R - Shobhna jesa, Lux Amin of The Christmas Decorators, Joe -from Access Self Storage Wandsworth,Rima Raj and Kris Raj from the Christmas Decorators.
The Wandsworth team led by franchise owner Siobhan Jesa operates out of Access Self Storage Wandsworth and offers professional decorating services to commercial as well as residential clients across London.
Shobhna, who has seen business boom by 700% since moving into self storage said: "When we first bought the franchise we were working out of our living room, with baubles and glitter appearing all over our house! We needed a workshop space but prices in central London were far more than we could afford. Access Self Storage was the perfect solution, with a fixed price, no additional bills, the flexibility to increase the size of the space when required and secure well lit parking. With a short notice period on top, it offered the support and flexibility we needed to establish our business".
Jesa added "In three years I have increased my space from five hundred square feet to nearly two thousand square feet and my business has grown seven hundred per cent, all thanks to Access!".
The 2019 awards have seen hundreds of nominees with an incredibly high calibre of applications. An expert judging panel had the difficult job of narrowing the field by selecting seven finalists who have shown initiative to successfully thrive and scale their business by working out of a storage unit.
One of these exceptional applicants will be in with a chance of winning a business package worth £2,500 and the much coveted prize of Access Self Storage Business of the Year.
Kevin Pratt, spokesperson for the Access Self Storage Business Awards, said: "Thousands of businesses run from our 58 stores across the UK. We want to champion the entrepreneurs who are surviving the squeeze on the high streets and making the most of the business services we offer to keep their overheads low. We have had brilliant applications this year of truly entrepreneurial and varied businesses that run out of our units."
Brett Stone, store manager for Access Self Storage Wandsworth, said: "We are really excited about our Business Awards 2019 and thrilled that The Christmas Decorators have been shortlisted. We love getting to know the people behind the businesses and Shobhna is a perfect example of how entrepreneurs can use storage units like ours to support their success. We wish them good luck!"
The shortlist for the Access Self Storage Business Awards 2019 is:
The winner, who will receive free Access Self Storage services such as office space, storage, parking and mail boxes, a dedicated Access Self Storage networking event with the winner as guest of honour, a celebratory dinner and media opportunities, will be announced on 11th November 2019.