Gadget Planet LTD, a small business that sells household gadgets and quick-fix solutions on Amazon and eBay, has been shortlisted for this year's Access Self Storage 2019 Business of the Year Awards.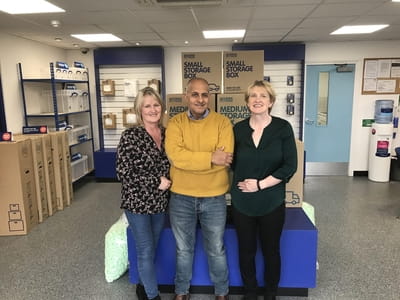 Left to right is Tania Antosik (Warehouse Manager Gadget Planet), Ravi Khanna (Director of Gadget Planet) and Diane Coen (Accounts Manager for Gadget Planet).
The business, which lists items from 'curtain accessories' to 'carpet mat grips' and kits to repair sagging drawers on Amazon has operated out of Access Self Storage St Albans since 2011, after running for eight years out of the home of founder Ravi Khanna.
After initially taking 75 square feet at Access St Albans, Gadget Planet now holds 750 square feet of storage space with ambitious plans to expand as the business grows from strength to strength.
Ravi said: "Gadget Planet is the archetypal small business that started as a simple kitchen table concept back in 2003, when eBay and Amazon were both in their infancy. We had no idea how big they would become or where that growth could take us.
"Moving to Access Self Storage St Albans back in 2011 was the single biggest business decision we made. We had reached the point where we could no longer grow. We had ambitious business plans but pallets were being delivered to our home every day, boxes lined our hallway and bedrooms and our garage was floor to ceiling full of cartons and there was simply no room for any more stock. Moving to Access solved all these problems and gave us our home back. It immediately allowed us to scale swiftly, allowing us to buy larger quantities at better prices. We rapidly outgrew our first unit and we now occupy the largest unit in the store. Since moving to Access our turnover has increased exponentially."
A bonus for Ravi has been the 24 hour CCTV on site, the alarm system and gated entrance which provides peace of mind and also, easy on-site recycling services for cardboard and packaging waste.
The main business advantage is the flexibility in space which can be varied to fit seasonal demand. "We can scale up at busy times like Christmas for a short period and release this storage again as we get quieter," said Ravi. "At the time of moving to Access in 2011, it felt like a major risk - but it turned out to be a highly successful move. Gadget Planet could not have reached the stage we are currently at without the support and facilities provided by Access and our ambitions to grow further include Access as part of our business strategy."
The 2019 awards have seen hundreds of nominees with an incredibly high calibre of applications. An expert judging panel had the difficult job of narrowing the field by selecting seven finalists who have shown initiative to successfully thrive and scale their business by working out of a storage unit.
One of these exceptional applicants will be in with a chance of winning a business package worth £2,500 and the much coveted prize of Access Self Storage Business of the Year.
Kevin Pratt, spokesperson for the Access Self Storage Business Awards, said: "Thousands of businesses run from our 58 stores across the UK. We want to champion the entrepreneurs who are surviving the squeeze on the high streets and making the most of the business services we offer to keep their overheads low. We have had brilliant applications this year of truly entrepreneurial and varied businesses that run out of our units."
Neil Hutchinson, store manager for Access Self Storage St Albans, said: "We are really excited about our Business Awards 2019 and thrilled that Gadget Planet has been shortlisted. We love getting to know the people behind the businesses and the team behind Gadget Planet are a perfect example of how entrepreneurs can use storage units like ours to support their success. We wish Gadget Planet the best of luck!"
The shortlist for the Access Self Storage Business Awards 2019 is:
The winner, who will receive free Access Self Storage services such as office space, storage, parking and mail boxes, a dedicated Access Self Storage networking event with the winner as guest of honour, a celebratory dinner and media opportunities, will be announced on 11th November 2019.