CPC Bathrooms which provides a mobile plumbing delivery service direct to customers and plumbers across Stevenage and Hertfordshire has been shortlisted for this year's Access Self Storage 2019 Business of the Year Awards.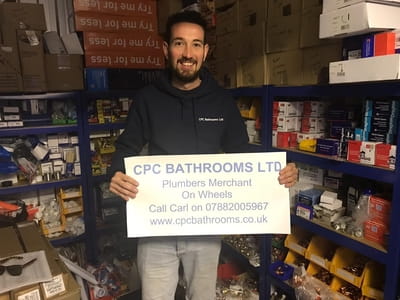 CPC Bathrooms founder Carl Challis in his storage unit at Access Self Storage Stevenage.
The mobile plumbing business owned by Carl Challis, who was more than 20 years experience in the plumbing and heating industry, operates out of Access Self Storage Stevenage. Challis turned to Access Self Storage when he launched his business because he needed secure warehouse space and crucially a reception team that could receive and sign for his new stock any time of the day or night. Having launched the business in February 2019 he started operating out of Access Self Storage two months later and has since seen his business take off.
Carl said: "From the age of 15 I have always dreamed of opening my own plumbers merchant and this year I decided to take the plunge and go it alone. In just 4 months I have a monthly turnover of £20,000. I offer a unique same day service and although it's long hours I am now starting to see the benefits. Access Self Store is like my second home, for a start-up like myself without any financial backing the access self storage model is brilliant, I couldn't afford a shop with rent and rates. The staff and other businesses at Access also offer amazing support and business advice, you never feel alone."
Carl explains that since moving into storage, his business has gone from strength to strength. "As I'm always on the move, Access Self Storage has been indispensable in giving me more space for stock. Also the team there can sign for new deliveries, which is crucial for my business," he said. "I started with a 100 square foot container and have recently upgraded to a 250 square foot container, but am already running out of space!".
The 2019 awards have seen an unprecedented number of nominees with an incredibly high calibre of applications. An expert judging panel had the difficult job of narrowing the field by selecting seven finalists who have shown initiative to successfully thrive and scale their business by working out of a storage unit.
One of these exceptional applicants will be in with a chance of winning a business package worth £2,500 and the much coveted prize of Access Self Storage Business of the Year.
Kevin Pratt, spokesperson for the Access Self Storage Business Awards, said: "Thousands of businesses run from our 58 stores across the UK. We want to champion the entrepreneurs who are surviving the squeeze on the high streets and making the most of the business services we offer to keep their overheads low. We have had brilliant applications this year of truly entrepreneurial and varied businesses that run out of our units."
Ian Girvan, store manager for Access Self Storage Stevenage, said: "We are really excited about our Business Awards 2019 and thrilled that CPC Bathrooms has been shortlisted. We love getting to know the people behind the businesses and Carl is a perfect example of how entrepreneurs can use storage units like ours to support their success. We wish CPC Bathrooms good luck!."
The shortlist for the Access Self Storage Business Awards 2019 is:
The winner, who will receive free Access Self Storage services such as office space, storage, parking and mail boxes, a dedicated Access Self Storage networking event with the winner as guest of honor, a celebratory dinner and media opportunities, will be announced on November 11th.