Brilliant Birthdays, a children's party entertainment company operating out of Access Self Storage Kings Cross has been shortlisted for this year's Access Self Storage 2019 Business of the Year Awards.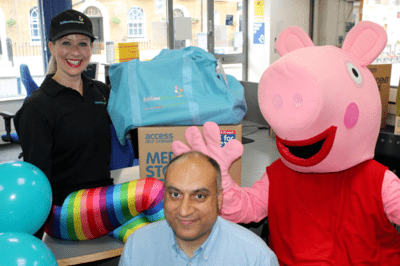 L-R Brilliant Birthdays founder Claire Sherren with Access Self Storage team member and look-a-like 'Peppa Pig'
Claire Sherren, a professional dancer and Dance Captian for the 2012 Olympic games, founded Brilliant Birthdays nearly 10 years ago with herself as the sole entertainer and a suitcase of costumes stored in the back of her car.
Sherren said: "With over 200 costumes and 7 entertainers on my books I really needed to find a space that worked with me, not against me. Having costumes bulging out of my spare room meant I had no space for myself. On top of this, with entertainers arriving at all hours of the day and night to collect outfits for parties all over London, it was a logistical nightmare; there was no time to switch off. With office prices in London being so high I had to find a lower cost space."
Sherren turned to Access Self Storage when her business desperately needed a centralised location that could be easily accessed 24 hours a day by her team of entertainers. Kings Crossed offered a perfect central hub for her London-wide party business. As a direct result, Sherren has doubled the number of entertainers on her books, commissioned even more character costumes and become the only five-star Google rated children's entertainment business in the UK.
By taking a storage unit at Kings Cross, Claire has been able to keep her operating costs affordable, while adding more costumes and themed parties to her repertoire in the process.
Claire added: "I get 24 hour access and security so my team can come and go whenever they like without me needing to be there. The unit is close to the railway and tube station and these links make it a perfect base for getting to parties all over London! We are ambitious and for 2020 we have designed a system signing our costumes in and out of Kings Cross via a Google Keep App so we can see what is in the storage unit at any time allowing us to work remotely and take bookings with confidence."
The 2019 business awards from Access Self Storage have seen hundreds of nominees with an incredibly high calibre of applications. An expert judging panel had the difficult job of narrowing the field by selecting seven finalists who have shown initiative to successfully thrive and scale their business by working out of a storage unit.
One of these exceptional applicants will be in with a chance of winning a business package worth £2,500 and the much coveted prize of Access Self Storage Business of the Year.
Kevin Pratt, spokesperson for the Access Self Storage Business Awards, said: "Thousands of businesses run from our 58 stores across the UK. We want to champion the entrepreneurs who are surviving the squeeze on the high streets and making the most of the business services we offer to keep their overheads low. We have had brilliant applications this year of truly entrepreneurial and varied businesses that run out of our units."
Alison Clarke, store manager for Access Self Storage Kings Cross, said: "We are really excited about our Business Awards 2019 and thrilled that Brilliant Birthdays has been shortlisted. We love getting to know the people behind the businesses and Claire is a perfect example of how entrepreneurs can use storage units like ours to support their success. We wish Brilliant Birthdays good luck!."
The shortlist for the Access Self Storage Business Awards 2019 is:
The winner, who will receive free Access Self Storage services such as office space, storage, parking and mail boxes, a dedicated Access Self Storage networking event with the winner as guest of honour, a celebratory dinner and media opportunities, will be announced on 11th November 2019.