Bigfoot Basketball, an online basketball shop, has been short-listed for this year's Access Self Storage 2019 Business of the Year Awards.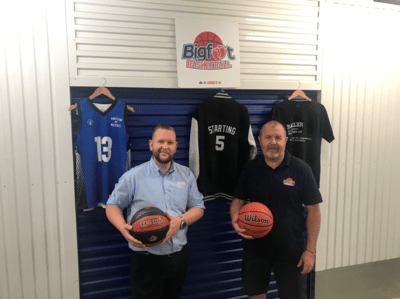 Nick Laming Access Self Storage Mitcham Manager with Toni Loundes, owner of Bigfoot Basketball, outside Bigfoot Basketball's storage unit
The online shop, owned by Toni Loundes, operates out of Access Self Storage Mitcham. Finding that high street rents were prohibitive, Loundes turned to self storage in 2014 as a solution to house and grow his business, using Access for office space, meeting rooms and mailbox, shipping and delivery services. With the flexibility to up and down scale the space to meet demand, Access has offered the perfect solution to Toni's online business which is now thriving.
"Being small is tough," Loundes explained, "at one time, when we no longer needed a full time office, the team at Access suggested options that meant we didn't have to move out and incur removal fees, we just downsized to reflect the new budget. We've now been here five years, and our business turnover has risen by 35%, Access makes it easy to run a business, they have thought of everything!".
The 2019 awards have seen hundreds of nominees with an incredibly high calibre of applications. An expert judging panel had the difficult job of narrowing the field by selecting seven finalists who have shown initiative to successfully thrive and scale their business by working out of a storage unit.
One of these exceptional applicants will be in with a chance of winning a business package worth £2,500 and the much coveted prize of Access Self Storage Business of the Year.
Kevin Pratt, spokesperson for the Access Self Storage Business Awards, said: "Thousands of businesses run from our 58 stores across the UK. We want to champion the entrepreneurs who are surviving the squeeze on the high streets and making the most of the business services we offer to keep their overheads low. We have had brilliant applications this year of truly entrepreneurial and varied businesses that run out of our units."
Nick Laming, store manager for Access Self Storage Mitcham, said: "We are really excited about our Business Awards 2019 and thrilled that Bigfoot Basketball has been shortlisted. We love getting to know the people behind the businesses and Toni is a perfect example of how entrepreneurs can use storage units like ours to support their success. We wish Bigfoot Basketball good luck!."
The shortlist for the Access Self Storage Business Awards 2019 is:
The winner, who will receive free Access Self Storage services such as office space, storage, parking and mail boxes, a dedicated Access Self Storage networking event with the winner as guest of honour, a celebratory dinner and media opportunities, will be announced on 11th November 2019.