It's that time of year again – Easter eggs are appearing on the supermarket shelves, and it's not long before we can all stuff our faces with chocolate!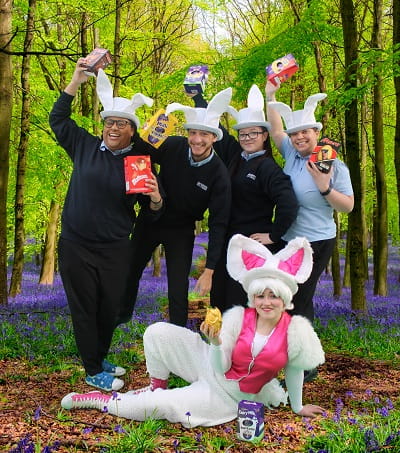 And of course, with the arrival of Easter comes the annual Access Easter egg campaign!
To help spread the joy to those in need this Easter, our stores around the country are pulling together to support local charities. Participating branches will be dedicating a storage unit to collect Easter egg donations from generous locals and businesses. These chocolate eggs will then be passed on to our charity partners in time for Easter Sunday.
Since the campaign began seven years ago we've collected almost 5,000 eggs! We're hopeful that – with your support – this year will be our best ever.
Our spokesperson Kevin Pratt said: "Here at Access, we love Easter, and want as many people to enjoy the day as possible. Last year's campaign went as well as we could have hoped, and with your continued support we're confident that this year's appeal can be a record-breaking one!"
Last year, Access Self Storage Basingstoke lead the charge having collected over 350 eggs for the North Hampshire Medical Fund. Meanwhile, Access Self Storage Cheam, Access Self Storage Croydon Purley Way and Access Self Storage Sutton together collected 170 eggs for The Children's Trust. Our other stores weren't far behind. Access Self Storage Manchester collected 125 eggs for The Children's Adventure Farm Trust, while Access Self Storage Portsmouth received 112 donations for Rowan's Hospice.
You can donate Easter eggs at our participating stores up until April 15th – so next time you're shopping, why not buy a few extra Easter eggs and drop them off at your local Access Self Storage branch?
Here is a list of our participating stores and the charities they are collecting for:
Thanks in advance for your kindness!
Access Self Storage Balham - St George's Hospital Charity
Access Self Storage Basingstoke - Hampshire Medical Fund, St Michael's Hospice and Naomi House and Jacksplace
Access Self Storage Battersea - Wandsworth Foodbank
Access Self Storage Byfleet - Shooting Star Children's Hospices
Access Self Storage Cheam - St Helier Hospital and Queen Mary's Hospital for Children
Access Self Storage Croydon Purley Way - Chartwell Cancer Trust
Access Self Storage Harrow - The Log Cabin
Access Self Storage Islington - Hackney Foodbank
Access Self Storage Kings Cross - Hackney Foodbank
Access Self Storage Kingston - Momentum Children's Charity
Access Self Storage Manchester - Children's Adventure Farm Trust
Access Self Storage Portsmouth - Rowans Hospice
Access Self Storage Romford - Richard House Children's Hospice
Access Self Storage Stevenage - Stevenage Haven
Access Self Storage Sutton - Sutton Women's Centre
Access Self Storage Wandsworth - Wandsworth Foodbank