Yes, we're in the midst of the hottest summer since the 70's and yes Christmas seems a million years away. But, if you've had the responsibility of coming up with your work Christmas party ideas thrust upon you, the time to start planning is now.
Employees are often tired and stressed by the end of the year, so you'll want your party to be an experience to remember fondly before they head off to spend the holidays with their family.
No pressure then
It can be hard to come up with work Christmas party ideas that are a little out of the box – of course, the tried and tested pub meal and drinks will still do the job, but employees are increasingly wanting to do something a little more out of the box. So, we put our heads together to come up with some alternative and fun office Christmas party ideas.
Karaoke
Of course, karaoke can be cringe-inducing and it does give some people social anxiety. BUT, it continues to provide everyone with an excuse to drink, sing and generally be merry. Not to mention all the embarrassing stories the Monday after.
Thankfully, karaoke has been given a well overdue, tech-driven upgrade. App Singa is doing for karaoke what Netflix has done for TV and Spotify for music. The app provides an easy way to sing anytime, anywhere and on any device. As it's so easy to set up, you could just hire a room with a TV in a local pub or bar or even hold the party in your own office.
Karaoke is one of the most popular work Christmas party ideas in the UK, so if you're looking to get something booked in there will be lots of options to choose from.
Shared parties
The work Christmas party can be an awkward affair if you're a very small team. This is where shared Christmas parties come in, where groups of smaller businesses can unite to have one big party altogether. Smart Group offers both shared and exclusive Christmas parties in some of London's top venues, to suit both big and small businesses. This year, they're hosting three themed shared Christmas parties: Around the World in 80 Days at Battersea Evolution, Christmas in New York at Finsbury Square and Après 2018 at Willows Farm. Each shared party is an evening filled with great food and drink, entertainment and incredibly themed venues.
The parties take place on various nights throughout December at the three venues and cost just over £100. They can have more than 1000 guests, so are a great socialising and networking opportunity as well as a super fun night out for your team.
Cookery classes
If you want to mix things up a bit from the standard office Christmas party ideas, but still incorporate food and drink, cookery classes are the way to go. There are many places all over the UK that offer Christmas party cookery classes, but a couple in particular to note are Cookery School and L'atelier des Chefs, both in London. You can make the classes either daytime or early evening and they're a great way for everyone to do something different together. This type of party can also be tailored to your company, and can include, cocktail making or oyster tasting. Plus, you get to eat what you've made after with a glass of wine, too.
Create a theme
Sometimes, just adding one small extra element to the regular party – a night at the pub or a fancy meal out - can make all the difference. Creating a theme for the party is perfect in that respect – with little effort, you can make all the food and drink and decorations in the theme and ask everyone to dress up, too. Some great theme ideas could be winter wonderland, the nightmare before Christmas or a masquerade ball.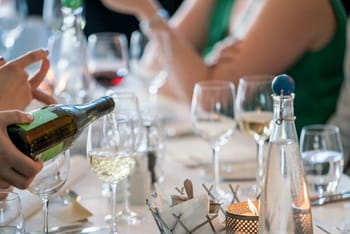 Christmas movie marathon
From Elf to Love Actually to Die Hard, the Christmas season is full of classic films to watch to get you into the holiday spirit. Having a movie marathon can be inexpensive and a lovely bonding experience. Stage a screening with a projector (that you can get hold of quite easily online) either in your office or at another venue, get everyone sitting in comfortable chairs, get the mulled wine flowing and sit back, relax and enjoy the Christmas movies.
Need some inspiration? Just Google 'Christmas movies' and it'll bring up dozens of lists for you to choose from.
So, there you have it – a few work Christmas party ideas to get you going. Whatever you plan, as long as there is plenty of food and drink and a good crowd of people, you're bound to have a good time.
If you do host a party that requires lots of props that you'd like to keep for next year, remember that our sites are located all across the UK, including Access Self Storage Kings Cross, Access Self Storage Derby and Access Self Storage Reading.