The idea of a capsule wardrobe started in the 70s, when boutique owner Susie Faux suggested that every wardrobe should have a number of core items that don't go out of fashion. Of course, Faux would say that, what with her owning a clothes shop, but the theory still stands that having core items that can be dressed up and down make for a practical, organised, efficient and reasonable wardrobe. "I have genuinely managed to cut my time of getting ready in the mornings to just 30 minutes", says Elinor Block on the Who What Wear blog.
If you've been considering a more simplified wardrobe, or have been wondering how to recycle your clothes, there's no better time to start than the winter. Winter is predictably cold, so it's easier to focus on warm layers. A winter capsule wardrobe needs to include reliably warm winter clothes, but it should also include items that can be layered and then worn in slightly warmer months.
Here's our list of winter clothes that make up the perfect winter capsule wardrobe
Oversized knitwear
An oversized cardigan or jumper will become a staple in your winter capsule wardrobe as you can throw it on top of nearly any outfit. Make sure to get it in a neutral colour or pattern (or don't, if you'd like to go for a bolder look).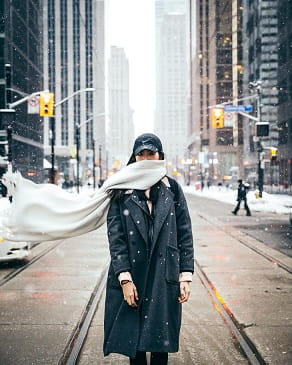 Long sleeved t-shirt
T-shirts with sleeves are perfect for your winter wardrobe, because they're ideal for layering. They don't need to be expensive, but they need to survive the wash and fit well – normally, a t-shirt that is fitted in the body will be most versatile and easier to layer, but if you prefer the baggy look, that will work, too. V-necklines also tend to work better for layering.
V-neck sweater
Speaking of v-necks, a v-neck sweater is also a great layering tool. It is a crucial part of a winter capsule wardrobe because you can throw it on top of nearly any outfit and look polished.
Thick knit leggings
Thin leggings won't cut it in the winter, but you might still want some to wear with dresses or oversized shirts. 'Ponte' leggings can be found in most high street shops now – once you have a pair, you'll fall in love with them.
Knit dress
A knitted dress is the perfect winter hybrid item. You can look smart for work or a night out whilst still staying warm. You can often wear them with tights, leggings, jeans or go bare legged if you're feeling brave.
Black leather boots
In terms of shoes, boots tend to work well for winter because they go with trousers, leggings or tights and they often come in different heel heights. We'd recommend black because it really does go with everything, always looks smart and doesn't dirty as easily. Leather boots tend to be smarter than sheepskin and of course, vegan leather will work just fine, too. Just make sure that they're comfortable – you're going to be wearing them a lot.
Polo neck
A knitted polo neck probably won't take you through other seasons, but it is a core part of a winter capsule wardrobe. It can be tucked into jeans or a skirt, worn underneath a cardigan or dress or even underneath a sweater for some added warmth. You can often wear a big necklace on top of it.
Of course, you'll need to include warm socks, a big scarf and warmer pyjamas in your winter wardrobe. But as for the winter capsule wardrobe, these items are a good place to start. Remember, the aim is to have items that you'll be happy to wear again next year, so bear that in mind when you go shopping. A print, colour or style might seem fashionable right now – but will it still look that good next year? If you're looking for more inspiration, sites like Stylist and Huffington Post give some great examples of winter clothing items.
If you're looking to store your out-of-season clothes to keep your wardrobe clear and organised, our self-storage solutions across the country, including Edmonton self storage, St Albans self storage and Mitcham self storage are ready and waiting to help.