1. Yvonne Arnaud Theatre
Things to do in Guildford Yvonne Arnaud Theatre Guildford's Yvonne Arnaud Theatre opened its doors in 1965 as a memorial to the eponymous French actress who had made her home in Effingham Common. Today, the theatre presents an eclectic mix of classical and contemporary work by new, lesser-known and established writers. Ballet, opera and children's events are also staged, alongside music, comedy, contemporary dance and more experimental theatre.
The theatre also stages a yearly pantomime and hosts art exhibitions and a film season, so you're sure to find something that suites your taste at any point in time.
2. Guildford Castle
If you're looking for things to do in Guildford, you could do worse than visiting the local castle and immersing yourself in the beauty and history of the area.
Stroll around the castle grounds or climb the Great Tower for a 360-degree panoramic view of Guildford and the surrounding countryside. The tower was restored in 2003 – 2004 and some of the original crenulations and other features were discovered.
The tower also contains a model of the original castle circa 1300, and interpretation panels tracing its history to the present day – so your visit will be both educational and invigorating.
3. Wild Wood Adventure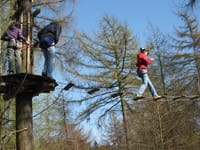 See Guildford from a different vantage point by visiting Wild Wood Adventure for one of its treetop excursions.
They have three different routes, including rope bridges, wobbly crossings and zip wires – all high up in the trees. But don't worry, it's all perfectly safe: you'll be connected to a wire for the entire duration of the course.
If you're a thrill seeker, this could be your perfect Saturday activity – however, if you're afraid of heights, perhaps it will be better to give this one a pass.
4. Guildford Spectrum
When looking for things to do in Guildford, the Spectrum is a one-stop shop that caters for the whole family.
The complex includes an ice-skating rink, Olympic sized swimming pool and ten-pin bowling arcade – to name but a few of the activities on offer.
If you want to get in shape you can visit the facility's gym, while your children enjoy the soft play area. Whatever you want to do this weekend, the Spectrum is likely to be able to help.
5. The Friary Guildford
If shopping is your thing, look no further than the Friary. The shopping centre boasts a wide range of stores and restaurants.
To make your day more entertaining, the centre also regularly hosts season-appropriate activities, like an Elf Workshop over Christmastime where children can make gifts and treats.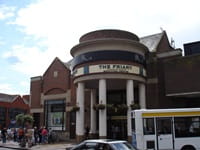 One thing's clear: there is absolutely no reason for you to be bored when you're in Guildford. Simply use this list and start planning your weekend. And remember, if you happen to overdo it a bit on the shopping, it's no big deal. We can hold on to the stuff you don't have space for at home. Our Guildford facility has 24-hour access too, so you can collect your goods whenever you like.