Summer is made for spending time outside, soaking up the heat and attempting to (finally) get a tan. But all that tanning makes one hungry! So here are some great summer meal ideas to fill the gap.
Recommended by Nicola Lando of Sous Chef – the online ingredients, equipment, tableware and gifts business located at our Access Self Storage Hornsey store - – these five dishes are certainly the summer equivalent of a hearty winter stew. Light, delicious and perfect for the weather.
1. Sushi
Japanese food is all about lighter eating and fresh ingredients, which means that sushi is perfect for summer!
And contrary to popular belief, sushi isn't a delicacy to be enjoyed only in a restaurant. Making your own at home is much easier than you might expect.
With Sous Chef's starter kit you can make your own sushi in no time. Fill the rolls with anything you can find in your fridge or cupboard. Think tinned tuna, avocado, cream cheese, red peppers, cucumber… Or you can even take inspiration from the West coast USA and make fusion rolls with Korean kimchi mayo, or vibrant Thai herbs.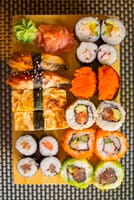 2. Paella
The rich yellows and reds of a paella's saffron and paprika spice are the backbone of a Spanish summer, so why not add it to your list of summer meal ideas as well?
Remember that, unlike risottos, this traditional Spanish dish from Valencia shouldn't be stirred continuously. Nicola, therefore, recommends using a proper paella pan. The pan's thin base helps achieve the perfect 'socarrat' (crispy bottom), creating the toasted caramel flavours of an authentic paella.
3. Salad as a meal
A salad doesn't simply have to be a side dish, and it definitely does not have to be only leaves (boring!).
Make your salad more exciting and filling by stirring through roasted vegetables, feta cheese, dried fruit or grains. And if you're feeling adventurous why not add some barberries as well? This favourite Middle Eastern salad ingredient will add a splash of colour and flavour to your poolside meal.
4. Pasta
If salad doesn't get your taste-buds buzzing, you'll be happy to hear that, contrary to popular belief, pasta is not just for the winter months! If you use lighter ingredients, like crab and grated courgette, you can certainly add some pasta dishes to your list of summer meal ideas.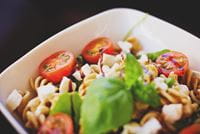 Another idea is to use wild fennel pollen mixed with olive oil or pesto tossed through pasta. This dish is sure to make even the fussiest family members happy.
5. Italian Gelato
After a good meal, most people feel like something sweet to complete the picture. When it comes to desserts, Nicola recommends some Italian gelato. She notes that most grownups particularly like pistachio flavoured ice cream. The good news is that you can actually make your own at home, with the help of this recipe.
With these great summer meal ideas, you and your family will certainly not go hungry any time soon. And if all these great ideas make you feel like you want to get out and cook – why not order some speciality ingredients from Sous Chef, based at our Access Self Storage Hornsey store.