St Albans is an interesting town. Not only was the hot cross bun invented in the town by a monk in 1361, the Alban City Primary School also holds the record for the largest number of people (490) simultaneously hopping on one leg. However, when visiting the town you might not be sure what to do with your day (after eating your hot cross bun, of course). So, we thought we'd help with a list of St. Albans things to do.

Why don't you try one of these five activities this weekend?
1. Visit St Albans Cathedral
St Albans things to do cathedral As one of the town's main attractions, the St Albans Cathedral makes for an interesting visit. You can see the Shrine of St Alban that has been in existence for over 1700 years and marvel at the cathedral's extensive series of medieval wall paintings ranging from the late 12th century to the 16th century
The cathedral hosts various tours for you to choose from to make sure that you get the most from your visit. It also occasionally hosts exhibitions showcasing local art
2. Explore Willows Activity Far
Willows Activity Farm makes for a great day out with the kids, so be sure to add it to your list of St Albans things to do
At the farm, you can relax and unwind while your kids enjoy activities such as tractor rides, shows, fun fair rides and interacting with farm animals. You can even have lunch there with delectable home-made food available on site
3. Visit the Verulamium Museum
Take a trip back in time with a visit to the Verulamium Museum in St Albans which stands on the historic site of the third largest city of Roman Britain.
At the museum, you will find recreated Roman rooms and hands-on discovery areas, a collection of Roman gold coins and some of the finest Roman mosaics and plasters. You can also watch a video about the excavation to further improve your knowledge of the town's history.
After visiting the museum, you might also want to take the short walk to the remains of the Roman Theatre of Verulamium. This theatre is the only one of its kind in Britain, so it's well worth a visit if you're in the area.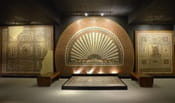 4. Do a bird watching walk
If you're interested in bird-watching or nature in general, then going on one of The Royal Society for the Protection of Birds' (RSPB) free guided walks should be top of your list of things to do in St Albans. The walks are all led by members of the RSPB committee and venues and dates to match the annual cycle of bird presence.
5. Take a bike ride
See St Albans in a different way by taking a guided electric bike tour around the area. What's more, afterwards you'll be treated to a delicious meal of tapas at a 400-year-old village pub.
The route usually passes by Sandridge, Sandridgebury, Wheathampstead, the Ayot Greenway and Shaw's Corner and offers beautiful views.
If after doing some of these activities you want to move to the area so you can do them all the time, we don't blame you! In fact, we can even help you make the move as painless as possible by supplying packing materials, or by storing your belongings until your new home is ready.