Is your garage the epitome of chaos? It happens all too easily. What starts as storing a few things you don't use that often, systematically turns into moving more things from your house to the garage to be kept out of sight… and before you know it you can barely move!
If this sounds like you, or if your garage could simply do with a bit of attention, here are some of our ideas for garage conversion. Leave storing your personal belongings to us - your garage was meant for greater things!
Man Cave
Most men dream of having a man cave – a space where they can escape from the hustle and bustle of family life and keep all the stuff that doesn't have a place in the rest of the house (Star Wars posters, football memorabilia, all four expansion packs to Settlers of Catan…)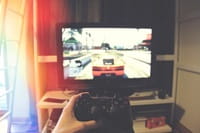 Garage manufacturer Lidget Compton in Rotherham believes that empty garage space is perfect for a man cave. "The only necessities required to convert a garage into a fully-functioning man cave are a cosy chair, small work space, a TV and a mini fridge for the odd beer."
If you live in the Rotherham area and need to move some of your things to redecorate the garage, remember that our Access Self Storage Nottingham and Access Self Storage Manchester branches are just down the road!
Home office
Working from home can be tricky, especially if you don't have a spare room to use as an office. You might find yourself working on the sofa (which is bad for your back) or at the kitchen table where you constantly get distracted by the snacks in the fridge.
If you have an empty, or unused, garage there is another option. By converting your garage into an outside office you'll be able to enjoy the benefits of working from home, without the frustrations normally associated with doing so.
Gym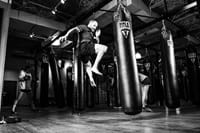 Workout equipment takes up a lot of space. Just ask anyone who thinks it's a good idea to keep an exercise bike in their bedroom
Why not convert your newly cleaned out garage space into a home gym?
All that's needed is a speaker or two to blast motivating tunes, a few sets of weights and you're good to go! Being able to work out at home whenever you want has lots of benefits, so try this garage conversion idea and kick-start a happier, healthier lifestyle.
Play Den
Are you tired of kids' toys lying around everywhere? We've all experienced the agony of treading on Lego at least once in our lives... Then this is one of the best ideas for garage conversion.
Lidget Compton suggests converting your garage into a play den to give your kids the space they need to live out their creativity.
"When converting your garage space into a play den, the key is to de-clutter and clean before getting carried away with design ideas – this will give you a blank canvas to work from and ensure that every inch of living space is used.
"Second hand furniture is a thrifty way to make a cosy space - try online auctions to grab a bargain sofa, bean bag or floor cushions to create a welcoming environment. Buying a cheap TV is a great addition to a play den for cosy movie nights but if you'd rather steer away from screens, stock up on board games. Remember that a garage conversion means you can make as much mess as you like so your children can pin their artwork to the walls and decorate the floor in pavement chalk!"
Guest bedroom
Would you love to have more friends and family over to spend the night, but simply don't have the living space? You guessed it…use the garage!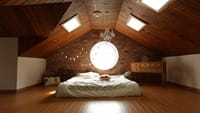 Converting your garage into a respectable guest bedroom will admittedly take some work. You'll have to clean it thoroughly, paint the walls and carpet the floors. Once that is done you need to add bedroom furniture. If you have a little more money spare, you could consider replacing your current garage door with a sliding door and adding a small en-suite bathroom to give your guests some extra privacy.
One thing is certain with these great ideas for garage conversion there is no good reason to simply use the space for storage and clutter! Remember to send your infrequently used belongings our way, and start making the most of your converted garage space. Contact our team today for a personalised quote.