Most of us have accumulated a decent number of books throughout our lives, and while some are worth reading again, others aren't. Or, you might have moved over to a Kindle and don't need paper books anymore. As books can take up space in your home, you might want to have a good clear out and reclaim your shelves!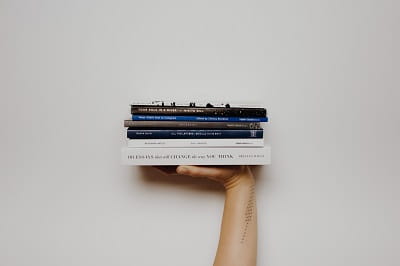 But there's still a market for physical books and there's every chance that somebody will want to read one of yours. Some people even prefer to read used books rather than new ones. So, if you're looking to have a clear out of yours, why not sell them?
Here are our top five tips on how to sell used books.
Check for price spikes

Timing can determine the price you get for your used books. John Ellmore, Director at KnowYourMoney said: "Book prices can really vary – one day they can cost less than £10 and then, a few months later, they can be sold for £100 or more. To profit from this opportunity, one needs to find books that are likely to rise in price, buy the books and then hold them until the price starts to rise."

And it isn't as hard as it sounds, according to John. "There is software that's available that can help find books that will probably make a profit. You can also use Amazon to scan for textbooks that historically have 'price spikes'. These are usually textbooks that are cheap during the summer when people are selling the books they don't need and then experience a huge price spike and become expensive when people start a new year at university."

Of course, this isn't a guarantee for success. "It's not risk free and there will be times when book prices have risen repeatedly in the past, but don't do so when you expect them to. This may be down to courses changing or other reasons."

Want somewhere to store your books that you no longer read?

Access Self Storage can help. We have self storage facilities across the country, including Access Self Storage Kings Cross, Access Self Storage Guildford and Access Self Storage Sutton.

Try different platforms, not just Amazon

When wondering how to sell used books, most people consider Amazon to be one of the best places. You can do this by setting up a seller account and listing your books but remember that you'll also have to set up a product page for each book. This is easily done but is time consuming and takes some commitment.

There are other ways to sell books that are a bit easier. If you want someone to come and pick the books up from you, Facebook Marketplace could be a good place to start, as your books will be shown to people local to you. Alternatively, both webuybooks and MusicMagpie allow you to enter your books' ISBN number to get an estimated cost and give you a free postage sticker, so all you need to pay is for packaging. You might not get the best price but it's the quickest and easiest way to sell a group of books all at once.

Sell to a local bookstore

Instead of selling online, why not try support your local second-hand bookstore by selling straight to them? Most will give you a fair price, buy your books for cash and some will even come to your house to collect them. And if you shop with them regularly, they might give you store credit to a higher value instead.

Do a car boot sale

In the US it's more common for people to have 'yard sales' where they sell their used things from their garden, but in the UK it's more common for people to pitch up at a car boot sale. Normally more popular in the summer, they're worth doing once you have a decent amount of items to sell (in other words, it's more about quantity than quality). It usually costs about £10 to set-up a stall and they are normally held on the weekend.

Be honest about their condition
Just like antiques, books can decrease in value depending on their condition. If you're not sure how to describe your book's condition, you might find the webuybooks condition guidelines helpful. It outlines the different types of damage you normally find on books and how they affect their value. It also explains what will happen to the book if they find it in worse condition than originally promised.
If you've got used books that you aren't ready to sell yet, Access Storage can help. We have self-storage options all over the country from
Access Self Storage Southampton
to
Access Self Storage Nottingham
.