Easter egg hunts are the perfect activity for the Easter break. They can be as elaborate or as simple as you like, take place inside or out, and can be catered to either children and adults. You don't need a huge space to host a hunt either – just follow the same basic rules and scale it down to the area you have available.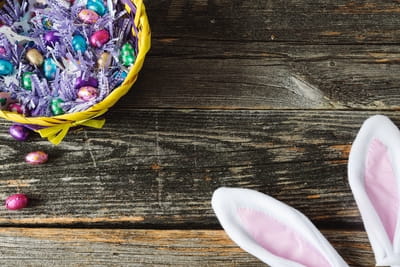 Here are our top tips on how to organise an Easter egg hunt.
Invest in a ready-made set
If you don't have time to make everything you need for an Easter egg hunt, you might want to invest in a ready-made set. The Kinder Easter Egg Hunt Kit provides a range of chocolates and eight signposts to make it easy for parents to set up. It has everything you need without any mess or fuss. You can get it for under £10 too, so it won't break the bank.
Or, get in touch with your creative side and build your own signposts. You can use coloured paper, cardboard, or even waste material such as wood. We know how little time parents have, so it may be a good idea to put these signposts in storage until next year, saving you the effort of making them again.
Plan your Easter egg hunt route
This might sound obvious, but when considering how to organise an Easter egg hunt, it's important to determine the exact space you'll be using. If it's taking place indoors, make sure you don't hide the eggs anywhere that might be a safety hazard (i.e. in places out of reach that could result in a fall). If it's outside, it's worth fencing off the area or putting a sign as to where the egg hunt ends so that people don't spend too long looking in the wrong place.
Check dietary requirements
Make sure you know about any allergies before you prepare your eggs. Simos Kitiris, founder of online marketplace Yumbles, said: "You want to ensure that you aren't handing out any treats that could potentially have a trace of nuts to someone who has a severe nut allergy. Mindful eating is also on the rise, therefore it's important to double check if any of your guests are vegan or dairy free, and if so, make sure you have some treats that can accommodate this."
You can get vegan Easter eggs from Yumbles, and most supermarkets too.
Make the baskets
Why not make an activity out of creating the baskets needed for the egg hunt? You don't need to become an expert basket weaver overnight, simply follow some YouTube tutorials. For example, this basket is made from a paper towel roll and this one is made of paper. And if you've poured time and love into your Easter egg baskets, why throw them away after the big day? Put them in storage and use them again next year!
Get your eggs prepared
Whether you're hiding chocolate, plastic or real eggs on your egg hunt, make sure you prepare them with enough time in advance. If you're using real eggs, boil and dye them about a week beforehand and keep them in the fridge. You can get really creative when decorating your eggs – some ideas include painting your egg in funky colours with nail polish, or fashioning a small horn out of glittery paper and turning your egg into a unicorn. For those who love arts and crafts, are you forever creating masterpieces that you have no space for? Put them in storage, so you can return to them whenever you like.
On the other hand, refillable plastic eggs are ideal as you can keep them and reuse them next year. You can fill them with sweets and treats or you can fill bigger eggs with arts and crafts gifts or small toys. Hide around a dozen eggs per person so that everyone has a good chance of finding some. And remember to keep count of exactly how many eggs you put out so that you know when the hunt is over.
Make sure you're all clued up
A basic Easter egg hunt will have directions to the eggs, but the best Easter egg hunt will have rhymes and clues instead. There's a handy list of 40 clues you can use right away on the Personal Creations blog.
Join a larger Easter egg hunt
If you want to know how to organise an Easter egg hunt without hosting it yourself, why not join a bigger one? The National Trust is hosting over 260 Cadbury Easter Egg Hunts from 1-28 April 2019 across England, Wales and Northern Ireland. You'll get to explore the National Trust site that you visit while following the bunny's clues, and you'll finish your adventure with some Cadbury's chocolate!
If you go hiking in national parks often but have little space for your equipment, why not put your gear in storage? Access Self Storage can help.
Other tips for the best Easter egg hunt:
Make your clues and route accessible:

Try to incorporate images on the signs and clues for those who might have trouble reading. If possible, it's useful to have an adult on-hand to read the clues when children find them. Also consider whether your route is accessible for everyone.

Keep any edible prizes out of the reach of pets:

If you're setting up early and are using eggs that are edible, make sure they're out of the reach of dogs and other pets.

Consider separating children of different age groups:

If you're hosting an Easter egg hunt with children across all ages, you might want to consider separating them. Younger children often don't need clues, just an open space to go and find eggs, while older children can be given a different area with clues or signs to follow.
If you're looking for somewhere to store your Easter egg hunt bits until next year, we have self-storage options across the UK including Access Self Storage Romford, Access Self Storage Guildford and Access Self Storage Manchester. Or, check out our store finder.