It's summertime: the season of sun, shorts, and – shudder – Soleros. They often call Christmas the 'most wonderful time of the year' – and we do love it – but it's over too soon, it's freezing cold, and you sometimes have to spend it with weirdo great uncles and other fringe elements of your family. Summer has none of these disadvantages. Barbecues! Ice cream! Wimbledon! It's usually a pretty good time for all.
Anyone will tell you that the essential element of a great summer is a great garden. However, the unfortunate truth is that this takes time and money – both of which you'd probably like to spend differently. By the time the warm weather months roll around, your backyard could well be in a right state: hardly fit for a BBQ, an impromptu football match, or anything else. We've seen grass long enough that it's basically indistinguishable from a cornfield; we've seen plants so tangled and overgrown that they'd given Poison Ivy pause for thought.
But fear not – there are ways for the aspiring, but time- and cash-strapped gardener to have their horticultural cake and eat it!
1. Get your family involved
You can't do it on your own, so you'll have to assemble a team. This doesn't necessarily mean paying top dollar for professional landscapers: if you've got a family, you've got a bunch of helpers at your beck and call.
Working together on a project like this can be a terrific way to bond with your children. As an added bonus, it also prevents them from wasting their summer indoors playing Xbox or tapping away the Snapchat.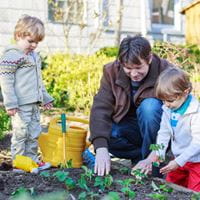 Of course, the promise of 'family fun time' often isn't enough to coax them out of their rooms, and you can't very well have them whining the whole time, so it's worth properly incentivising your kids. If you throw ice cream, soft drinks, and the promise of a little pocket money into the mix, they should come around. If not, you can always hose them down until they comply!
2. Make the best of what you have
Colin Campbell-Preston, MD of Capital Gardens, runs several garden centres and holds a horticulture degree. His experience and expertise give him great insight into how beginners can get that beautiful summer yard on a budget.
One of the main things he emphasised was how important it is to work with what you've got – and to make sure you can properly hydrate your garden. "Unless you've got the resources to water plants constantly, it's probably not worth planting too many new plants in summer", Colin says. "Use the season to fill gaps and add colour – install key focal plants to your existing planting schemes." He adds that "it's much easier to add plants in summer as you can see your full palette of plants in front of you."
What kind of focal plants can you use? For plants that will be exposed to the sun, gardening legend Alan Titchmarsh recommends "zonal and ivy-leaved pelargoniums", "verbena", and "scaevola" – amongst others. When there's a bit of shade, go for "fuchsias, petunias, and New Guinea busy lizzies."
To make sure your garden still looks good once the leaves start falling, Colin says that newbie gardeners should stop feeding them at the "first sniff of autumn." "You don't want soft new growth on trees and shrubs going into winter."
3. A bird in the hand…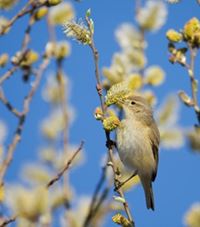 Plants, mowing, hydration: they're important, but they're not the only thing. Above all, an attractive garden has personality, and attracting birds is an inexpensive way to bring heaps of it to your backyard. You don't want every feathered friend popping around – crows and magpies probably do more harm than good, and the last thing anyone wants is a raven gently rapping at their door – but summer is an excellent time to attract dotterels, warblers, and housemartins if you're so inclined. Still, if you're struggling to do all your garden-related activities, you probably won't want to expend too much energy learning bird calls!
Richard Jackson, QVC's garden expert presenter, is a genuine avian aficionado, and knows exactly how to make birds suddenly appear every time you are near. He says: "Naturally, it's critical to feed them with good quality bird food – but you ideally want it to be formulated with high energy seeds."
Elaborating, Richard adds: "Make sure the bird feeders or tables are close to plants so the birds feel safer, and can fly and hide if cats are on the prowl. You also want to provide some water – it's essential for their drinking and bathing. A shallow sloping dish around 5cm deep should be ideal."
Summer doesn't last forever, and when it ends, it's time to think about where to put the mower and bird table. Pop by your local Access Self Storage – whether you need storage in Catford or Coventry, Southampton or Stevenage, we'd be more than happy to help.