We all know the saying 'there's no such thing as a free lunch', and while this may be true, there is loads of worthwhile free stuff in Birmingham that you can do. Yes, you'll still be hungry but at least you'll be entertained.
Here's a list of some of the best free activities Birmingham has to offer.
1. Birmingham Museum and Art Gallery
Based in Chamberlain Square, the Birmingham Museum and Art Gallery is free to visit! Within the venue you will find Anglo-Saxon artefacts and the world's largest collection of Pre-Raphaelite 19th Century art. The museum also contains collections and art spanning centuries, including Greek, Roman and Ancient Egyptian pieces.
While some of the museum's temporary exhibitions may charge an entrance fee, entry to the main museum and art gallery is free. So, if you're looking for the best free stuff in Birmingham museum wise, head on over.
2. Tolkien trail
If you're a fan of The Lord of the Rings and The Hobbit, the Tolkien trail should definitely be on your list of things to do next time you visit Birmingham.
The trail will take you past Sarehole Mill, Moseley Bog and many other areas that are said to have provided inspiration to JRR Tolkien. The Moseley bog for example, is said to have been the primary inspiration for the 'Old Forest' on the edge of the shire.
3. Library of Birmingham

The Library of Birmingham is about a lot more than just books! The building itself showcases the city's love of modern architecture, and offers some great views of the area.
Within the carefully crafted walls, you will find books, exhibitions, readings, workshops and performances. The library has a detailed events page where you can find out about the best free stuff in Birmingham in the building that is on offer on any given day.
4. Symphony Hall Café Bar
If you like listening to good music, but your wallet is rather empty, head over to the Symphony Hall Café Bar for some free sounds.
While the food and drink at the Café Bar does have a price tag, many of the performances taking place there can be attended free of charge. So basically, you can experience great music for the price of a coffee or sandwich. Not a bad deal at all.
5. Jewellery Quarter
What was initially simply an area with many jewellery businesses, has now become a tourist attraction in its own right. Yes, we're talking about the Birmingham Jewellery Quarter, which is, of course, free to visit.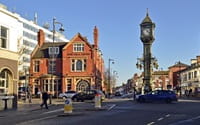 Not sure where to go once you get there? Try the Museum of the Jewellery Quarter (where you can visit the temporary exhibitions and shop for free) or the RBSA Gallery – an exhibition venue run by the Royal Birmingham Society of Artists. Or you can of course, just wander around the area and soak up the atmosphere!
6. Thinktank Science Garden
Have you always thought the Thinktank in Birmingham sounds like a great day out, if only it was free? Well, good news, the museum's Science Garden is, you just have to arrive after 3pm!
The impressive outdoor discovery space brings themes of engineering, mechanics and transportation to life through over 30 hands-on exhibits including a giant human-sized hamster wheel that has a top speed of 30 revolutions per minute!
7. Ikon Gallery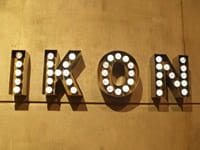 The internationally acclaimed Ikon Gallery is an educational charity working to encourage public engagement with contemporary art. For this reason, it offers free entry to all. Awesome!
If you decide to visit you will see work from artists from around the world represented by sound, film, photography, painting and sculpture.
When looking for free stuff in Birmingham you are certainly spoilt for choice!
Remember, if you end up picking up one too many souvenirs on your travels around Birmingham looking for the best free things, and could do with some extra space, check out our local stores – Birmingham Central, Birmingham Erdington and Birmingham Selly Oak!